Entertainment
Freema Agyeman's Interview Regarding Lesbian Sex Scene: Dating With Boyfriend Luke Roberts?
British actress Freema Agyeman is an excellent actress who has continuously raised her bar with her incremental triumphs in the acting industry. She has recently extended her performance to a whole new level, as she played the role of a Lesbian writer. Her steamy lesbian sex scene became very popular.
But what about her real life? Is she actually dating Luke Roberts?
Caption: Doctor Who Series 3 (2007): Ultimate Trailer - Starring David Tennant & Freema Agyeman
Source: Gallifreyforever97
Out-of-Comfort Lesbian Sex Scene:
Freema Agyeman, who is known for her role as a time traveler medical companion 'Martha Jones' in the science-fiction series 'Doctor Who,' oozes with sex appeal and explores her sensual side in the Netflix series, 'Sense8.' She plays the lesbian writer, Amanita, who is the girlfriend of the Translesbian character 'Nomi', in the American science fiction drama web television series. American actress Jamie Clayton portrays the character, Nomi one of the very initial scenes of Freema includes a very naughty sex scene with Clayton.
Tabloids are known for their tendency to interview celebrities on such matters, and they did the same with Freema as well.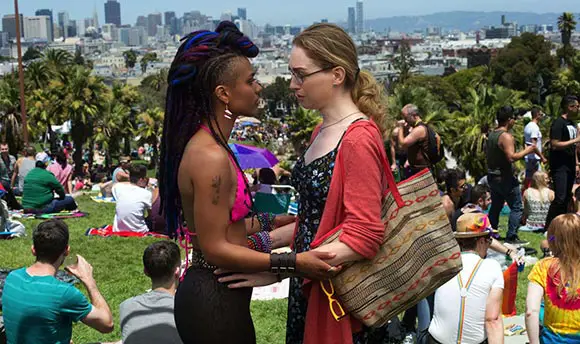 Caption: Freema Agyeman with Jamie Clayton shooting for the 'Series8.'
Source: pinknews.co.uk
The Big Issue covered her interview in an article "FREEMA AGYEMAN INTERVIEW: "THAT REALLY BLEW MY MIND..." on Oct 23rd, 2015, where she opened up about nudity, transgender storylines, and why there's a momentum shift in TV.
She said:
"It scared me in so many ways – it was my first American role, my first nudity, my first real love relationship. The pressure to convey that emotion authentically was a huge challenge."
She also expressed how the role was out of her comfort zone but very significant. She further added that even though she was intimidated by the scene but found her way into the role later,
"Once you take your clothes off and dive in it's strange how quickly it becomes comfortable."
But as always, Freema delivered a magnificent performance, and they are good friends off the set as well.
About her Boyfriend:
What about her real life? Does she have a husband? The answer is no. She is probably not married, but she is in a relationship with Luke Roberts, After they had been seen together on many occasions, they were linked together. So, she is straight in real life and happy in a relationship with her boyfriend Luke Roberts.
Luke Roberts, is an actor too. He has appeared in movies like 'Pirates of the Caribbean: On Stranger Tides', 'Dracula: The Dark Prince' and '300: Rise of an Empire'. He has also starred in famous series like 'Mile High', Game of Thrones, 'Holby City' and Ransom (upcoming). He looks really happy with Free
English actor Luke was previously dating
French-Canadian model
Noellie
.
He met her in 2008 while filming a special episode of the medical drama, Holby City, in South Africa.
Freema Agyeman Talks About Experience Working On Sense8:
In an interview with The Verge alongside Jamie Clayton, the actress had a chance to talk about a lot of things regarding the show as well its sense of symbolism and the messages the show presented itself with.
Sense8 is science fiction drama with a unique idea as its plotline, 8 people around the world, with different ethics, origins, race, and sexuality sharing all their senses, physical and mental. While the show itself has an amazing concept behind it, the screen takes are even better considering the show is filmed around the world in different locations. Freema talked about going around the world experiencing all forms of culture while filming scenes, most which were even consecutive stating,
It's very much a group effort. I mean, Lana is all over it. You can see her going into the zone for a second, when she's shooting, and then she'll suddenly say, "Oh, no, you actually need to come in from that side, because that's where you were in Spain." It's all in her head, and she keeps track of it! The whole time we've been shooting, there was only one thing that had to be reshot due to a timing error, where someone should have looked one way, but they looked the other way at that point. It's fascinating how she remembers that.
And further continued with,
It can take a lot out of you, though, playing those big emotional scenes over and over in different places. If you have a big emotional crescendo, you can build yourself up for that day of shooting, exhaust yourself, and then start to rebuild. It's done, you've purged it. But here, those scenes keep coming back. You're doing it again in Korea, then you're doing it again in Nairobi. It's a full-on experience: mind, body, and soul.
Freema further talked about being terrified of performing a role so different from her own nature saying,
Speaking for myself, I initially was so desperate to do this part because I love the Wachowskis and I loved the script. But I was terrified because of who this woman was — this larger-than-life, free-spirited, New Age urban hippie who was into everything. She's just so free and open, and she's so into her sexuality. It informs her whole lifestyle. I'd never played in a love relationship before. I'd never portrayed anyone in my whole career that's been in a relationship. So I was really concerned about the authenticity of that coming across, let alone the fact that she's representing a LGBTQ+ presence in mainstream television. That's almost nonexistent on TV, and when it is there, it's depicted as deviant, or flippant. So there was a lot to think about beforehand, and go, "I really want to do this right, I want to get it right." But the character spoke to me. I got her joie de vivre so quickly. I was just like, "I can see this person, I wish I could be this person." Maybe it's the person inside all of us we wish we could be, just free and accepting of everybody and everything. So it came quite easily. Making that journey was pleasurable, actually.
Freema cited her directors the Wachowski's, being the reason why she was more comfortable starting her new role saying that she was very grateful for them and had a pleasant time working with them and also revealed about her initial meeting with them stating "They really have an ability to make you feel utterly relaxed in their company." The part Iranian part Ghanaian Actress was also asked what she felt about the messages of Global acceptance in the show and answered with,
Well, it's so much a piece about humanity. It is about getting people from the furthest corners of the globe and identifying these similarities between us. It's so important in this time we live in now. With what's going on in the news, everywhere you look, there's reasons for us to pick a side and take a stand. Granted, we were working on this show before the current state of society, but it's been going on for some time, this feeling of needing to belong to a certain group to make you feel more secure about yourself, when really, quite simply, we are stronger together. This show is looking at it literally — if you could access other people's skills and abilities and personalities, how could that help you in different situations in your life? It's a great forum for discussion. I see from it that there is such a thing as a universal human condition.
A Short Bio on Freema:
Freema Agyeman was born on 20 March 1979 in London, UK, to her father of Ghana descent and mother of Iranian descent.
Freema has a tattoo on her arm that says "baha" meaning "free" in Iran language. She attended 'Our Lady's Convent RC High School' and studied at 'AnneScher Theatre School'. She later went on to graduate in arts and drama from Middlesex University. She is currently working on the shooting of the second season of 'Sense8' (2015-present).
Caption: Jamie Clayton and Freema Agyeman share an intimate kiss on Sense8.