Gina Kirschenheiter is an American reality star.
She is one of those people who managed to ride the wave of reality TV shows further and higher in minimal time. She only started her career in 2018 via The Real Housewives of Orange County, but she has already won millions of heart.
Wiki-Like-Bio
Gina is a New Yorker. She was born on 11 May 1984 into the family of father Gene, and mother, Susan. She spent her childhood with her sibling, a brother, Chris in Long Island, New York, USA.
Blonde With Divorce Rumors:- Fox and Friends Blonde Beauty Heather Nauert Married Scott Norby. Divorce Rumors!
The TV star is a beautiful woman. She is a natural blonde with a fantastic height. And, even after being the mother of three, Gina, age 35, has managed to keep her figure in check.
However, she is not just beautiful. Gina has the brains to match her beauty; she has a degree in Psychology. She graduated from the Hofstra University in Long Island, New York.
Details On Husband and Kids
Being on The Real Housewives of Orange County, Gina's relationship status was never a secret. Gina married her longtime boyfriend, Matthew Kirschenheiter, on 15th of May 2010.
The pair met back when both of them were students at Hofstra University in 2005. They dated for a brief period of 5 years before the decision to tie the knot.
Soon after their union, the couple was blessed with their first baby, a son, Nicholas Kirschenheiter in the 23rd of June 2012.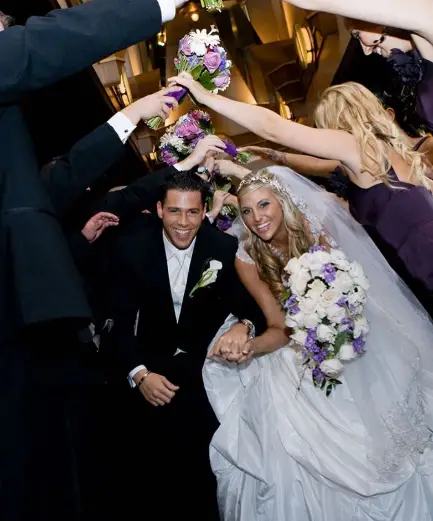 Gina Kirschenheiter with her husband Matthew Kirschenheiter on their wedding day in 15th of May 2010 (Photo: Gina Kirschenheiter's Instagram)
Then, the couple added two more children to their already happy family, a daughter named Sienna Kirschenheiter (b 2014) and another son named Luca Kirschenheiter (b. August 2015).
After almost a decade in marriage, the couple went through some hardships back at the end of 2018. Things went far enough that they lived separately for some time. Their separation was supposed to be finalized with a divorce in November of 2108. However, neither Gina nor Matthew shed light on the matter.
However, the couple turned over a new leaf. On 13th of June 2019, Gina poured her heart out on an Instagram post wishing Matthew on his birthday. She mentioned that there was no one else that she would prefer to live her life with.
Fired, Arrested & Divorced
While fans had high hopes that the couple would move past the hardship into the better part of their relationship, things took a turn for the worse for Gina and Matthew.
After almost a decade of being together and parenting three kids, the duo's relationship came to an end. In August 2019, a judge gave the verdict for the dissolution of marriage. However, the couple would be legally married until the end of the year (31st of December 2019).
Furthermore, Gina has had her restraining order against her husband extended until their next court date in January. The reality TV star got the protective order in June of 2019 after she filed a case of domestic abuse against Mathew.
Similarly Arrested:- Orlando Brown Arrested For Alleged Assualt Against Girlfriend; Call For A Split?
Mathew was arrested on charges relating to domestic violence and released the next day on bail for $0. While he has not been for any offense yet and a court date is yet to be set, Mathew has been "let go from his long-time employment at PIMCO, an investment management firm.
For Mathew's defense, his attorney, Bonnie Rosen has gone on record to accuse Gina as alcohol abuse. The claim came after Gina got arrested for DUI in January 2019. Gina pleaded guilty and got sever of 20 hours of community service and 6months in an offender alcohol program.
Reality TV Star's Net Worth
Considering that it hasn't even been a year that she made an appearance on screen, the new star has done immensely well for herself.
Gina officially started her career in the entertainment industry on the 11th of June 2018 on the Bravo network's reality TV series 'The Real Housewives of Orange County.' She appeared in all the 22 episodes of the 13th season of the show.
Another Reality TV Star:- Ashley Wirkus Baby, Pregnant, Husband
The show undoubtedly put Gina on the map. The new star also had two episodes titled Gina Kirschenheiter & Dr. Oz, Gina Kirschenheiter & Mary McCormack on Andy Cohen's Talkshow Watch What Happens: Live.
With the exposures from the shows, Gina grew to be a star. Her Instagram, in a short period, has grown into a family of more than a quarter of a million followers (277K to be exact).
The showbiz not only changed the numbers on her social media but, also made an impact on her finances. Although her salary on the show was never disclosed, considering the standards of the show, she must've been paid a pretty dime. As of now, her net worth is an astonishing $1 million.