Entertainment
Fox and Friends Blonde Beauty Heather Nauert Married Banker Scott Norby. With Boyfriend, Divorce Rumors!
Currently working as a news anchor on the Fox News Channel, The beautiful Heather Nauert serves the viewer with the top headlines on her daily morning news/talk program called "Fox and Friends." Heather now, 46-year-old, married the love of her life in the year 2000. Her husband's name is Scott Norby and he an investment banker who serves at Goldman Sachs.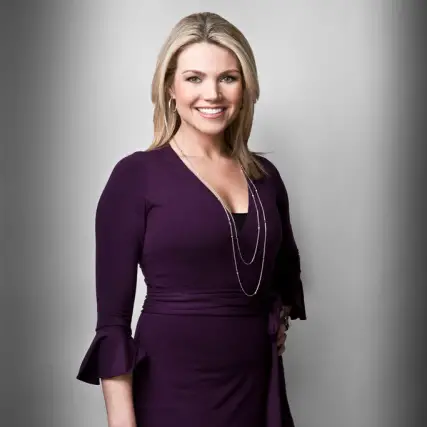 Quick Information
Net Worth

$3 million (Estimated)

Lesbian

No

LinkedIn

linkedin.com/in/heather-nauert-a8849683

Instagram

instagram.com/heathernauert

Twitter

twitter.com/heathernauert

Body Measurements

35-26-36 inches

Eye Color

Hazel

Hair Color

Blond

Hair

Long

Weight

134 lbs (67 kg)

Height/ How Tall? 5' 5" (1.65 m)
Education

Master's in Journalism

College

Columbia University

High School

Keith Country Day School

Nominees

Emmy Award (2006)

Date of Birth Jan 27, 1970
Wedding Date

2000

Divorce/Split

Not Yet

Husband/Spouse

Scott Norby

Relationship Status

Married

Son/s

Peter Norby & Gage Norby

Brother/s

Justin Nauert, Jonathan Nauert and Joseph Nauert

Father

Peter W. Nauert

Ethnicity/Race

White

Zodiac Sign

Aquarius

Birth Name

Heather Ann Nauert

Profession

Journalist

Birth Place

Rockford, Illinois, United States

Nationality

American
Currently functioning as a news anchor for the Fox News Channel, Heather Nauert also serves the viewer with the top headlines on her daily morning news/talk program called "Fox and Friends (weekdays 6-9AM/ET) ."
Without any further delay, let's jump right into her personal life.
Heather, a famous 46-year-old bluestocking, has been married to the love of her life since the year 2000. Going by the name of Scott Norby, her husband is an investment banker who serves at Goldman Sachs. Heather has two sons with Scott Norby. 
Her first child was born on October 7th, 2009 and was accompanied by another son in 2010.
Like many famous journalists, Heather has managed to keep her personal life private. Albeit much information couldn't be generated regarding her husband and children, the family is apparently living happily at their residence located in the Long Island, according to TV Newser .
After stalking her Instagram, we could finally come up with few posts that are related to her children. She usually uses the tag "#momofboys" in every post that is related to her children. 
Here are some pictures of her family, her sons, her brothers along with other interesting mentions: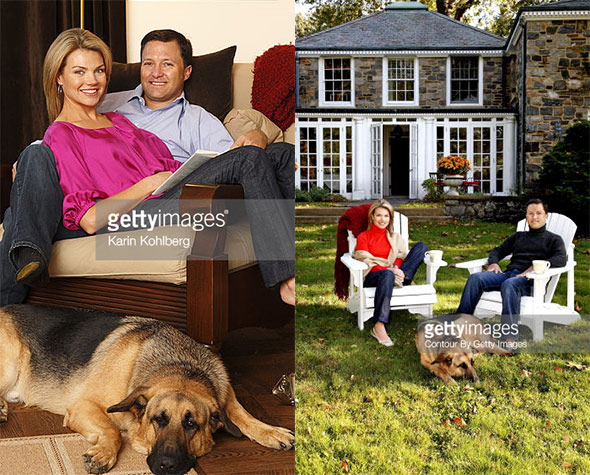 Caption: Heather and Scott's "two-storey, vine-covered home with a fieldstone facade, located in Long Island.
Source: the New York Post's Page Six
Her Sons (Kids):
Her Mother:
Her Father:
Her Married Life: Family Trip
An Important member of the family: Sawyer
Her Brothers:
When She Was A Brunette:
Once upon a time boyfriend and First Kiss:
Heather has once revealed about her first kiss with her the then boyfriend. Her first kiss was with her then boyfriend named "Jamie Evans", and it took place in a tree house. If you want to know more about her professional life, you can follow her on social networks like Twitter, Instagram or Facebook.
In one of her shows, she has said that even if her job as news anchor at Fox News ends, she has another job waiting on the line: The job of "a wife" and "a mother." Heather and her husband currently enjoy a healthy relationship with a null chance of divorce.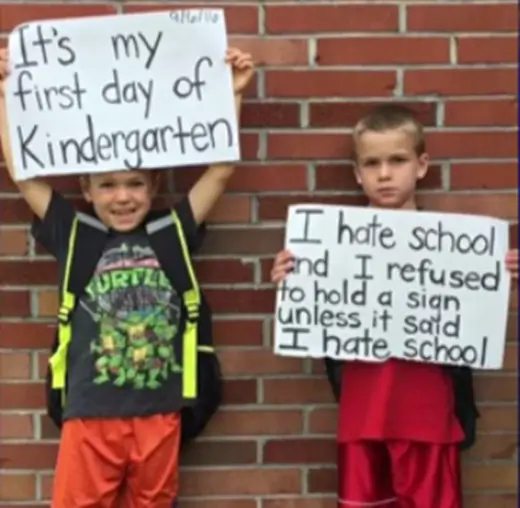 Caption: Heather Nauret's sons holding two different signboards on the first day of school.
Source: foxnews.com
Now that her two young boys are of age to be kindergarten but things are exactly opposite with the two young lads as one of them is very excited and can't wait to start the school while holding the sign that said 'it's my first day of kindergarten' while the other even refused to hold the signboard unless it said 'I hate school' with what was clearly a grumpy face.
Heather Nauert's Short Bio:
Heather Nauert was born on January 27, 1970, in Rockford, Illinois. She got her Bachelor of Arts in communications from Mount Vernon College for Women and followed it with Master's degree in journalism from Columbia University.
Aside from Fox News, Heather has also worked for ABC News as a general assignment correspondent and contributed to ABC's World NewsTonight, Fox News' Good Morning America, Fox and Friends First and Nightline and in doing so, worked alongside notable news hosts such as Heather Childers, Kimberly Guilfoyle, Anna Kooiman and many more.