Entertainment
Glancing Back At Holly Valance Lavish Wedding With Billionaire Husband; Younger Sister Reveals Her Lifestyle
Why do people love fairy tale like wedding and wish one for them in real life too? It's because fairy tales do turn into a reality, but very few get to live a fairy tale wedding.
Australian actress Holly Valance is among those very few lucky ones who she tied the knot with her billionaire husband in a lavish not lees than a fairy tale wedding ceremony. Curious about the wedding details? We'll help you out with that!
Holly Valance's Lavish Wedding!
Australian actress Holly Valance tied the knot with her husband Nick Candy- an English Property tycoon on September 29, 2012, in a lavish wedding ceremony in Beverly Hills, California.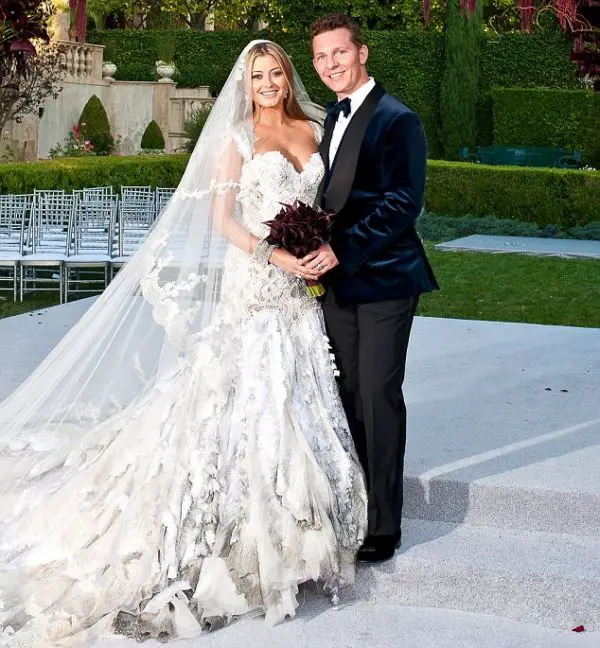 Caption: Holly Valance with her husband Nick Candy in their wedding day on September 29, 2012, California.
Photo Credit: Daily Mail
Her wedding dress was an extravagant gown designed exclusively by J'Aton Couture. The beautiful white gown was a meringue style skirt resembling feathers complemented by a bodice lie top. Moreover, she wore a vintage inspired veil with an exaggerated lace and carried the dark red bouquet. Holly's husband complimented her in a Dolce Gabbana tuxedo.
Friends, family and loved ones of Holly's flew from Australia and Nick's from the UK to attend the wedding. The couple exchanged the wedding vows amidst of around 300 guests. The guest arrived at the wedding location in the black mini buses with tinted windows, and Simon Cowell was riding in Rolls-Royce, which was arranged for guests in the event.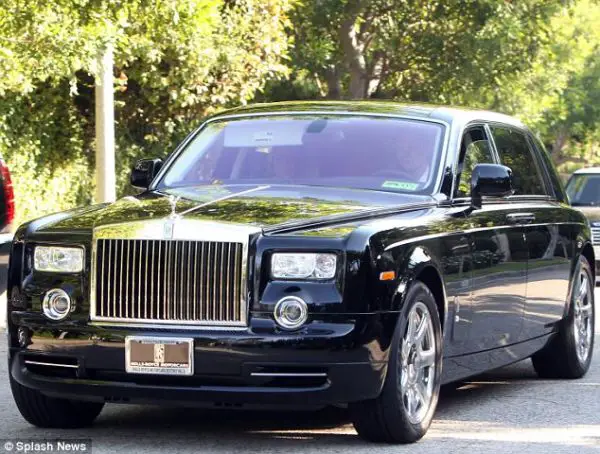 Caption: Simone Cowell in Rolls Royce in the wedding of Holly Valance and Nick Candy
Photo Credit: Daily Mail
As per reports, the couple hosted the rehearsal wedding dinner on September 28, 2012, night in Malibu. Moreover, they also organized a "recovery" barbecue on September 30, 2012, so that the guest with the hangover could nurse themselves and not doubt many would attend it.
Furthermore, the couple reportedly handed the wedding invitation personally. After the wedding, Holly Valance changed her Twitter handle to @hollycandy.
Talking about how they crossed paths, Holly met Nick a mutual friend's dinner party, and they started dating from 2009. They relationship grew rapidly, and Nick proposed Holly in December 2011, during their Christmas holiday to Maldives.
Blessed with a Daughter!
Soon after marriage, Holly gave birth to her daughter with her husband Nick in November 2013. The couple named her Luka Violet Toni Candy. Holly and Nick shared the good news of the arrival of the baby on November 24, 2013. Holly announced,
"She was born a few days ago, we have decided to call her Luka Violet Toni Candy."
Nick further added,
"Her nickname will be LuLu, but, obviously, if she ever goes into business, LuLu Candy just doesn't quite work. My father's nickname was always TC."
Moreover, Nick shared that Holly is a perfect mother and even that shared he aspires to become like his father.
"She is a perfect mother. It was a natural birth. She is from a big Australian family, with younger siblings, so she knows exactly what she is doing. It is such a shame that dad died six weeks before Luka was born, but I had the best role model possible in him, so, hopefully, if I can be anything like the father he was to me, when it comes to raising Luka, we'll be onto a winner."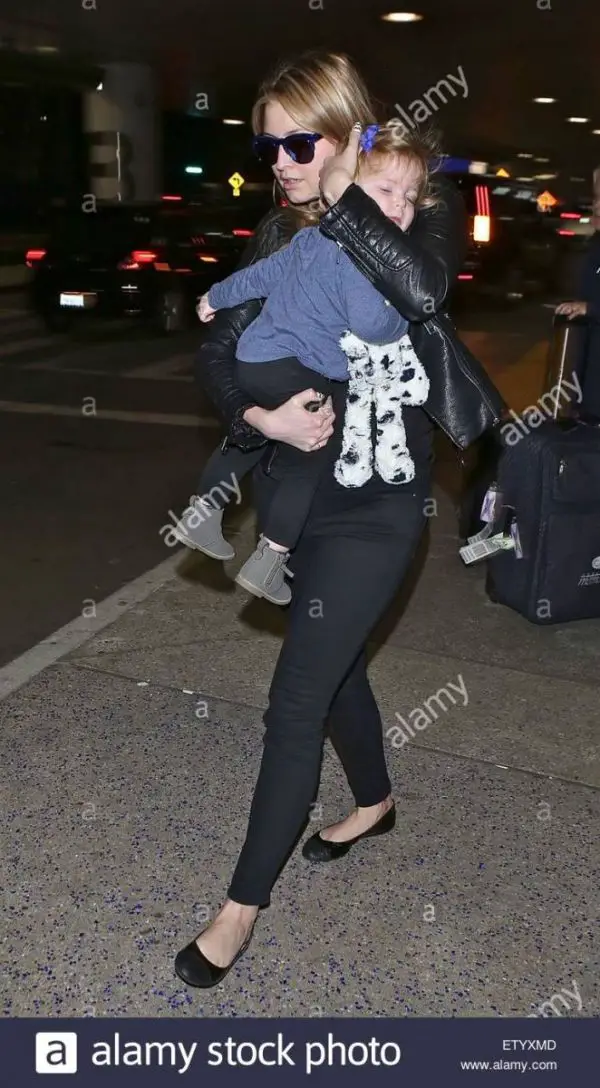 Caption: Holly Valance with her daughter Luka Violet Toni Candy at LAX on March 26, 2015.
Photo Credit: alamy.com
Holly Valance's Life After Marriage:
There was a curiosity regarding the married life of Holly Valance as she married a billionaire.
During an interview back in July 2015, her sister Olympia Valance revealed about her marital life.
Olympia jokingly said,
'Holly is just a bogan from Melbourne,'
Moreover, she shared that they live in a penthouse apartment in London, which is estimated to be approx AUD$225 Million.
'They live in One Hyde Park. It's one of the most prestigious addresses in the UK, The penthouse they live in is AUD$225 million.'
She further added,
'They wouldn't fly international in a private jet, I'm feeling really uncomfortable talking about this.'
However, as per reports back in March 2017, Holly has been dragged into the lawsuit of the Billionaire Candy brothers which involves blackmail, extortion, and intimidation.
Holly Valance is an actress, singer as well as a model. She started her acting career with Neighbours (1999 to 2005). Also, Holly made appearances including DOA: Dead or Alive, Pledge This, Taken, Kambakkht Ishq, X Returns, Surviving Georgia, Miss Marple: The Pale Horse.
She kicked off as a singer in 2002 with her album Footprints, and the single Kiss Kiss won her Best Single at the Disney Channel Kids Awards. With her hard work and passion, she has accumulated a net worth of $20 Million.