Entertainment
GOT's Gay Character Will Tudor: No Dating or Girlfriend Till Date, Gay in Real Life Too?
You don't often get 9.5 rating by IMDb or 94% by Rotten Tomatoes until and unless it is Game of Thrones. Each and every character is popular be it John Snow or Olyvar. In case you don't know who Olyvar is, he is a character portrayed by Will Tudor who is incidentally, gay.
Will Tudor's Character in GOT:
Olyvar is a recurring guest character portrayed by Will Tudor in the third, fourth, and fifth seasons of Game of Thrones. He is played by guest star Will Tudor, a British actor, and the character debuted in "Kissed by Fire." Olyvar is a spy and a prostitute who is employed by Petyr "Littlefinger" Baelish, and also specializes in homosexual relations with both Oberyn Martell and Ellaria Sand.
Season Three:
In season three of Game of Thrones, Olyvar is seen as the male escort to Loras Tyrell. In this season, both Olyvar and Loras have sex. During that time, Olyvar discovers that Loras is due to marry Sansa Stark and since he is a spy, passes information to Littlefinger.
Season Four:
Olyvar had been upgrading himself in this season as he is left in charge of Littlefinger's brothels. Oberyn Martell and Ellaria Sand make their royal visit in King's Landing and visit the brothel where they meet Olyvar. Olyvar present three prostitutes to a royal couple of Drone. Ellaria chooses one prostitute and diminishes the other two. On the other hand, Oberyn turns his attentions to Olyvar.
Season Five:
Olyvar is seen visiting Loras, but the relationship between them is unclear. Olyvar is also present when brothel is attacked by the Sparrows. Olyvar is also presented to give shreds of evidence at the "Holy Inquest" of Ser Loras who is accused of Blasphemy and buggery. Olyvar is seen to be doing all of it in Cersei's instructions. Olyvar betrays his lover Loras and testifies all the crimes.
Will Tudor about GOT:
Game of Thrones came first and the popularity of the show really opened doors for me. It's been a bit of a rolling stone for me in that regard.
I do, although I must admit I'm a bit behind on Game of Thrones because of the shooting schedule, so I'm trying to avoid spoilers - which is tricky! Both Game of Thrones and Humans are such ensemble pieces. You see the scripts and see this whole other world beyond your part, which is great to see.
Is he Really Gay? Rumors of Girlfriend or Boyfriend?
Apart from Tudor's gay character in Game of Thrones, there are no affairs or girlfriends linked with him. There are no dating histories as well even though the guy is hot as hell! He may or may not be gay in real life, but he does have a best friend.
Tudor about his gay character in GOT and much more:
Caption: Game of Thrones Olyvar, Will Tudor, talking about filming the intimate brothel scenes with Pedro Pascal (Oberyn Martell), Indira Varma (Ellaria Sand) & Charles Dance (Tywin Lannister).
Rumors about the relationship with Katherine McNamara?
Rumors and speculations about Will's relationship with 'Shadowhunters' Co-actress Katherine McNamara have always flown around. The two look like a great pairing, and it is well known that they are good friends and are pretty close to each other.
Fans of the show have shipped them together for quite some time, and considering the fact that each part of the couple is frequently featured on each other's Social media, maybe their wishes could even come true.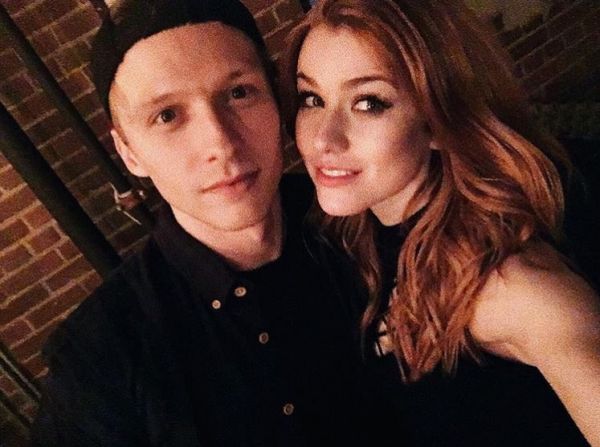 Caption: Will Tudor and Katherine McNamara pose together for the camera.
Source: Justjared.com
?Kat McNamara and Will Tudor appreciation tweet because they are beautiful human beings who deserve all the love in the world ? pic.twitter.com/TjPHQZsZje

— Becca supports Dom?? (@UrNotTudario) June 14, 2017
Will Tudor's Short Bio:
William James Sibree Tudor (born on April 11, 1987) is a British actor. Tudor graduated in English from Leicester University in 2008. He graduated with a B.A. in acting in 2011 and soon made his television debut in a small part in 'Great Expectations.' Since then, he has appeared in Game of Thrones and as a sympathetic robot in Humans. He was recently seen in Television series 'Mr. Selfridge'.