Entertainment
Grey's Anatomy Actress Jerrika Hinton Married Already Or Does She Have A Secret Boyfriend?
Having announced that she is departing from her life-changing series,"Grey's Anatomy" Jerrika Hinton has been clear that she is not that keen on reviving her role in the very series. That has left people a bit surprised and now the people have their sights set on her personal life and many wonders if she secretly has a boyfriend or is married in her off-screen life. So let's take a look at that thing.
Is she Married or has a secret Boyfriend?
From getting pregnant in the famous ABC series to accidentally killing her patients, she has done it all. But people are more keen on her personal life, and her personal life thus far has been a mystery to all. Having dated fellow doctor Jackson on screen in "Grey's Anatomy," she is yet to disclose any major clue regarding her off screen dating and marital life.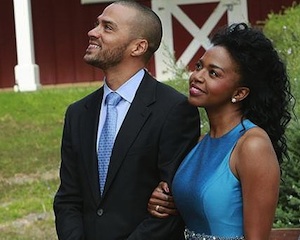 Caption: The onscreen pairing of Dr.Jackson and Dr. Stephanie.
Photo Credit: tvline.com
While many people wonder if she is married or has a husband in real life, two things are clear, one, she is pretty personal when it comes to sharing her personal life with others, two, she is a single lady thus far. Both things are possible and thus, we might need to wait and see if the actress herself comes forth and discloses anything pivotal on her personal life especially the romantic front of her personal life.
The closest we have seen her come to getting married was on the drama series itself before that too broke down.
However, people are often seen gushing about her on-screen pairings with several men and they love the romantic roles she has portrayed.
you think will be hard to steph fall in love again after what happened with her last boyfriend?? #greysanatomy

— beckett (@cassieraiIIy) September 23, 2016
Either way, fans adore what she has done on screen and is sure to be missed by plenty after her departure from the drama series.
A re-post on her Instagram account shall help you have some ideas on what the fans think on her departure from the series.
A Short Bio:
Born on the 21st of September in the year 1981 as the daughter of Avaleon Hinton and Cynthia Hinton, a retired Dallas government worker, she is well known for her drama roles and has been able to do justice to the talents and abilities she possesses.
She graduated in Spring 2002 with honors from Southern Methodist University's Meadows School of the Arts with a BFA in the Liberal Arts, where she studied theater, directing and playwriting and it shall be safe to say that she very well knows the tricks of the trade in the industry.
Caption: Jerrika Hinton talking about Grey's Anatomy on the 3rd of March, 2016.
Having been a part of several projects like "Grey's Anatomy", "A Christmas Kiss" and "The Roommate", she has been able to accumulate a good sum of money in her life, but despite that, no major and official statement regarding her net worth is disclosed by the actress.