Entertainment
Openly Gay Gus Kenworthy & Boyfriend Historic Olympic Kiss | Dating Life Now
British-born American freestyle skier, Gus Kenworthy is having the time of his life!
With Olympic medals already on his pocket, his career has seen high waves since his 2014's Winter Olympics and with the presence of a loving boyfriend, the Olympian is talking success both, on his professional and personal front.
But, the biggest bite came after the first openly gay athlete to compete at the Winter Games shared a historic Olympic gay kiss with boyfriend on the primetime network TV.
The couple's unexpectedly sparked romance turns out to be the long lasting one but will he turn his boyfriend into a husband? Let's find out.
Found Romance With Boyfriend In Most Unexpected Way, Making History With Kiss
Gus Kenworthy, who represented the United States in slopestyle at the 2018 Winter Olympics, is blessed with love in his life.
Apart from his numerous Olympic medals, Gus has also been cherishing the relationship that he shares with his boyfriend, Matthew Wilkas, an American based theater, and film actor.
See Also: Married Man Noel Clarke's Beautiful Wife & Kids! Family To New Series
With an interesting meeting, the duo started dating each other!
It so happens that before Gus could actually meet Matthew in person, they knew each other via Instagram. The Chelmsford, United Kingdom native reached out to Matthew on Instagram which was way before Gus came out as gay.
During the time, Gus, now age 27, was dating his previous boyfriend Robin Macdonald and Matthew had just come out of a relationship and was taking therapy.
Maybe the time was not just right for them at that time hence the couple did not go for a date. But things changed a year later after Matthew joined for drinks with Gus on his birthday.
The pair went for a dinner and hit it off instantly, bonding over blueberry mojitos and since then the couple has remained inseparable.
The couple started dating in November 2015 just a week after Gus publicly opened up about his sexuality. Since then, the couple has been going strong and even after two and a half years of togetherness, they share a similar connection despite the frequent separation due to Gus's career.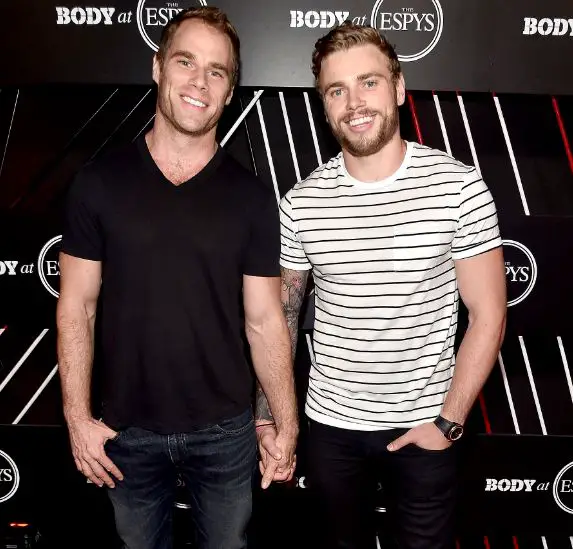 Gus Kenworthy with boyfriend Matthew Wilkas at The EPYS Pre-Party at Avalon Hollywood. (Photo: usmagazine.com)
Just like any couple, Gus and Matthew share a memory of their own but the one that made history was their kiss on the primetime network TV. Gus shared a kiss with Matthew at the bottom of the hill before ski slopestyle qualifying which was captured by NBC's cameras.
Don't Miss: Even After Three Children, Laura Ingraham: Still Not Married, Fending Off Any Issues of Husband and Divorce
Neither of the two was aware of the cameras at the moment and their kiss made more noise that his failed attempt to add to his silver from Sochi.
Well, however, the moment was a great memory for the couple and something that Gus deeply wished for.
No Intentions To Get Married - Dating Going Strong?
While Gus and Matthew are going strong with their relationship, the couple seem to have no intention to take it to the next level. Their relationship took off quicker than expected with a kiss on the first date night and hook up the very next day.
Not only that but also the very same weekend Matthew met Gus's mother. However, Gus has not yet met Matthew's mother as Matthew describes his mom as "religious" and "not very approving of the homosexual lifestyle."
You May Also Like: Jen Carfagno Salary & Measurements Revealed! Weather Channel Reporter Details
Turns out, although, Matthew and Gus are in a serious relationship they have no any intentions to exchange the wedding vows. Back in 2016, Gus opened up with Out Magazine revealing about his relationship with Matthew. He said,
"We're not in an open relationship and we're not breaking up. But we're also not getting married,"
Well, seems like the pair has no intentions of tying the nuptial knot or starting a family but with their deep love for each other, the duo would be partners for life.