Entertainment
Instagram's Hot Sensation Baylee Curran Ran For Her Life After Singer Chris Brown Became Savage!
Nothing pops up in your mind except saving yourself by hook or by crook when you are in do or die situation, and the same was the case for Instagram star Baylee. Famous singer Chris Brown allegedly jeopardized young actor Baylee Curran at his house during a party.
To Baylee's credit, she has used the attention fueled by the incident to establish herself as a red-carpet regular. So, a question begs: did the Instagram star lie about Chris Brown's involvement on the alleged altercation? Was it all but a publicity stunt?
What Transpired Between Instagram Star & Chris Brown?
On December 2, 2016, Baylee went to Chris's house party to California with her female friend like any other celebrity parties.
Read Also:- Who Is Pelicans' Anthony Davis girlfriend? Is He Gay? Dating Status Reflects
One of Chris's pals was showcasing pieces of jewelry, and when Baylee wanted to see them the anonymous Chris's buddy shouted at her and soon Chris came in with the gun pointing at Baylee yelling
"get the f*** out of my house."
And she ran off without shoes and cell phone which she deposited before entering the mansion.
One of Chris' friends returned her shoes and mobile phone after the dispute. However, he wanted Baylee to sign the Non-disclosure agreement (NDA). Baylee refused to sign an NDA and ran away grabbing her cell phone.
She ran away through the driveways and hid under the truck where she noticed she was being followed and afterward, the neighbor called the police, says Curran.
The video from the TMZ reveals Chris Brown was getting mad about police coming at his house on that night. In an interview with TMZ, Baylee stated:-
"The first couple times I hung out with him it was with Justin Bieber, and it was very nice, light, we played hide and go seek … went swimming ... it was all good."
She opened up about the incident in an interview with E Online.
Discover:- Laura Mennell Dating To Get Married, Revealed? Family, Net Worth & Facts
Baylee Curran Labeled Attention Seeker After Instagram Video Surfaces
Though the incident is controversial, Baylee seems to be losing track of the situation because she imparted through her Instagram video that she called the police, but while conversing with E online, she stated that the neighbor called the cops when the neighbor found about the situation.
Moreover, police arrested Chris Brown in the morning i.e. few hours after the incident, but Chris Brown bailed out of jail at the price of $250000 at11 p.m. that night.
LAPD police officer Tony informed People that Brown was arrested on suspicion of assault with the weapon when they received a call from a female screaming at home 3:11 a.m. on Wednesday. Even though Curran insists that she is not doing this for publicity, according to media, she has had connections with police authorities in the past. However, she has not posted anything regarding the incident.
As Baylee doesn't open up in the conversation with E Online, its skeptic that Curran is obscuring something about the incident. But later, Hollywood Life posted revealed the incident from both Chris and Baylee's perspective by merging the video posted on their respective Instagram account.
Interesting:- Cuban Doll Personal Details: Age, Real Name And Ideal Boyfriend – All Revealed
Boyfriend Talks: Who's Baylee Curran Dating?
With more than 13 thousand followers on Instagram, Baylee was crowned as Miss California Regional 2016.
She was also named Miss Love and Peace in Egypt for 2016. Moreover, she had a leading role in Cold Blooded and The Prodigal Son and appeared for Moehair in an international commercial.
Until now, no rumors prevail regarding Baylee's dating as there are no posts in social media regarding her love life with her boyfriends. It seems she's devoted to her career aiming to enter Hollywood anytime soon.
Instagram Star Turned Actress Baylee Curran Dazzles On Red Carpet Events
Almost two years have passed since the fateful incident at Chris Brown's residence. Both the With You singer and Baylee have seemingly moved past the alleged altercation with little to no drama ever since.
While Baylee's alleged attacker, Chris continues to make headlines for reasons other than his music, the 27-year-old model has made strides as an actress and an accomplished model.
Don't Miss:- Josephine Skriver Is Engaged To Boyfriend; Ringing Wedding Bells Gleefully
Nothing solidifies her burgeoning popularity than the show-stealer prowess she displays when she walks down the red carpet. In October 2018 at the premiere of the movie High Voltage in LA, she looked "snatched" for cameras.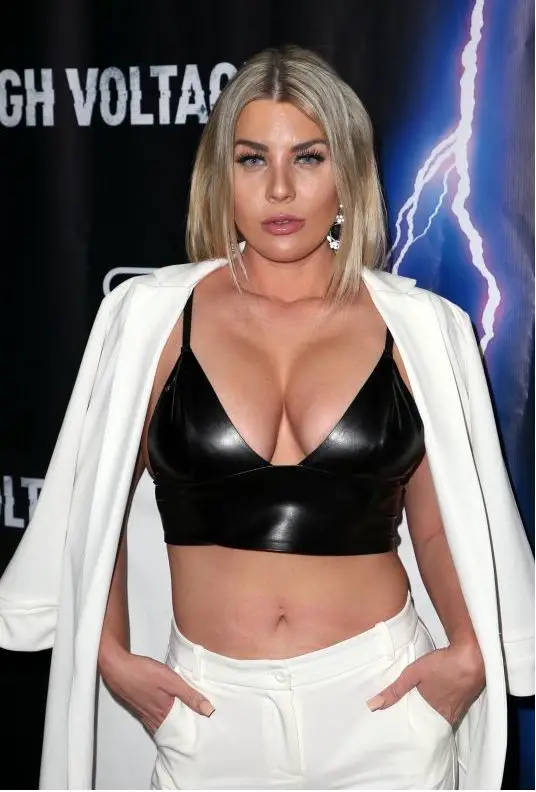 Baylee at the premiere of High Voltage (Photo:- hawtcelebs.com)
For the Arts for Piece Awards red carpet event, which was held on 5th November 2018, Baylee opted for less skimpy clothes.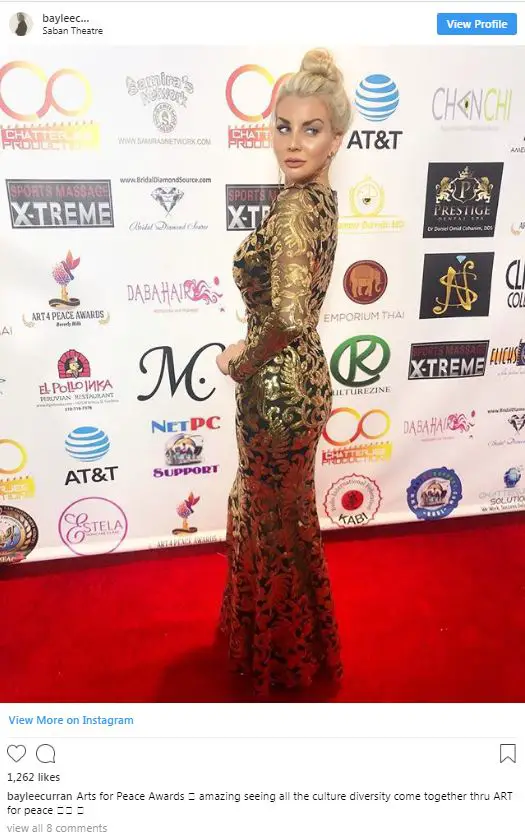 Baylee poses for cameras at Art For Peace Awards red carpet (Photo:- Baylee Curran's Instagram)
Believe it or not, she's also a recipient of the All Woman Rock Banquet award.