Entertainment
Jean Currivan Trebek Wiki: Age, Net Worth To Alex Trebek & Family Bliss
Jean Currivan Trebek is the beautiful wife of the Jeopardy host, but due to her shy nature, she has become the enigmatic figure in the entertainment industry.
However, despite keeping her presence low-profiled, she has been actively looking over her husband's business. Having the 24 years of an age gap, the couple is still strong with their 28-years of long married life, which includes their two grown-up children.
So, let's explore Jean Currivan's with the details on her family, along with her age, children, married life and a hefty net worth she owns with husband in her wiki.
24 Years Age Gap; Happily Married
Born in September 1964, Jean Currivan grew up in Huntington, New York. After getting married to the long-time host of the game show, Jeopardy, Alex Trebek, a last named is added to her name, and she is known as Jean Currivan Trebek.
See Also:- Crushing The Age Gap: Meet Leeza Gibbons' Husband of Five Years Steve Fenton. Know Her Net Worth Plus Divorce History
Jean was just aged 24 when she first met her husband at the party in 1988 and the chemistry between the couple was immediately formed. The Huntington, New York native, claimed that she was nervous about dating the Trebek who was double of her age.
"I was afraid I'd mispronounce my own name! But Alex is really down to earth. He's much more casual than he is on the show."
He proposed his young aged wife on her 26th Birthday. At first, he handed her the black velvet pants and a matching jacket as her birthday gift but along with that he proposed her with the 16-carat sapphire ring, surrounded by diamonds. She described that it took her breath away.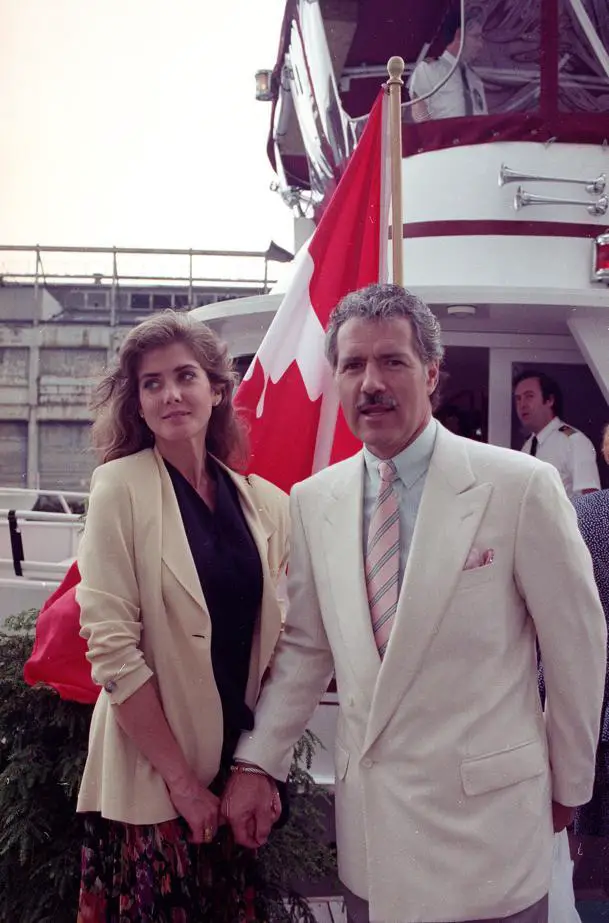 Jean Currivan with husband Alex Trebek on the stern of the yacht "Jacana" on July 2, 1990, in New York (Photo: accessatlanta.com)
Before proposing the young beauty, the 24 age gap did strike him first, but he decided they togetherly can make it work.
Just at the age of 26, Jean was nervous when she got married to Trek on 30 April 1990 in Los Angeles' Regency Club with 150 attendees. At the wedding, Trebek had some fun with the proceedings as per PEOPLE,
"The answer is… yes"
he said, referring to Jeopardy!'s answer-question format. This was not the first marriage of Alex; he was previously married to Elaine Trebek Karens from 1974 to 1981.
Children With Husband Alex Trebek
While the pair rushed to the altar soon after the proposal, the baby news came more sooner than their wedding date.
More From Liverampup:- Anthony Joshua & Girlfriend Split As Young Parents! Ideal Wife Boxing Champion Looking For
The couple got the happiest news about their first child to be born three weeks after their married life. The due date was in February 1990 which merely made the couple shocked, and Alex admitted that was terrific. He said:
"We wanted to have children, but we didn't think it would happen that quickly—three weeks after we got married!"
Soon after their married life, the couple welcomed their first child, a son named Matthew in 1990. Following this, they welcomed their second child, a daughter named Emily in 1993.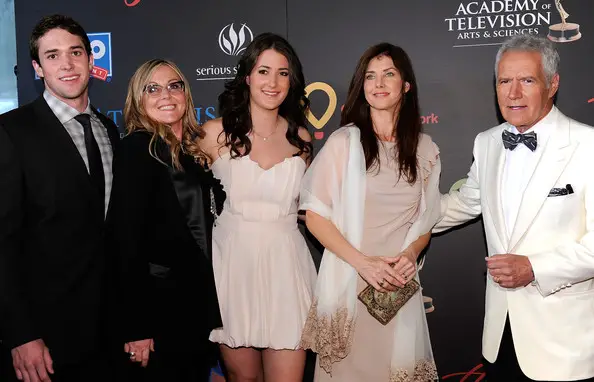 Jean Currivan Trebek with husband, Alex Trebek, son, Matthew and daughter Emily at the 38th Annual Daytime Emmy Awards in June 2011 (Photo: Zimbio.com)
Their firstborn Matthew aged 28 chose the different career from his father. He is returning to her mother's root by living in New York after graduating from Fordham University.
His 78 years-old father purchased a $1.92million townhouse for his son Matthew in Harlem at 310 West 140th Street as Matthew was looking forward to opening a restaurant.
Read Also:- Age Gap Does Not Matter in Healthy Relationship: Fox News' Chairman and CEO Roger Ailes: Married Life, Wife, and Children
Matthew opened a Mexican street-food restaurant called Oso in Harlem, and his mother invested in it. Daughter Emily graduated from Layola Marymount University in 2015 and wanted to pursue her career in the real estates.
Born in Canada in 1940, Trebek became a naturalized U.S. citizen in 1998 and currently resides in Los Angeles, where Jeopardy is filmed.
Dream House To Husband's Quitting Jeopardy; Husband's Net Worth In Millions
Before the happiest day for Jean and her husband, Alex purchased a whole mountain for $ 1.5 million to build their dream house.
After their wedding, they lived in 1984's well-built house at Mulholland Drive. But he sold his 80's house in 1996 to foreign diplomats, and as of now, the Trebek's family lives in Studio City since 2013.
Since she is the New York-based real estate project manager, there is no doubt with the handsome salary she earns. Though her husband back-stepped in investing in their son's hotel, she had stepped in and had invested in it.
Don't Miss:- Victoria Justice Fashionably Dating Singer Boyfriend Despite The Age Gap
But still, she has not disclosed the exact figure of her high net worth. However, her husband who has hosted the game show, Jeopardy over 30 years reluctantly earns an annual salary of $10 million.
With the hefty salary, the Canadian-born American Nationality game show host owns the high net worth of $50 million.
The 78-aged Alex has been hosting the game show since 1984 and had recently created quite a buzz after a leaked email suggested that he came close to quitting the game show after 30 years.