Entertainment
Jenna Dewan Hints Divorce With Husband! Splits To "Different Paths" With Beautiful Note
Hollywood's one-time most adorable couple Jenna Dewan and Channing Tatum fell for each other on the set of super-hit 2006's movie, Step Up as an on-screen couple.
But, after a long journey as married partners, the couple decided to back off from their marital bond and hence, shocked their fans. The divorce since then has spawned a fierce battle over their daughter's custody.
If you are curious to find out the reason behind their separation, keep reading until the end!
Jenna Dewan Splits With Actor Husband
American actress, Jenna Dewan and her husband of nine years, Channing Tatum revealed their decision to go separate ways on 3rd April 2018. The shocking news got aired when they announced the split in a joint statement via Instagram.
High Profile Break Up You Might Not Know:- Robert Buckley Split With Girlfriend Lea Michele
The previous couple stated that they were parting ways in mutual understanding. However, they claimed that the love between them has not changed and the adventure of love is taking them differently. At the time, the once squee-inducing duo also revealed that there were no secrets or salacious events behind their decision.
Also, addressing their five-year-old daughter Everly Elizabeth Maiselle Tatum in the statement, the former lovebirds revealed that they were still a family and promised to dedicate their time to parenting their daughter lovingly.
Saying that Jenna and Channing were separating to take some space and living life to its fullest, the former partners denied commenting further on the reason behind the split, and lastly, thanked their followers for respecting their privacy.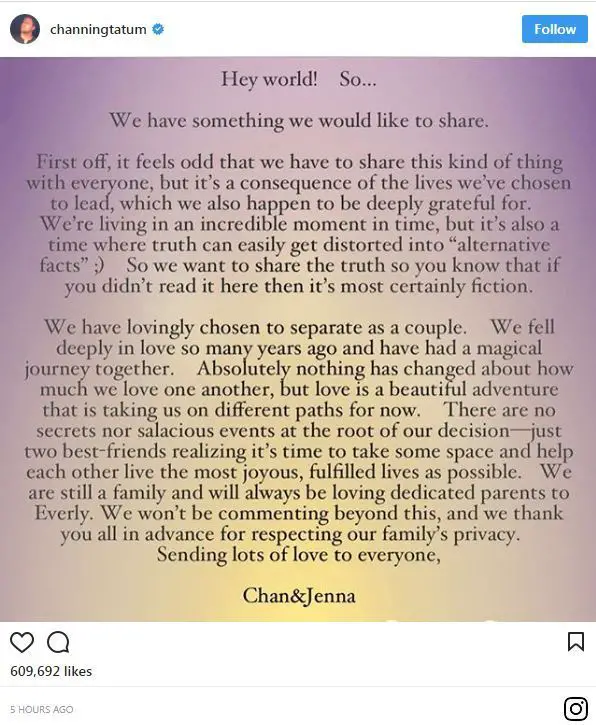 Jenna Dewan's ex-husband, Channing Tatum announces their split on 3rd April 2018 (Photo:- Channing Tatum's Instagram)
Previously, Jenna had opened about the obstacles that their relationship went through and revealed that the biggest problem in their bond was lack of communication.
During an interview with the Health on 6th February of 2018, Jenna opened about the perception that her fans had regarding her relationship with Channing. Addressing the fact that her supporters said she had a "perfect life" with Channing, Jenna exclaimed that no one has a perfect life. She added that they worked hard to keep their relationship going.
"When people say you guys have such a perfect life, I want to scream and tell them no one's perfect. I think there are such things as great fits. It is a great fit as long as you are growing together, and I think up until this point we've really grown together. Even if one starts to grow, the other catches up and vice versa."
The rumors about their split first began when Jenna attended the annual Vanity Fair Oscars after-party without her then-husband, Channing. When asked about her husband, she responded ET that he was on daddy duty.
Jenna and Channing first met on the set of 2006's Step Up, and the two eventually started dating each other. After around three years of being together, the couple finally took their relationship to a whole new level by exchanging sacred vows in July 2009.
Equally Beautiful Wedding:- Inside Lauren Burnham Age 27 & Arie Luyendyk Jr. Fairy-Tale Wedding
Four years after tying the knot, the once-celebrity couple welcomed their bundle of joy, Everly, in 2013 -- and since then, had been setting family goals until their split five years later.
They even mesmerizingly shared their family moments on social sites. In mid-March 2018, the couple shared the sweet snaps from a face painting session by their nearly five-year-old daughter, Everly, with a caption that reads:
"This is what it looks like when a little tyrant fairy artist holds you down and makes your face look 'better'."
As for now, Jenna, who hosts the show, "World of Dance" and the dashing actor have not spilled the beans on their divorce.
Divorce Woes: Battle Over Daughter's Custody Intensifies
Needless to say that the post-divorce life has been difficult on both Jenna and her ex-husband. The dispute over their five-year-old daughter, Everly's custody seems to be one of the reasons why.
According to the leaked court documents surfaced toward the end of January 2019, her former spouse is requesting that the two share their time with their only child during the week and alternate weekends with each other.
The Vow actor also suggested that the ex-couple each receive alternative Christmas celebrations, a multitude of weeks in the summer and sequence New Year's Eve every other year.
Another Ugly Child Custody Feud:- Jon Gosselin & Girlfriend Getting Married Soon Amid Children Custody Battle
As for a combined Halloween, Channing proposed that the former married duo spend Halloween together and organize a joint birthday celebration for their daughter.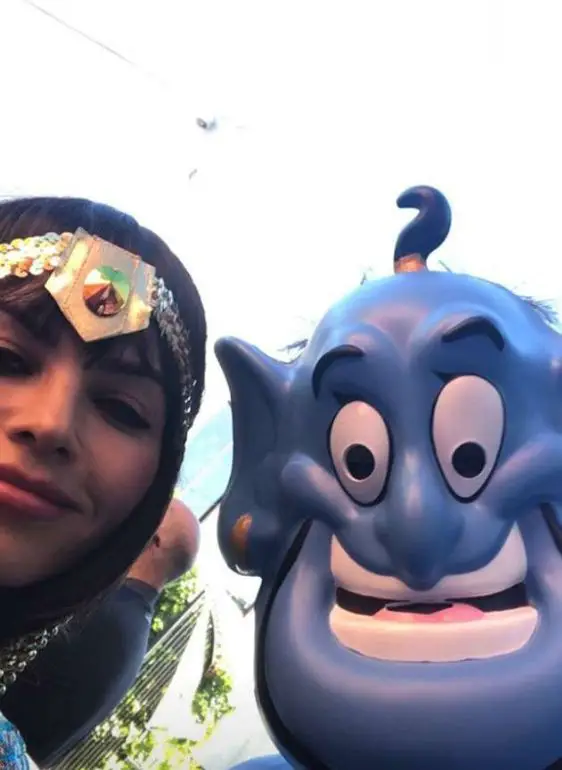 Jenna Dewan reunites with her ex, Channing Tatum to celebrate 2018 Halloween with their daughter (Photo:- eonline.com)
Reacting to the leaked court documents, Jenna's attorney released a statement claiming that all that matters is Everly's well-being. An excerpt of the announcement read:-
"We look forward to resolving these matters in a timely and straightforward way. Nothing in the world matters more to Jenna than the comfort and well-being of her daughter Everly. Everything Jenna has done and will continue to do is with that in mind."
Since the breakup, both the Witches of West End actress and her once-husband have dived right back into the dating pool. While the former has been dating Steve Kazee, the latter has been seeing British crooner Jessie J.