Entertainment
Jenna Dewan Hints Divorce With Husband! Splits To "Different Paths" With Beautiful Note
Hollywood's one-time most adorable couple Jenna Dewan and Channing Tatum started romance after they were starred in the super-hit 2006's movie, Step Up as on-screen partners.
But, after the long journey as married partners, the couple has decided to back off from their marital bond shocking their fans. If you are curious to find out the reason behind their separation, keep reading until the end!
Jenna Dewan Splits With Husband!
The beautiful American actress, Jenna Dewan and her nine years husband Channing Tatum have revealed that they decided to go separate ways. The shocking news aired when they announced the split in a joint statement via the Instagram account of Channing.
They have stated that they are parting ways in mutual understanding. However, they claimed that the love between them has not changed and the adventure of love is taking them differently. The once squee-inducing couple also quoted that there are no secrets or salacious events behind their decision.
Also, addressing their four and half years daughter Everly Elizabeth Maiselle Tatum in the say, the pair told that they are still a family and will dedicate their time to parenting their daughter lovingly.
Saying that they are separating to take some space and living life to its fullest, the partners denied commenting further on their splitting reason, and lastly, thanked their followers for respecting their privacy.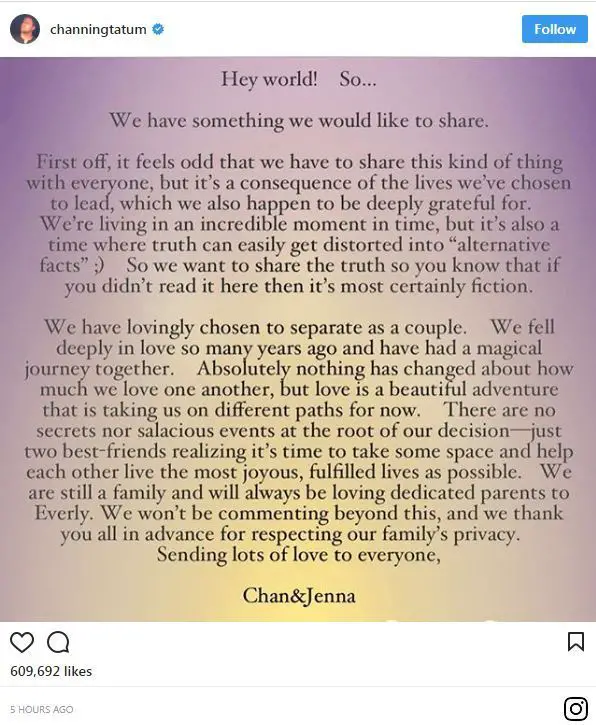 Joint statement about split (Channing Tatum's Instagram)
Before opening about the split, Jenna had disclosed about the obstacles that their relationship went through and quoted that the biggest problem in their bond was lack of communication.
During an interview with the Health on 6th February, Jenna opened about the perception that her fans had regard on her relationship with Channing. Addressing the fact that her fans said she had a "perfect life" with Channing, Jenna exclaimed that no one has a perfect life. She added that they worked hard to keep their relationship going.
"When people say you guys have such a perfect life, I want to scream and tell them no one's perfect. I think there are such things as great fits. It is a great fit as long as you are growing together, and I think up until this point we've really grown together. Even if one starts to grow, the other catches up and vice versa."
The buzz about their split first began when Jenna, alone, attended the annual Vanity Fair Oscars after-party. When asked about her husband, she responded ET that Tatum was on daddy duty.
Jenna Dewan and Channing Tatum first met on the set of 2006's Step Up, and the two eventually started dating each other. After around three years of being together, the couple finally took their relationship to a whole new level by exchanging the sacred vows in July 2009.
The celebrity couple welcomed their bundle of joy, Everly, in 2013 and since then, was setting family goals.
They even mesmerizingly shared their family moments on social sites. Recently, in mid-March, the couple shared the sweet snaps from a face painting session by their nearly five-year-old daughter, Everly, with a caption that reads:
"This is what it looks like when a little tyrant fairy artist holds you down and makes your face look 'better'."
As for now, Jenna, who hosts the show, "World of Dance" and the dashing actor have not spilled the beans on their divorce.