News
Channing Tatum Is Dating After Divorce With Wife, Meet His New Love Jessie J
The Step Up actor is stepping up his relationship with Price Tag Songstress! 
Actor Channing Tatum is reportedly dating British singer Jessie J following his split with ex-wife Jenna Dewan in April 2018.
Channing--aged 38 and Jessie J have been spotted together on numerous occasions lately hinting about their burgeoning romance. A source reported to US weekly that actor recently attended the "Domino" singers' recent concerts in Seattle and Salt Lake City on 8 October 2018.
See Also:- Chace Crawford Has Wife Or Casually Dating Girlfriend? Explicit Details
Furthermore, a social media user claimed that the pair were playing mini golf together at Seattle's local golf course on 6 October 2018.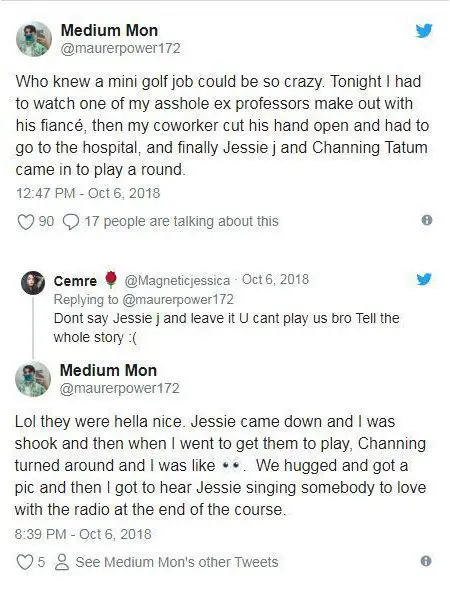 Tweets about Channing Tatum and Jessie J's dating (Photo: Medium Mon's Twitter)
The Twitter user also claimed that the celebrity couple was "hella nice," and Jessie J even sang "Somebody to love" at the end of their play. Another source came forth with more revelation about Channing's dating life and stated that Jessie and the heartthrob actor's relationship was new, casual and they are enjoying each other's company. 
Don't Miss:- Rosalyn Gold-Onwude Married & Husband | Multiple Dating, Found Soulmate?
While all of this was mere speculations, it seems Tatum has now decided to make his relationship official. The actor who was in attendance during the performance of his rumored girlfriend at the Royal Albert Hall in London on Tuesday 13 November 2018, could not stop praising the British singer.
He took to Instagram after Jessie's performance hauling her feat as 'something special', with a photo of the stage.
"This woman just poured her heart out on stage at the Royal Albert Hall. Whoever was there got to witness something special. Wow."
The former The Voice UK Judge and the actor, who shared a warm embrace on stage as she presented the actor with Best Comedic Performance awards at the MTV Movie Awards in 2015 for the movie Logan Lucky! seem to be progressing fairly smoothly in their relationship.
This comes especially after it was reported that Tatum had already met Jessie's mom, who was also present during her concert on Tuesday, several seats away from a dancing Channing.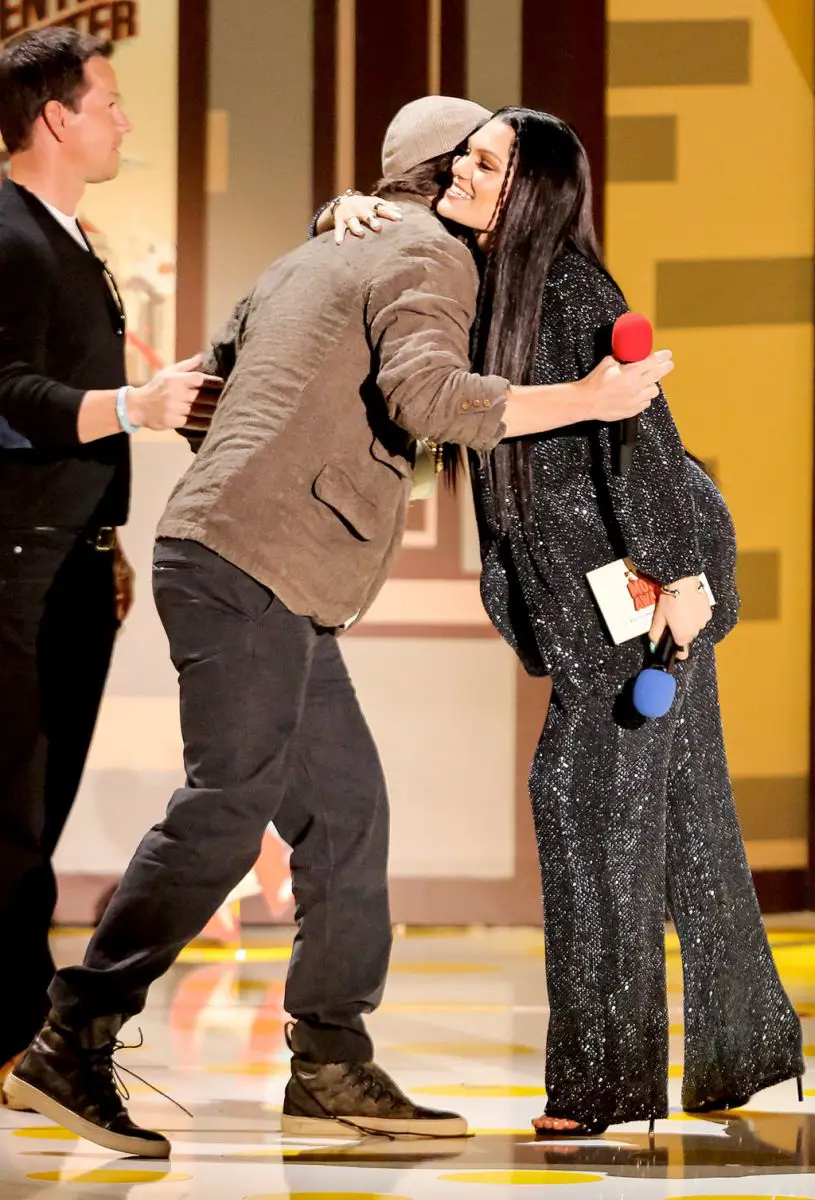 Channing Tatum and Jessie J share a warm embrace in 2015's MTV Movie Awards Show at Nokia Theatre LA (Photo: usmagazine.com)
While Channing appears to be Jessie's biggest fan going by his public admiration for his girlfriend, the same can be said for Jessie as well.  The Brit was also found cheering her new lover at the opening act of Magic Mike Live Show on 11 November 2018.
She, just like her boyfriend, took to social media, praising Tatum's performance with a tweet.
"Congratulations @channingtatum what a show... Ladies and Gentlemen you don't want to miss this."
Well, it appears as the couple just can't seem to get enough of each other. Also, it seems like the actor has already recovered romantically after his high profile divorce this year. 
On April 2018, Channing Tatum ended his nine years of married life with actress Jenna Dewan claiming the couple has "lovingly chosen to separate." The couple had first met on the sets of Step Up back in 2006 and married after three years of dating.
Discover:- NBC's New Show 'World of Dance' To See J-Lo's Swing And Host Jenna Dewan
The formerly married couple share a five-year-old daughter Everly. While the couple was gushing to have more kids in the future, the divorce announcement came as a shock to many followers.
Since their divorce, the former couple is reported to have moved on by going out on dates, but a source had claimed that they were not in a serious dating relationship. However, that seems to have changed with Channing now confirming his admiration towards the British singer.
Stay updated as we bring you the hottest happening in the life of Hollywood's newest power couple!