An expert in weight loss, Jessie Pavelka is an American fitness guru/model-turned-reality telly host. He got thrust to the limelight following his appearances on DietTribe, Obese: A Year To Save My Life and Fat: The Fight Of My Life.
Before building a passion for fitness, he was a star college football athlete at the University of North Texas. The Calallen High School Alum pivoted to bodybuilding/fitness once he hit his 20s.
Following the move to LA and eventually to Long Beach California, Jessie's career as a fitness model took off. In a matter of six months, he appeared on the covers of three magazines.
Despite having second thoughts early on, the former DietTribe star eventually agreed to try his luck as a reality television host. Seeing how impactful his job could be in the lives of his TV clients, his skepticism dissipated.
Bio - Height, Age, Parents, Ethnicity & Siblings
Born on the 26th of September in the year 1982, Jessie grew up in Corpus Christi, Texas alongside his two biological siblings (both sisters).
When he was just nine years of age, his parents - both Texas resident - divorced. The split, in turn, fueled his passion for sports and exercise as he searched for an outlet to express angst and anger.
Same Name, Different Gender:- EastEnders' Jessie Wallace Close With Sister & Far From Family As She Hides Daughter From Parents
Standing at six feet (1.83) in height, the former Obese: A Year To Save My Life star boasts mixed ethnicity. Per his November 2013 tweet, his father is from the Prague Czech Republic while his mother is of Irish and Native-American descent.
Weight Loss Guru's Net Worth
A decade after hanging up his football boots, in 2009, Jessie commenced the foray into show-biz with DietTribe. However, it is across Atlantic that he made a name for himself.
In 2013, Jessie started a lifestyle company called Pavelka Health Revolution. Based in the UK, the business organizes well-being seminars and workshops.
By 2015, he starred & hosted numerous weight loss related telly shows including Obese: A Year To Save My Life, Fat: The Fight Of My Life, and The Biggest Loser. Also, the former Daybreak star helped the crew at Good Morning Britian to launch its campaign Sugar-Free GMB the same year.
Fitness Expert You May Know:- Sadik Hadzovic Net Worth, Bio, Diet, Training
Given his TV appearances coupled with bondsman-like worth ethic, the news of him boasting a seven-figure net worth shouldn't come as a surprise.
Wife/Girlfriend Details
Jessie may have found professional success in Europe, but he ran into his girlfriend (also, future wife) Sitara Hewitt in North America.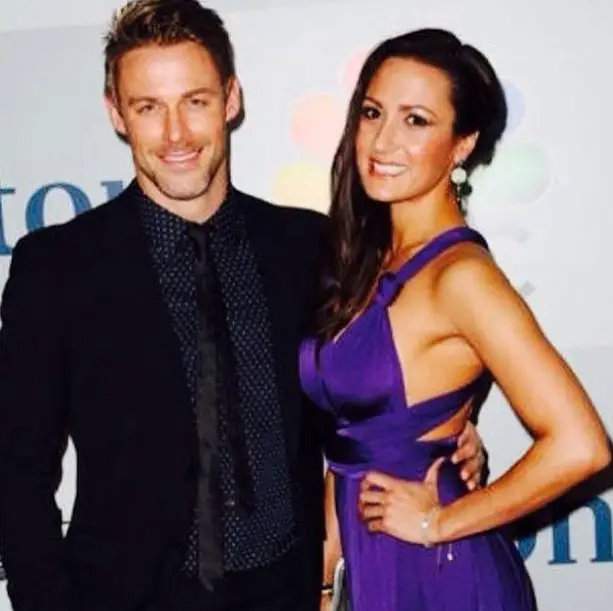 Jessie Pavelka attends an industry event with then-girlfriend-turned-wife Sitara Hewitt circa 2015 (Photo:- Sitara Hewitt's Instagram)
A Canadian actress by trade, Sitara is the mother of Rowan. Rowan was born in 2010, almost a year and a half after the certified trainer and his then-girlfriend Sitara's wedding.
Married in September 2008, the pair enjoyed seven years of blissful matrimony before the separation - and eventually divorced - derailed their marriage in May 2016.
Nuptial That Ended:- Larissa Dos Santos Lima Married, Divorce, Dating, Kids
Although separated legally, Jessie and his ex-wife Sitara remain in amicable terms. The former duo - who met through a mutual friend - share custody of their only child Rowan.