Entertainment
Jim Broadbent Married Past The Young Age! Is Set To Appear In Game Of Thrones Amid Hoaxes That He Died
'It's a great thing to handle professional and love life hand-in-hand. Sooner or later It's even important to take that love life in a level of relation called marriage. Similarly, Jim Broadbent, a happily married man who is versatile in his acting life, had his marriage past the young age and is very devoted towards his love life. But who is his wife? And is he the loyal husband? Without any further ado, let us dig in
More Peek Into Jim Broadbent's Married Life:
Maintaining a long-term relationship in a smooth way is a bit hard, especially for the person working in acting background. But Jim Broadbent, standing as a right husband, is a man with a heart who has been able to handle his personal life in a great way.
Jim got married to a costume-designer-turned-artist named 'Anastasia Lewis in 1987 whom he met in 1983. Jim also became the stepfather to Anatasia's grown up sons, Tom Lewis and Paul Lewis. And it is a wow factor to know that it's been 30 years of their togetherness!
Jim was married past his young age at 38, but there were no any other affairs out in the media.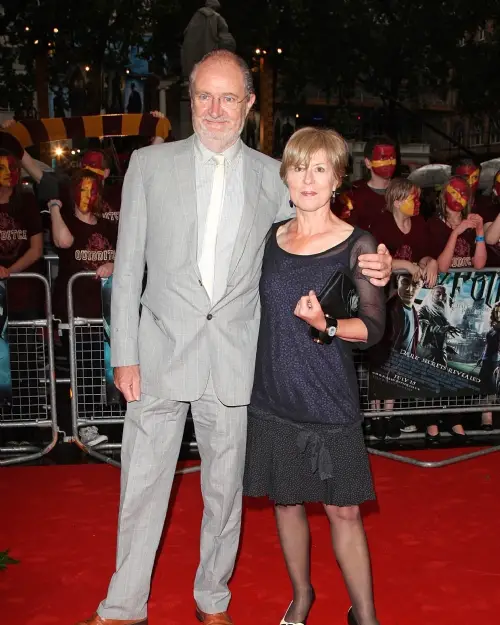 Caption: Jim and Anastasia at the World Premiere of 'Harry Potter and the Half-Blood Prince' in London.
Photo Credit: www.hollywood.com
Nothing more was known about his love life. But let's hope him to reveal some interesting facts about his long-term relation soon.
A Wiki-like Bio Of Jim Broadbent:
Jim Broadbent, an honorable and versatile actor, was born on 24th may 1949, Lincoln, Lincolnshire, England, UK. He is the son of Roy Broadbent and mother 'Doreen Broadbent.'
Talking about his career, he has been counted as a best-giving actor, who has done lots of movies in his lifetime. He not only played in movies but proved to make it an award winning title as he won awards in many movies and series. He has been working in this acting field from a long time reflecting his versatile character and he was graduated from the London Academy of music and dramatic arts in 1972.
He also won an Oscar for playing John Barley in Iris(2001). He had also been nominated for best picture award in some movies such as The crying game(1992), Gangs of New York (2002) and Brooklyn (2015). Moreover, Jim has done a movie named 'London Spy' which was a gay spy drama.
Caption: Jim Broadbent wins supporting actor for the role in Iris: 2002 Oscars (Published on April 1, 2013)
It had been revealed that he is going to work in 'Game of Thrones.' And there is a rumor that he is going to appear as Amid Hoaxes that died. Talking about his character in the series, he said,
"I'm a maester, an archmaester. I'm an old professor character."
He will be able to work will another great character's in this series like 'Jacob Anderson', 'Conleth Hill', Nathalie Emmanuel.'
As Jim has done tons of movies and television series like The complete guide to sex, The Hit, The Black Adder, Harry Potter movies and many more; he has been able to earn popularity as well as a good budget. And with his progress and hard work, he has been able to accumulate the net worth of $4 million.
Jim Broadbent can be taken as a legend who has been doing great in industry sector as well as has kept is love life secure and ongoing. And he can be taken as an example that even getting married at the late age, he was able to maintain his relationship in a good way.