Entertainment
Julia Allison: Unsteady Dating and Boyfriend, Shocked Everyone With Wedding to Herself
To love others, one must learn to love themselves. To be single is better than to be in an affair with random people. While you are searching for your perfect soul mate, you can hurt many people who love you. So some people prefer to be single until they find their perfect ones instead of being in numerous relationships.
With context similar to this, the former BRAVO star Julia Alison has shocked everyone with her wedding to herself.
Wedding to Herself?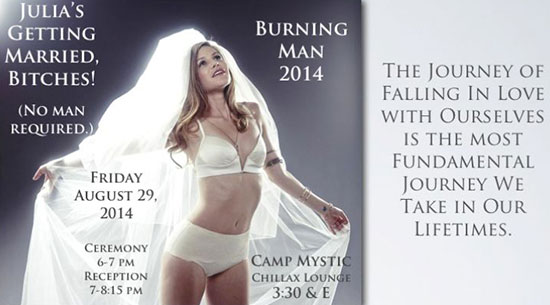 Julia Allison's invitation to her wedding to herself in 2014. (Photo: jezebel.com)
On August 29, 2014, Julia Allison enjoyed a wedding to herself. An email invitation was sent to potential guests. The invitation was attached to a quote which said-
"The journey of falling in love with ourselves is the most fundamental journey we take in our lifetimes."
You May Also Like: Jon Taffer,Age 63 & Wife Duo, Power Couple Keeping To Wedding Vows
The wedding was very unconventional where tutus were provided. The bride was wearing white whereas the guests attended the wedding in brightly colored rainbow costumes.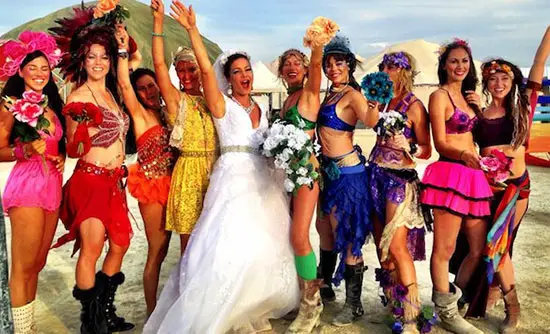 Bride Julia Allison with her guests who were encouraged to dress in brightly colored rainbow costumes. (Photo: buyconscious.com)
Buyconcious.com took an interview of one of the friends of Julia Allison who was a bridesmaid at Julia's wedding. In the interview, she said that Allison was not involved in any kind of relationships.
"When my former roommate Julia Allison asked me to be her bridesmaid, my first thought was YES! The second was – wait, I didn't even know she was dating someone. It turns out — she wasn't. She was completely single, there were no lovers in the picture (past or present), and this girl was all about putting a ring on it. I was confused."
So, despite the wedding to herself, the journalist remains single with a turbulent dating life.
Dating and Boyfriend?
From 2000-2010, Julia Allison has been in a relationship several times. She was in a relationship with Harold Ford, Jr. from 2002 to 2003. Forty-six-year-old Harold is an American politician.
Likewise, she was in a relationship with David Zinczenko from 2006 to 2007. David is a television personality, an author, publisher, and businessman. Right after separating with David, Julia was in a relationship with Jakob Lodwick (2007).
Don't Miss: Ashley Parker & Husband Flaunt Blooming Married Life With Happy Bumps
Jakob is an American columnist. And from 2009-2010, Julia was found dating Jay Cutler. Cutler is an American football player.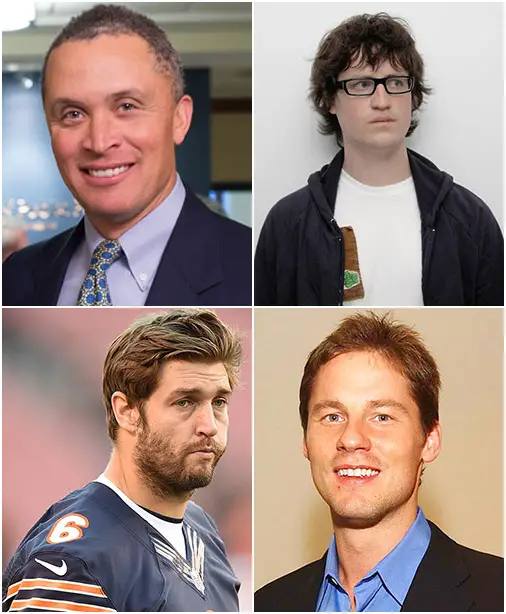 In picture Harold Ford Jr(Top Left), Jakob Lodwick(Top Right), Jay Cutler(Bottom Left) and David Zinczenko(Bottom Right). (Photo: liverampup.com)
However, following a long list of boyfriends in her earlier days, it seemed Julia has since lost all passion for men. She now seems more interested in women. In an interview with NY post in May 2018, the journalist recalled an anecdote where she dated a woman.
"I dated a woman for a while, a beautiful entrepreneur who was also jilted by New York."
In the same interview, Julia also disclosed some other famous personalities she has dated over the years.
"I went out with a prince: Lorenzo Borghese from "The Bachelor." I even dated the British ex-boyfriend of "Sex and the City" creator Candace Bushnell. Last year, I ended a two-year relationship with a man who ultimately couldn't commit and wanted to be polyamorous."
With a long string of boyfriends, the self-married star, however, seems to have lost all her beliefs on dating.
"Dating is not front and center in my life anymore, although it was all I talked about in my 20s. That's pretty one-dimensional."
So, the journalist cum actress seems to have given up on her dating life for now. However, with her charming looks and attractive personality, she can get back on the dating game whenever she wants to.
Julia Allison's Short Bio:
An American journalist, public speaker, and television commentator Julia Allison, who was born on February 28, 1981. She attended Georgetown University from where she earned a bachelor's degree in Government in 2004.
Read Also: Are Susannah Constantine & Husband Bad Parents? They Say Yes​​​​​​​
Allison has appeared on television networks like Fox News, MSNBC, Fox, CNN, MTV, NBC and Headline News as a guest commentator. She has also appeared on the Bravo reality show "Miss Advised". She had last shown herself in The Naked Brand (Documentary) as a TV Correspondent & Syndicated Columnist in 2013.
However, the journalist seems to have a fading career these days. Her only recognized interview came in May 2018 to the NY post where she blamed the show Sex And The City for her current life. Fulled with regrets about her life, Julia, now 37, told Doree Lewak how she would change her life all over again if she could.
"If I could go back and do it all over again, I wouldn't."
However, apart from some regrets, Julia can proudly say that she has lived an accomplished and successful life with her net worth amounting to $800 thousand.