Entertainment
Jumping From One Boyfriend To The Other, Chloe Sims Reveals Worry Over Daughter From The Internet
A mother is someone who never stops worrying about her children even if they are an adult. No matter what the condition or situation is, her heart can't stop getting worried about her children.
Likewise, stunning beauty Chloe Sims who jumps from one boyfriend to other also loves her daughter to the moon and back. She is worried about her daughter who could be trolled following an online abuse.
Genuine Concern For Daughter's Well-Being; Daughter's Father Not The 1
Last year, when Chloe spoke out to support Danniella Westbrook, she revealed that she was worried about daughter from the web. When horrific online abuse targeted the kids, thirty-six-year-old TOWIE star revealed that she is worried about her then-eleven-year-old daughter who may be their next target.
Read Also:- Bobby Bones Triumphs DWTS Title With Sharna Burgess! A Bio On Winner
Speaking with Star magazine, she revealed:-
"I felt for Danniella Westbrook when she revealed her kids were being trolled. I worry about Madison being on social media and how she'll be treated by others if they know who I am. That's why I'm careful about what I share online."
Madison was born in the year 2005 to Chloe's ex-boyfriend Matthew. In an interview New! Magazine, she revealed about her daughter's biological father. She disclosed:-
"I was with Maddie's dad, Matthew, for seven years, but we ended up like brother and sister and that isn't what I want. I've only ever been in love once and that wasn't with Madison's dad. It was with the most amazing man I ever met – he was so funny with perfect looks. I really fancied him"
Reportedly, Chloe separated with Madison's biological father right after Maddie's birth. However, Chloe stated Maddie has a good relationship with her dad and is close with his family.
The Towie star's concern for her daughter's well-being is as genuine as it can be. Drawing from her experience as an abandoned child, Chloe seemed guarded when it comes to protecting Madison.
Most recently, she opened up about how her mother had abandoned her for her boyfriend of 10 years. Despite years of seeking counseling, she's yet to fully recovered from the traumatic experience.
Discover:- Here's Makeup Brushes List, Their Use and How To Store Them and How To Wash Them - Bet You Never Knew These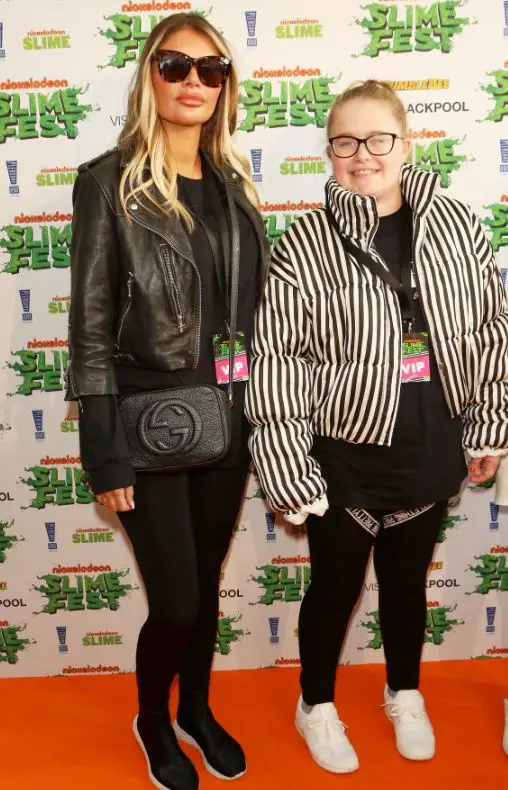 Chloe along with daughter at the Nickelodeon event (Photo:- ok.co.uk)
In October 2018, the mother-daughter duo made a rare public appearance as they attended the red event before heading to the Blackpool for Nickelodeon's Slimefest. Both Chole and Madison sported a sporty look with trainers and black outfits.
Chloe Sims' Dating History: Rich & Young Boyfriends
Previously, single mom, Chloe was in a relationship with Robert Tchenguiz, a millionaire with a net worth of £850million.
Fifty-eight-year-old entrepreneur Robert and thirty-three-year-old Chloe had an age gap of over 20 years. However, the relationship seemed to be going strong as they had been spotted together on various occasions.
Interesting:- Allysa Rose Store Manager Boyfriend, Divorced With Co-star Husband, Two Daughters
On May 2016, Chole and her new boyfriend were spotted together on holiday at a swanky French resort. Moreover, They were photographed together on their day out where Chloe looked stunning in a denim shirt, red pleated skirt and matching sandals.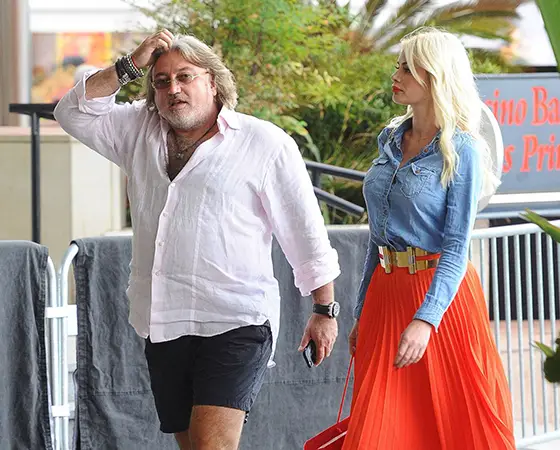 Chloe Sims photographed with her millionaire boyfriend, Robert Tchenguiz (Photo credit: The Sun)
Prior dating Robert, she was in a romantic relationship with her co-star, Jon Clark. Moreover, she was also in a relationship with her fellow Towie star Elliot Wright in 2014. They dated for around five months and broke up.
In the year 2013, Chloe dated Joe Fournier, a personal trainer. They were spotted together several times on a romantic date. From the year 2012-2013, she was dating Darrell Privett and in 2011, was involved in a relationship with Kirk Norcross. Likewise, she was linked with Mario Falcone.
The Towie actress continued her trend of dating young men in 2018 as well. In October 2018, she was photographed leaving the ITV Palooza party with Love Island star Eyal Booker.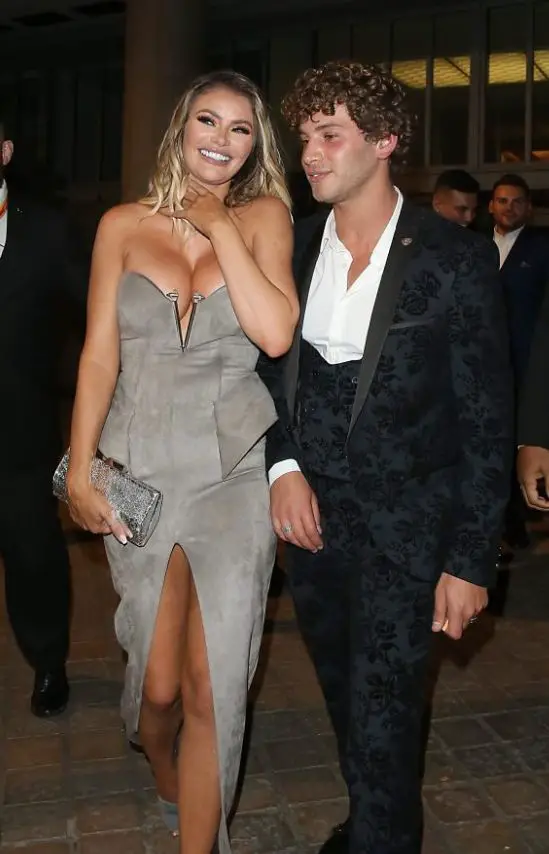 Chloe and her rumored boyfriend Eyal walking out of the ITV party (Photo:- ok.co.uk)
23-year-old Eyal was head over heels for Chloe, who had worn a revealing dress that accentuated her "assets."
Don't Miss:- Salon Owner Eden Sassoon Will Not Return In The Real Housewives Of Beverly Hills!
More On Chloe Sim's Net Worth, Makeup & Salon
As an aspiring TV Personality, Chloe's belief in makeup and surgery to be more gorgeous is natural. However, the Towie star has always vehemently denied ever getting a nose job. She contributes an ample amount of time on her makeup at the salon to look more beautiful.
In the past decade, the Celebes Go Dating star has dished out a whopping sum of $41 thousand on plastic surgeries. In addition to getting her teeth fixed twice, she has also undergone two breast enhancement operations at a total cost of $11.8 thousand.
Regarding surgeries, Chloe had lip fillers once, which is one of the surgeries she regrets. She also has Botox every six months. She underwent a Buttock lift in April 2012. And the big hair that enhances her beauty costs just £3.79.
Although there's no definite figure to mark Chloe's net worth, it is a longheld belief among the financial experts that the 36-year-old earns her income from her beauty salon and modeling gigs.