Entertainment
WWE Newbie Kacy Catanzaro Shows Off Boyfriend, It's Not Bret Steffensen
WWE superstar Kacy Catanzaro, age 28, first rose into prominence after being the first woman to qualify for the finals of the NBC hit reality obstacle course series American Ninja Warrior. Recognizing her burgeoning popularity, WWE decided to sign her to the famed wrestling entity in 2018.
Since her first TV gig, the New Jersey native has gone on to amass a huge following, who are constantly all up on her personal life. Her split with ex-boyfriend Brent Steffensen was a public affair, however, she is making her new dating life cuter as per her social media!
Husband That Couldn't Be: Brent Steffensen
Kacy's decision to mix business with pleasure didn't bode well for her!
The Towson University alum, who was nicknamed Mighty Kacy by fellow American Ninja Warrior contestants, began dating fellow contestant and her then-boyfriend, Brent Steffensen shortly after debuting in the fifth edition of the popular NBC reality show in 2013.
Read Also:- Sonya Curry Age 52 Bio: Height, Ethnicity To Net Worth, Instagram & Facts
Her then boyfriend, Brent, age 38, is a stuntman as well, with credits on movies including After Earth(2013), and Maze Runner: The Scorch Trials(2015).
Back when the pair were still dating, Kacy and her then-boyfriend, Brent competed in numerous obstacles courses. However, they didn't let their work ethic disrupt their budding love. Kacy - who is of 5 feet (152.4 cm) in height - and Brent could be pictured enjoying dates every now and again.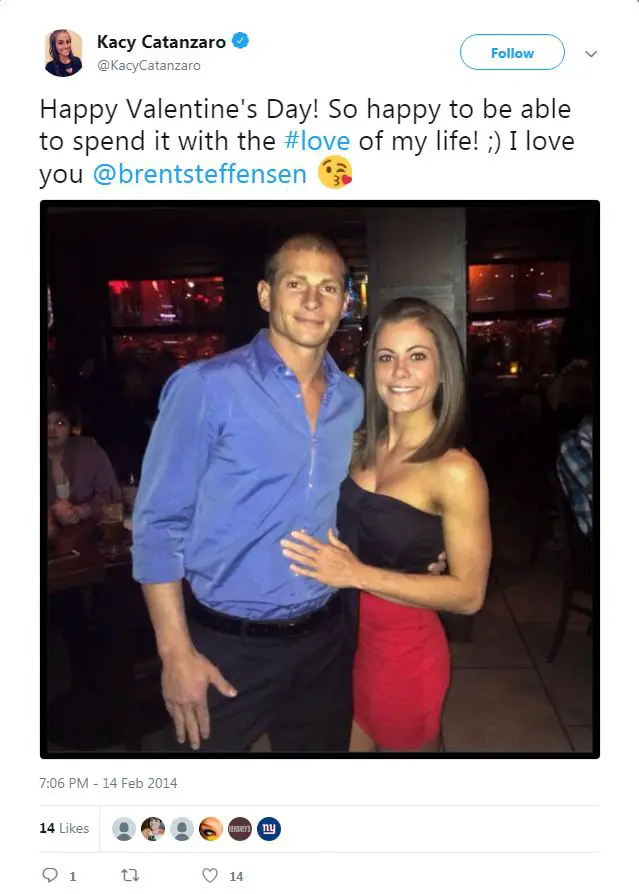 Kacy and her then-boyfriend, Brent Steffensen celebrating Valentine's Day (Photo:- Kacy Catanzaro's Twitter)
All things pointed towards Kacy and Brent making it as a married couple in the near future. It was a match made in heaven. Their relationship seemed poised to go the long way; a possible husband-wife status upgrade was on the horizon.
Interesting:- Jon Rahm's Wife To Be? Meet Smoking Hot Girlfriend Of Pro Golfer
Alas, it wasn't meant to be. In June of 2016, the news outlet Vulture broke the news that Brent and the WWE superstar had called it quits. Speaking to Rachel Sugar of Vulture, Kacy's former muse asserted that the ex-flamed would remains friends following the disintegration of their relationship. He quipped:
"Just because we're not a couple anymore doesn't mean we aren't a team."
The WWE superstar took some time off from boyfriends and possible husband before she dived back into the dating scene.
WWE Superstar's New Boyfriend: "Love Adventuring Through Life With" Boyfriend
2017 marked the beginning of a new era for the Towson University alum. For one thing, she announced that she was retiring from American Ninja Warrior for good and therefore, leave the ghost of her relationship with Brent Steffensen behind her.
Not only did WWE approach her about a possible venture IN 2017 but she was swept her off her feet by a fella named Dave Reid III.
Discover:- MSNBC's Nicolle Wallace Keeps Her Husband Out In Shadows But Not Her Son!
Kacy, who has a reported net worth of $500 thousand, first showed off her new man on 21 May 2017 via her Facebook.
Kacy flaunts her boyfriend for the first time on Facebook (Photo:- Kacy Catanzaro's Facebook)
The pair has been inseparable since then. Kacy and her new boyfriend, Dave even celebrated the latter birthday together. She took to her Twitter to share the picture of the two with the caption:
"Happy birthday to this wonderful man I love adventuring through life with you! I'm so happy you were born! @davereidiii"
What had started off as a friendship has turned into a full-fledged relationship -- with the pair shopping the treats for their dog. Could the co-ownership of a dog lead Kacy and her boyfriend, Dave to look forward for getting pronounced as a husband and wife?