Entertainment
Where Is Kerri Green Now? Has The Actress Gotten Married Over The Years?
"The Goonies" of the 1980's has been a favorite of many, and the characters of the movie have created a special place in the heart of their fans. And even after more than three decades of the film's release, people have not stopped wondering what stars are are doing in their life.
So, today we will shed light on the personal life of Kerri Green, who portrayed one of the memorable characters of the movie, Andy Carmichael.
Child Actress Now Leading Married Life; Husband And Children Stay Behind The Curtain!
Kerri Green has been very secretive about her personal life and the least information regarding her love life has circulated in the media.
However, it is reported that she exchanged wedding vows and got married to her husband in the 1990's. After her marriage, Kerri Green is addressed as "Kerri Green Lee," and as of now, Kerri Green is leading a family life with her husband and two children in Los Angeles, California.
Read Also:- Jesse Plemons & Kristen Dunst Gushing On 'Healthy Baby Boy'; New Journey
Since Kerri has not shared a picture with her husband and children, her ardent fans are deprived of witnessing her family.
Moreover, the information regarding the personal life of Kerri Green is limited, and her fans have to wait until she shares something regarding her personal life.
Memories Of "The Goonies"; Family Concern
Kerri Green is famous as Andy Carmichael from the 1985's American comedy film The Goonies which was directed by Richard Donner. She was just a teenager while she portrayed the character of Andy in the movie, but even after three decades, she is recognized with her charismatic role in the movie.
During an interview, she talked about the movie and shared a few details about her co-stars, Sean Austin, and Josh Brolin.
See Also:- Where Is Jonathan Ke Quan Now? Who Is He Married To? All You Need To Know About This Indiana Jones Star!
Kerri shared that Sean Austin is the sweetest person alive.
"Sean is one of the sweetest people alive. He could get really hyper so everyone tried to keep him away from the craft service table, because he loved his candy."
Additionally, Kerri also talked about another co-star, Josh Brolin. She expressed,
"Josh was the cutest, most awesome guy – we all loved him,"
Kerri further revealed that sharing an onscreen kiss with Josh Brolin wasn't a walk in the park.
"I was 17 at the time and it was totally embarrassing. It's the time of your life when you are the most self-conscious anyway. Then you're being filmed and you have to kiss Josh Brolin – just humiliating!"
Also in an interview with the NJ Horror Con and Film Festival back in November 2017, she gushed that she never thought her movie would be popular among the today's generation too.
Don't Miss:- Tom Perez While Maintaining Healthy Family Life With Wife, Children; Threatens President After Switching From Labor To DNC
And while she was asked what would be her next move for her career, the actress seems to be unknown about it. Since she has not hit the screen since 2010, she seems to have decided to spend her life with her family.
Here is a picture of Kerri where you can see she has aged as beautifully as wine does.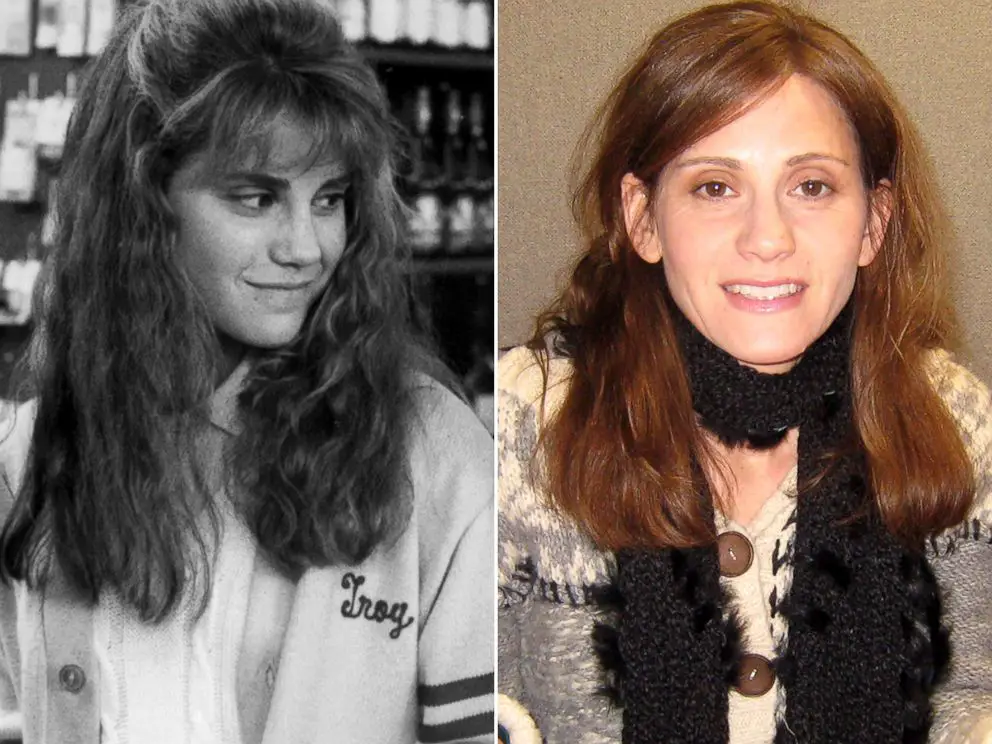 Then and now pictures of "The Goonies" star Kerri Green. (Photo: ABC News)
She is prettier than she was before, don't you think so?
Wiki-Like Bio Includes Career: Painter
Kerri Green was born on January 14, 1967, in Fort Lee, New Jersey. Instead of going to summer camp, Kerri decided to audition for movies in New York City in 1984 and grabbed the attention of Steven Spielberg.
Steven Spielberg cast her in the role of Andy in the film The Goonies, which showered her with name and fame. Moreover, she showcased her talent in movies which includes Summer Rental (1985), Lucas(1986), and Three for the Road(1987).
After the release of the film, "Three for the Road," Kerri decided to study art and got enrolled in the Vassar College, from where she graduated with a degree in Bachelor of Fine Arts.
You May Also Like:-Chris Gethard Ended Dating Affair And Married The Love Of His Life; Maintaining A Healthy Relationship With Wife And Career?
In 1993, she again greeted the screen with the movie "Blue Flame" and her directorial venture "Bellyfruit" received critical acclaim as well.
Further, she appeared in the role of Lynn Parker in an episode of ER in 2000 and got featured in an episode of Law and Order: Special Victims Unit in 2001. Kerri recent work happens to be the role of Beth Wilkinson in the film Complacent in 2010. Aside from his well-acclaimed short career in the entertainment industry, she is also the great painter, and even his fans might not be aware with this fact.
Think we're missing something? Do let us know in the comment section below!