Entertainment
Laurie Dhue's Dark Secret: A 15-year battle against Alcoholism. Also, her Married Life and Husband
Anybody can get caught in the clutches of alcoholism and it can be a real nightmare. In this exact moment, there are countless people suffering from that fate. It can be anybody, normal civilians, television personality, celebrities, politicians, anybody.
Today we will be talking about a famous journalist, Laurie Dhue, CEO, and president of Laurie Dhue Media and an American television journalist who had to go through a struggle because of addiction.
Who would have imagined that Laurie Dhue was an alcoholic? But she was, in the past, 15 years back.
Let's get a glimpse into her personal life too. Laurie married her long-time boyfriend Thomas Colquitt before they were emotionally strong enough to take the next big step.
Unfortunately, the couple couldn't stay together for long because of their personal reasons and they had to go through a divorce. The cause of divorce is not known yet. No news about her having a child is mentioned in any of her biographies or her social media accounts.
Back to the topic, Laurie went through unpleasant 15 long alcoholic years in her life before she realized in 2007 that it was enough and she had to get over it.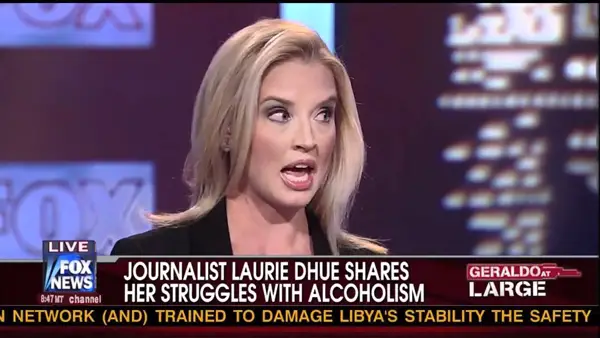 Source: i.ytimg.com
The forty-seven year old never mentioned her struggle with alcoholism publically as she was afraid that she would be judged by everyone, in not so good way. Coming a long way from addiction, she revealed her secret at a private prayer breakfast last week hosted by another Fox News personality, conservative columnist Cal Thomas.
The news was out just because a reporter who was present there wrote about her secret yet shocking confession. Her reaction was just simple. She said, 'At first I was surprised because I certainly did not want to 'out myself' as an alcoholic. But now that the genie is out of the bottle, I just want to help people.'
She even confessed that she was drunk when she met president Gorge W. Bush. She said, 'I was fairly drunk when I met President Bush. I was invited to a small reception but before I met him I had a few pops in my room. I couldn't do it without a drink,'
Here is a video of Laurie Confessing about the time when she met President Bush, her whole process of recovery and why she decided to quit alcohol and start a new life.
After being sober and single for so long, Laurie finally found the love of her life, Joe Schrank who is co-founder and editor at large of the online addiction magazine The Fix. Joe Schrank who shares the same story as Laurie has been clean and sober for 17 years and he feels proud that his kids never saw him drunk.
Laurie and Joe are living with two sons, one of them is Joe's son and the other one is their foster son who lives with the couple.
According to Joe's Facebook update, they are a married couple now and are living as husband and wife.

She has now become an inspiration for people who are suffering from alcoholism and want to get rid of it. She also takes part in various recovery programs and helps to motivate and encourage the people who are in need of support.