Entertainment
Laurie Dhue's Dark Secret: A 15-year battle against Alcoholism. Also, her Married Life and Husband
Anybody can get caught in the clutches of alcoholism and it can be a real nightmare. In this exact moment, there are countless people suffering from that fate. It can be anybody, normal civilians, television personality, celebrities, politicians, anybody.
A famous journalist, Laurie Dhue, CEO, and president of Laurie Dhue Media and an American television journalist also had to go through a struggle because of addiction.
Who would have imagined that Laurie Dhue was an alcoholic? But she was, in the past, 15 years back.
A glimpse into her battle with alcoholism and her personal life details surely set up an interesting story.
Battle With Alcoholism
Laurie went through unpleasant 15 long alcoholic years in her life before she realized in 2007 that it was enough and she had to get over it.
You May Also Like: Actress Nadia Sawalha, Married in 2002 with Mark Adderley, Reveals her Husband's Fight with Alcoholism!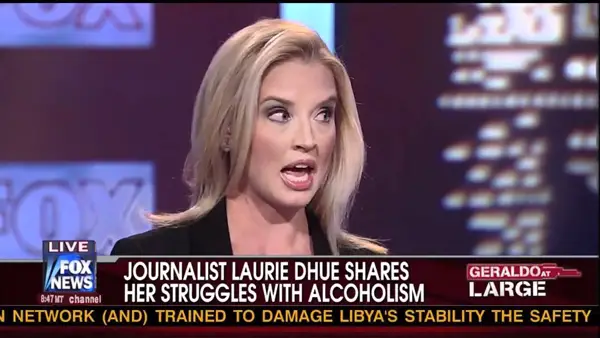 Laurie opening up about her struggles with alcoholism. (Photo: i.ytimg.com)
The forty-nine-year-old never mentioned her struggle with alcoholism publically as she was afraid that she would be judged by everyone, in not so good way. Coming a long way from addiction, she revealed her secret at a private prayer breakfast in 2016, hosted by another Fox News personality, conservative columnist Cal Thomas.
Don't Miss: Gay TV Journalist Seamus O'Regan, Who Fought Alcoholism Revealed How His Husband Helped Him Overcome His Addiction
The news was out just because a reporter who was present there wrote about her secret yet shocking confession. Her reaction was just simple. She simply accepted her battle with alcoholism without any hesitation.
"At first I was surprised because I certainly did not want to 'out myself' as an alcoholic. But now that the genie is out of the bottle, I just want to help people."
She even confessed that she was drunk when she met president Gorge W. Bush.
'I was fairly drunk when I met President Bush. I was invited to a small reception but before I met him I had a few pops in my room. I couldn't do it without a drink.'
She has now become an inspiration for people who are suffering from alcoholism and want to get rid of it. She also takes part in various recovery programs and helps to motivate and encourage people who are in need of support.
Married Again? Supportive Partner After Divorce With First Husband
Laurie married her long-time boyfriend Thomas Colquitt before they were emotionally strong enough to take the next big step.
Unfortunately, the couple couldn't stay together for long because of their personal reasons and they had to go through a divorce. The cause of divorce is not known yet. No news about her having a child is mentioned in any of her biographies or her social media accounts.
After being sober and single for so long, Laurie finally found the love of her life, Joe Schrank who is co-founder and editor at large of the online addiction magazine, The Fix. Joe Schrank, who shares the same story as Laurie, has been clean and sober for 19 years and he feels proud that his kids never saw him drunk.
See Also: Katie Holmes Engaged To Boyfriend! How's Everybody Reacting To The Ring
Though not much information has been revealed about her relationship with Jow, it is believed that Laurie got engaged with Schrank in August 2014 at Molly Pitcher Inn, United States.
The duo currently resides in New York alongside two children; one of them is Joe's son and the other one is their foster son who lives with the couple.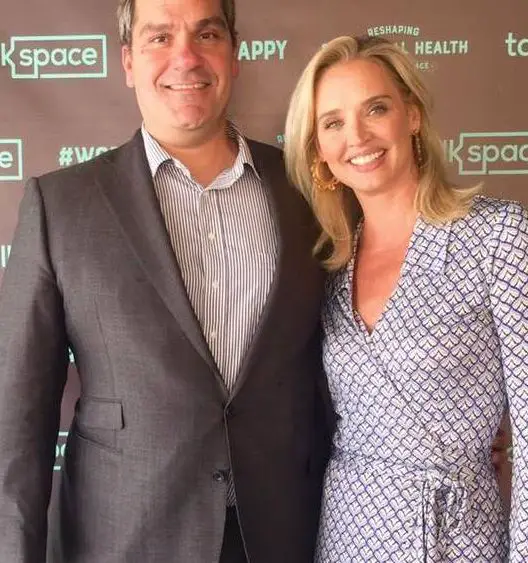 Laurie Dhue alongside her rumored husband Joes Schrank. (Photo: marrieddivorce.com)
Extremely secretive about her personal life, despite her professional career demanding her to unveil curious news, Laurie has managed to keep details regarding her relationship with Joe under closed curtains.
Though no sort of confirmation has been made by Laurie about her marriage, according to Joe's Facebook update, they are a married couple now and are living as husband and wife.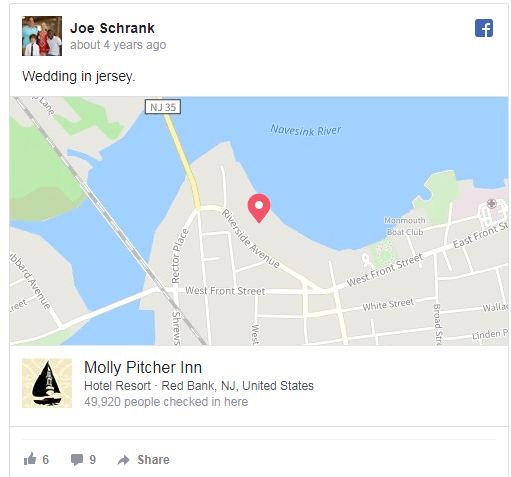 Laurie Dhue's husband Joe Schrank mentions wedding in his facebook post. (Photo: Joe Schrank's Facebook)
Though still unsure about her marital status, Laurie has always had the support of her partner Joe throughout their relationship, and the duo looks all set for happily-ever-after.
Where Is Laurie Dhue Now?
Despite being a globally recognized journalist over her entire career, Laurie's public appearance has diminished over the years with the prolongment of her career. This has raised numerous questions about her existence and what she is up to these days.
Going by her social media account, Laurie seems all occupied by her family. A family person, she has been found posting pictures about her parents and children in her Instagram account.
Apart from her family, Laurie's attention is also diverted to a legal battle she faces with Bill O'Reilly for defamation claims. Laurie accused the 69-year-old former talk show host of running a 'smear campaign' against her.
Apart from her ongoing lawsuit battle, Dhue is also said to be writing a book on her career experience, containing her personal life struggles as well.