Leslie Jones is a comedian, writer, and actress most famous for her work on the long-time running show, Saturday Night Live. An overlord in the comedic scene, she has worked with many Hollywood celebrities like Kit Harington, Tina Fey, and Andy Samberg to create playful short sketches for the show.
Besides being a part of SNL, Leslie has also appeared in many movies including Lottery Ticket, Top Five, Masterminds and the reboot of the popular sci-fi film, Ghostbusters.
Dating Status, Married?
Jumping the 50-year mark in 2019, Leslie Jones is still unmarried and without a husband.
The comedian - who claimed to have never maintained a low-key dating life - has also not been seen with any boyfriends.
While she has tried her best, even losing weight and maintaining an excellent figure to appeal more to the opposite gender. However, Leslie's efforts have been all but naught.
Questioned On Dating:- Cole Sprouse Girlfriend, Dating Status, Net Worth
Due to the absence of a male figure in her life, Leslie's sexuality also often comes into question. While she is not gay, she has joked around with the topic. Lacking evidence and facts about any of her previous boyfriends, she has remained single and unmarried to date.
Net Worth, Career
Initially working odd jobs as a cook, waitress, cashier, assistant to a judge, receptionist, and perfume salesperson, Leslie had a rough uprising. Her comedic career also didn't scale properly.
Failing to produce a wowing result during her first few performances on The Comedy Store, Leslie failed again when she received the chance to open for renowned actor Jamie Foxx. Gaining some insight from Jamie, Leslie separated from the comedic world for a while.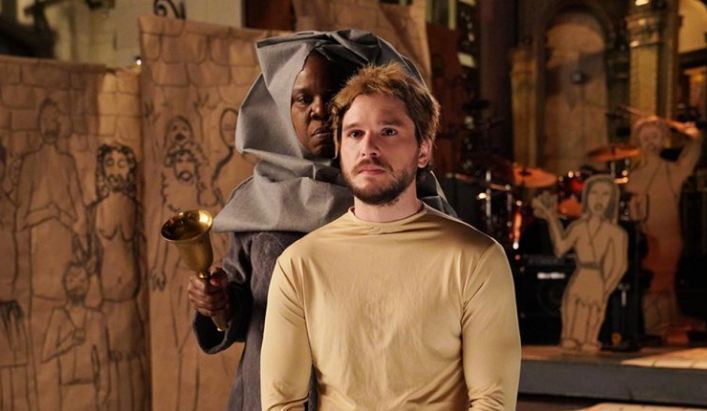 Leslie Jones with actor Kit Harrington during one of SNL short sketches in 2019 (Photo:- hollywoodreporter.com)
Working different jobs throughout the years, she garnered experience and knowledge to improve her performance. Leslie's hard work and patience were rewarded in October 2014 when she became the oldest person - aged 47 at the time - to join the cast of SNL.
After achieving fame and fortune through the platform, Leslie's net worth now is a whopping $ 5 million.
Leslie's Age, Family
Born on 7 September 1967, Leslie Jones is a native of Memphis, Tennesse. Her father served in the United States Army because of which she and her brother Rodenet Keith Jones moved throughout their childhood.
Finally, when her father started his work as an electronics engineer at KJLH, the entire family settled down in Los Angeles.
Growing up to the height of 6 feet (1.83m), Leslie was a relatively tall child even at an early age. Insecure about her looks, she was also called names during her high school. Her parents became vital factors in coping with her challenges.
While her mom introduced Leslie to a beautiful African-American lady, her dad encouraged her to play basketball to use her height as an advantage.
On The Topic Of Family:- Gray Hall Wife, Health, Family, Salary, Now
With the support of her family, she started to learn basketball. Playing the game in high school added another bonus to her life. Soon after graduating high school, Leslie recieved a basketball scholarship to attend Chapman University in Orange, California and later the Colorado State University.
While the 51-year-old comedian is thankful towards her family for the moral support they provided during her time of need, sadly they all have passed away. Leslie fondly remembers everyone but becomes emotional towards the subject now and then.