Entertainment
Lindsey Vonn Casually Dating; Won't Marry Boyfriend Soon, Ski Racer Reveals
American World Cup alpine ski racer on the US Ski Team, Lindsey Vonn is the first American woman to win an Olympic gold medal in downhill skiing. With her rising career as a ski racer, Lindsey has come across a lot of hardships in life.
From reaching the top chart in her career to being distant with her, Lindsey has been through it all. Adding to it, she has even been in relationships that turned sour along with the course of time.
Growing from all the troubles, Lindsey has now found the love she always desired. She has found the man who would lift her up during the times when she feels down.
Married To Sportsperson; Relationships Turned Sour
The United States Olympic Committee's sportswoman of the year in 2010, Lindsey Vonn was previously married to the sportsman. She had exchanged the wedding vows with her ex-husband, Thomas Vonn, also a skier.
The two were introduced to each other when Lindsey was just a teenager in 2002 at the Olympic Games in Salt Lake City. During that time, the two ended up falling in love with each other and they eventually planned to get married.
You May Also Like:- Ryan Lochte Suspended & Sad! IV Photo Scandal, 14 Months Competing Restriction
Lindsey father was opposing the tying the nuptial knot idea. Despite it, the young couple went through the marriage which took place in September 2007, in Deer Valley, Utah, that caused drift in the father-daughter relationship.
However, the couple started getting distant from each other with their busy work schedule and eventually four years later the pair separated. Their divorce was finalized on 9 January 2013. During the divorce paper works, Lindsey got back together with her Dad reviving their father-daughter relationship.
A while after the end of her relationship with Thomas, Lindsey dated Tiger Woods for three years. The pair began dating in 2012 during the time when Tiger was married to Elin Nordegren.
Don't Miss: Figure-Skating Johnny Weir Back at Pyeongchang Olympic 2018! Plus Personal Life
After meeting tiger at a charity event, the pair shared a red-hot romance and got serious with their love really fast even though Tiger was alleged as cheater during that time. Despite the allegations, they went strong in their relationship for three years.
But later in 2015, things between the couple started getting south. They eventually broke off. Even though there were rumors that Tiger cheated on Lindsey, she clarified blaming her busy work schedules for the end of her relationship with Tiger.
After the tough break-up, later in April 2016, Lindsey was spotted sharing some intimate moments with Alexander Ludwig, who is an actor known for his role on the television series, Vikings. However, their relationship did not prosper.
The very same year Lindsey started dating Kenan Smith, a former assistant coach for the St. Louis RamsVonn. In November of that year, Lindsey made her relation Instagram official posting pictures with her new found love.
The couple was very big on PDA and even appeared together during the premiere of Pirates of the Caribbean in May. They were also spotted heading to Paris to attend the French Open a month later.
However, the pair parted ways after dating for a year. As Lindsey was preparing herself for the 2018 Olympics, her forever busy schedules might have been the reason for the ultimate downfall of their relationship.
Romance With Boyfriend On Hype - Getting Married?
After being in a series of relationships that turned sour along with the time, Lindsey seems to have finally found the man she truly loves. As of recent Lindsey has been involved in a romantic relationship with ice hockey player P.K. Subban.
It has been speculated that Lindsey and Subban, began their relationship sometime after the Olympics as Lindsey appeared in PyeongChang as a single woman as suggested by her Twitter account.
Read Also:- Redmond Gerard Snowboarding Through PyeongChang 2018 Olympic Winter Games
After dating for a couple of months, the pair finally made their relationship official on 6 June. The duo went public with their relationship as they debuted as a couple on the red carpet at the CMT Music Awards that was held in Nashville, Tennessee.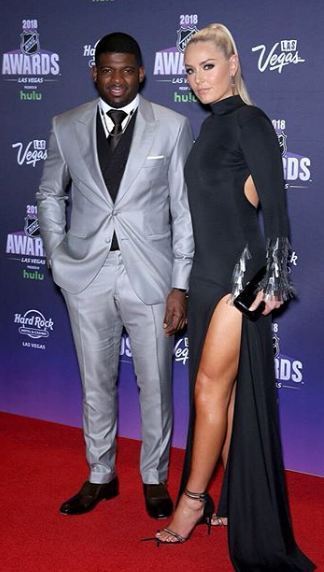 Lindsey Vonn with her boyfriend P.K. Subban during NHL Awards. (Photo: Lindsey Vonn's Instagram)
The couple seems to share a strong connection as Lindsey previously opened up about how Subban pushes her to be positive just like him every single day. They have even been taking on tours together. Recently the couple jetted off to Florence, Italy, to visit Lindsey's sister.
Well, they sure seem perfect for each other, but the couple isn't looking forward to tying the nuptial knot any time soon. They revealed that they would want to spend most of the moments they have together.