Entertainment
Mackenzie Standifer And Ryan Edwards Are Married Now! Take a Sneak Peek at their Wedding
Renewed vows for the second time!
Mackenzie Standifier and Ryan Edwards, the couple of 'Teen Mom OG,' tied a knot once again this mid-November in a church.
The reality star duo went for the nuptials the second time after their elope wedding, and they finally seem to have got the wedding they wanted. Today, let's take a peek at the couple's recent wedding, along with the details of their relationship in detail!
The Couple Who Exchanged Their Vows Twice!
As confirmed by E! News, Mackenzie, 20, and Ryan, 29, got married for the second time in a church ceremony amid dozens of their closest friend and family members on November 18.
The newlywed bride, who exchanged the vows in an 'original intended' wedding ceremony, said,
"It's been in the works since the day we got engaged. It was never just decided upon — we knew from day one this was going to be it."
The celebration of the wedding was held in a converted warehouse-type space. While there were several attendees on the big day, Ryan's ex-fiancee TMOG's Maci Bookout and his nine-year-old son with Maci, Bentley missed the day even though they were invited to the ceremony.
Talking about Bentley, Mackenzie told that he didn't know she was already married to his dad; but above all, she was happy that the day of their wedding arrived.
She shared her feeling after getting married as,
"Everything is just kind of at a resting place right now. It's about our boys. This is a day about us, yes, but it's also about us becoming a family."
Well, Mackenzie also has a son named Hudson from her former partner Zachary Stephens.
Mackenzie previously talked to E! News to hint the big day with her partner, where she said that they were getting married in a cathedral-like church and the reception would be held in an old warehouse. Adding to that, she also divulged that MTV cameras would be covering their lifetime moment.
The couple had previously tied a knot secretly in Tennessee earlier in May this year before Ryan headed to rehab.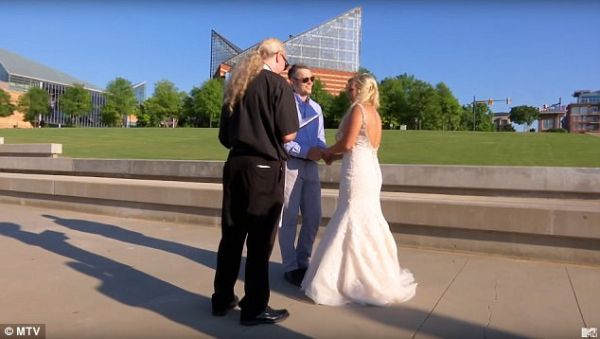 Caption: Mackenzie and Ryan exchange their vows on their first wedding.
Photo Credit: Daily Mail
Ryan popped up the question to Mackenzie over a romantic meal last December. He shared a picture from the day, flaunting the engagement ring on Mackenzie's finger.
Both the events were indeed captured in episodes of TMOG as well.
The couple's relationship also faced challenges at times; the rumors regarding their split surfaced back in August 2017. The false stories then took an interesting turn, as they later were said to have divorced.
However, Mackenzie made a quick response to the issue and affirmed Radar that Ryan was still in the relationship with her. She said,
"Ryan has not moved out."
Further addressing the divorce rumors, Mackenzie said,
"Those are not our plans."
Well, those were all the bitter past. The couple, now, has already refreshed their vows which leads their fans to believe that they are on their way to meet every relationship goal in future!
Keep visiting for the future updates on the life of Mackenzie Standifer!