Entertainment
Malin Akerman, Divorced With Husband in 2013, Not Dating: Boyfriend Has to Compete With Son
We have seen and heard about many celebrities being involved with more than one man. And sometimes even single moms get involved.
Here we have a beautiful diva, Malin Akerman, mom of a son, who was once involved with a boyfriend after her divorce with her husband. Is she still dating him? Moreover, she is tangled between her boyfriend and son. Let's get into it.
Estranged Husband and Wife:
Akerman was married to Roberto Zincone in a famous Italian wedding in 2007 and also gave birth to the pair's son Sebastian in April. However, the relationship could not last long and the Trophy Wife actress, 35, called it end to her relationship with her husband, Zincone.
Caption: Akerman and Zincone during their wedding in 2007.
Source: instyle.com
The couple announced that they were separating from each other oOn November 25, 2013. Zincone filed for divorce against Akerman. The couple announced their 'amicable' split only after six years of marriage, a mere seven months after welcoming their first child together, son Sebastian.
Referring to the split, Malin said,-
"It was jarring at first. It takes a minute to move through the emotions. But there is a beautiful thing about relationships where you grow each other to a point where you can't grow each other anymore. You can't control life. I roll with the punches. And ultimately, it's like, 'Where is the opportunity in this?' And that's been a nice way to look at it. Like, oh my God, I get to have so much special time with my son now."
Boyfriend: Still Dating?
Malin Akerman and Colin Egglesfield were officially dating each other. The pair had kept silence about their relationship after first being photographed together in Beverly Hills in 2014.
Egglesfield is best known as Evan Parks from the T.V series The Client List. Malin, 35, and Egglesfield, 41, were also spotted enjoying a low-key evening at Sugarfish Sushi for dinner on April 1, 2014.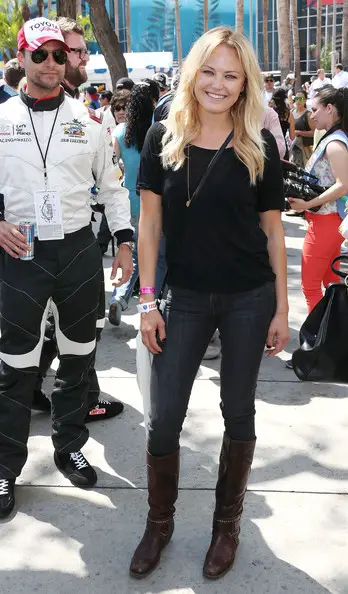 Caption: Colin and actress Malin attended the 37th Annual Toyota Pro/Celebrity Race on April 12, 2014, in Long Beach, California.
Source: zimbio.com
The pair were again spotted on April 12, 2014, as both of them continued their new love fest at the 2014 Toyota Pro/Celebrity Race in Long Beach, Calif. This shows they sure were dating.
However, later in 05 Nov/2015, she told people.com that she is not ready for anything serious. Showing her love towards her son she explained,-
"I don't know that I'm ready to get into a real relationship just yet because I'm just figuring out this amazing relationship with my son that is beyond any love you felt in your whole life.
She further added-
"Whenever you compartmentalize things by saying, 'A mom in my 30s and dating,' it's crazy. You can't do that to yourself. It's more about figuring out what's happening right now and getting into this new lifestyle. I'm really loving it and focusing on work and my son."
How do you take it as? Surely, doesn't it mean she is no more with him? Although no any source has disclosed their split, the statements above do indicate that she is still a single mom.
Competition between Boyfriend and Son!
According to the actress, her next boyfriend will have a lot of competition, and the reason behind it is, her heart is full of love for her son Sebastian. Insisting she is not actively looking for any new beau she said-
"It's hard because your heart is so full for your child, the next guy that comes along is going to have a lot of competition!"
This to directly indicates that she is no more with Colin and the one next to come would have to compete a lot with her son.
Malin Maria Akerman's Short Bio:
Born on May 12, 1978, Malin Maria Akerman is a Swedish-Canadian actress, model as well as the singer. She won the Canadian title of Ford Supermodel at the tender age of 17.
Malin Akerman is best known for her roles in Harold and Kumar Go to White Castle and Watchmen. Akerman attended various schools, including then top rated Sir Winston Churchill Secondary School in St. Catharines, Ontario. She also attended a Catholic school, although she was raised as a Buddhist.
Her recent movies are "Misconduct" and "The Ticket." She is a part of Billions (TV Series) this year. She also has been a part of Childrens Hospital (TV Series) since 2010. Her net worth is that of whopping $10 million dollars. She also earns an annual salary of $1.2 million. Also, Ackerman will receive $833,333 for the soon-to-be-released Indie film, The ticket which is to be released in 2016.