Entertainment
Mark Halperin Has The Cutest Baby But With A Wife? Is Secretly Married Or Just Dating?
Being a parent is one of the most beautiful experience which cannot be expressed in words.Similarly, a political analysis Mark Halperin has embraced a fatherhood but before being a father was marriage important? Let read to find out more.
Cutest Baby's Father But With Wife or Girlfriend?
Mark Halperin a political analyst has been able to keep his personal life with his girlfriend Karen Avrich under the tight guards away from the scrutiny of media. As per the article on New York Times on October 2, 2002, Karen co-author of book "Sasha and Emma", is Mark's long time girlfriend and she worships politics too and to confirm this fact Mark said,
''She's a junkie,''
And on October 25, 2004, an article in "The New Yorker "sheds light on Mark's dependency on his longtime girlfriend, Karen Avrich who also happens to be a political Junkie, to catch up the details which he might miss.
After a couple of years, in 2008 Mark and Karen were very much together and even attended New York Magazine's 3rd annual Oscar viewing party at
"The Spotted Pig" on February 24, 2008, in New York City.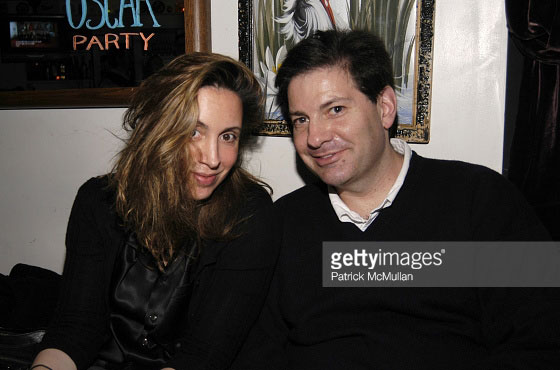 Caption: Mark and Karen clicked together at New York magazine party at New York on February 24, 2008.
Photo Credit: gettyimages.com
Mark and Karen have been living together in New York as girlfriend and boyfriend for a long time now, but marriage does not seem necessary till now so they have not exchanged wedding vows. He has not been married previously and didn't have any children before.
Although Mark has guarded his personal life with his girlfriend, he has chosen to share his bundle of joy a baby boy named James Halperin by posting a video via Instagram on January 6, 2017, with a lovable caption which read as "James Paul "Buster" Halperin in his first on-camera role.
Mark has been enjoying his parenthood with his baby boy James and has been sharing many adorable pictures of hm via Instagram. Also, Mark posted a beautiful family photo with his girlfriend, Karen, and his son.
A Short Bio on Mark:
Mark Halperin was born on January 11, 1965, in Bethesda, Maryland, USA. He graduated from Harvard University with B.A in 1987. He started his career as a desk assistant for ABC News in 1988 and also worked as a researcher for World News Tonight and establish himself as senior political analyst for MSNBC and Bloomberg Television and also is co-author is Game Change and Double Down: Game Change 2012. He also co-hosted a political analysis show "With All Due Respect".
Following the USA's Presidential Election on 2016, he also produced and co-hosted "Showtime's: The Circus: Inside the Greatest Political Show on Earth". With his hard work and dedication towards his profession, he must have collected a good amount but has not disclosed his net worth yet.