News
Johnny Galecki Dating Confirmed! Half Age Girlfriend, Absolute Stunner
Another proof of statement "age is just a number!" on the market! The Big Bang Theory star Jhonny Galecki has found a new beau who is almost half of his age.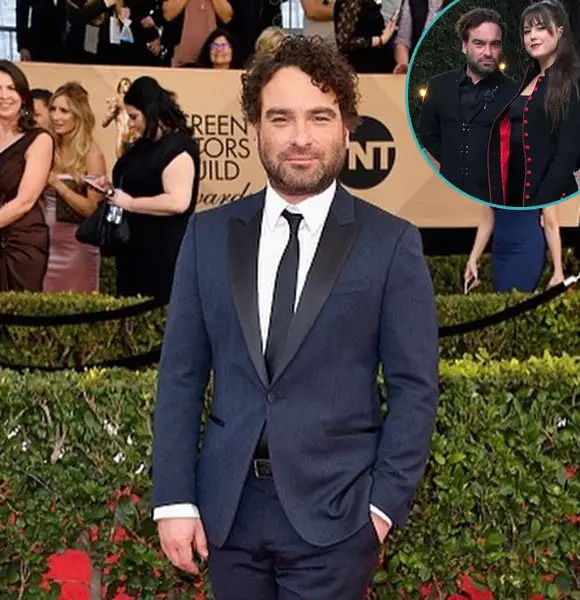 Another proof of statement "age is just a number!" on the market!
The Big Bang Theory star JohnnyGalecki has found a new beau who is almost half of his age. Jhonny, 43, has been dating Alaina Meyer, who is at the age of 21, for a while now.  
Recently, Johnny shared a photo with his current girlfriend as they shared a deep eye contact looking just as romantic. In the picture, Johnny appeared in all black with a coat and button-down shirt while his girlfriend matched in a black dress and black coat with red velvet buttons. 
Johnny captioned the picture appreciating the time they spent together writing,
"Last night was wonderful. Thank you"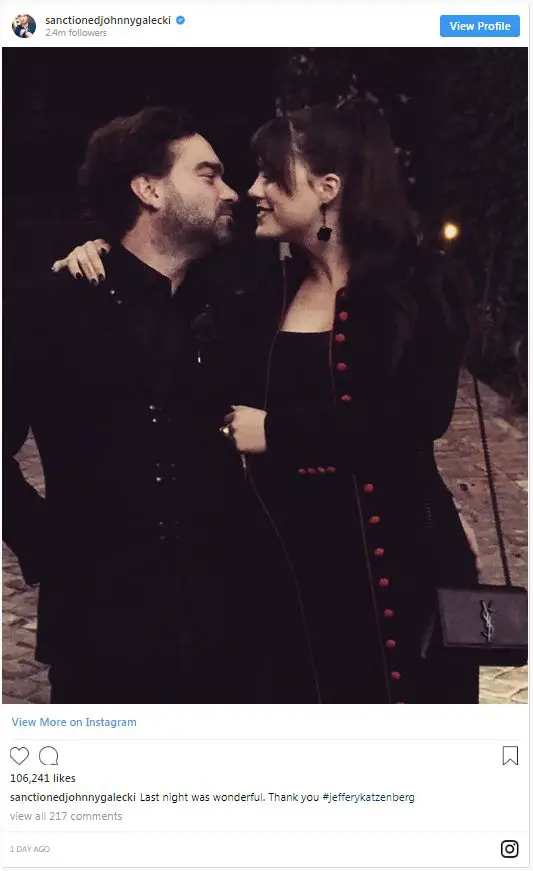 JohnnyGalecki with girlfriend Alania. (Photo: JohnnyGalecki's Instagram)
At the same time, Alaina also made sure to post multiple pictures of their moments together writing, "Last night."
See Also: Dom Irrera & Word "Married" | Unknowingly Dating Someone's Wife & Family
Turns out Alaina also visited her man on the sets of The Big Bang Theory grabbing as many moments together as possible. In the meantime, the couple has been tagged in multiple photos in each other's Instagram hinting their romance.
Earlier this month, Alaina posted multiple photos on her social media, one of which included a picture in which Jhonny's initials were tattooed on her left arm while Johnny had Alaina's initials on his. 
Previously in the early weeks of August, Alaina tagged Johnny in photos of the two spending time together as they took a spin on a motorcycle. 
Adding to it, in the very same month, the pair also took a romantic getaway to the Bahamas. Johnny and Alaina both shared a post of their visit to Tahiti Beach but made no mention of each other in any of the post.
Johnny had posted a picture of him hugging a woman who had a tattoo on her thigh. Just a few days earlier, Alaina shared a photo of herself with the same tattoo enjoying at Tahiti Beach.
Don't Miss: Lior Raz Married Life & Family Fell Apart? Relationship With Wife Now
Well, even though the couple previously put in efforts to keep their relationship low-profile, they have now made their romance Instagram official.
Prior to coming forth with romance with Alaina, Johnny dated Ariella Nicole. The pair had a couple of months of beach romping and few moments as a sweet New Year's Eve celebration, but Ariella stopped posting about him since 2016.
Talking about his previous relationship, Johnny had the longest relationship with Kelli Garner. They dated for three years since 2011 and seemed like they would almost get married but they ended their romance in 2014. The news of the split came after their seemingly romantic getaway to Mexico. 
Apart from it, he was also involved in a romantic relationship with his co-stars as well. He previously dated Kaley Cuoco, his The Big Bang Theory co-star, back in 2008. Sadly, they parted ways two years later in 2010.
You may also like: For A Week Robin Leach Swapped His Longtime Wife But Is Rumored As Gay Despite Having Children
He was also involved with Sara Gilbert, his Roseanne co-star back in 1992. However, they parted ways after Sara got acquainted with her sexuality.