Entertainment
Michael Chernow Recipe To Happily Married Life, Family With Model Wife
American restaurateur Michael Chernow, a married man with two children, enjoys a blissful family life along with his flaring passion for food-business. As goes the old saying "Happy wife, Happy Life;" the chef knows the recipe to his happily married life.
Recipe For Happy Married Life: Love Your Family
The owner of the famous seafood restaurant, Seamore's does not miss out on appreciating his wife. He is a kind of gentlemen who can balance individual interests and family responsibilities.
Talking to Uproxx.com in March 2018, Michael shared that he came up with the idea of the restaurant, Seamore's, in the middle of a run, a hobby that inspired him for better life. In the interview, he also stated that he considered family responsibilities before going for a run. He said,
For years, when I was a single gentleman, I had a morning practice that I would do then I would throw on my running gear and just start running. I had a route that I always did through downtown Manhattan. Now that I have a family I have to be a little more diplomatic with when I go. But when it's important, you find time.

I also have a marathon coming up later this year so I need to prepare for that.
Michael Chernow, the star of the food and travel show called, Food Porn for FYI Network, is contentedly married. He has been married for more than ten years now and is currently raising two boys with his wife.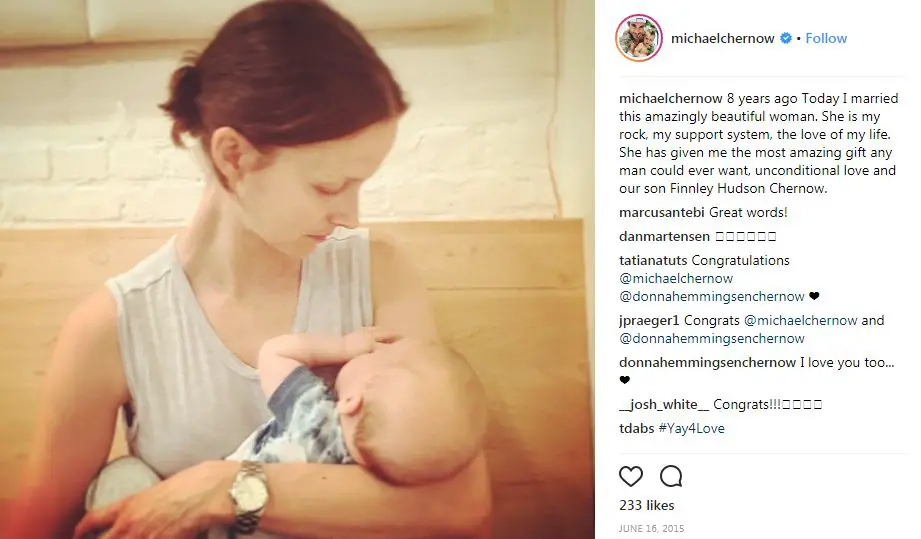 Michael Chernow praises his wife in 2015 (Photo: Michael Chernow's Instagram)
The co-owner of New Work-based restaurant The Meatball Shop shared the wedding vows with his then-girlfriend, fashion model Donna Hemmingson Chernow on 16 June 2007.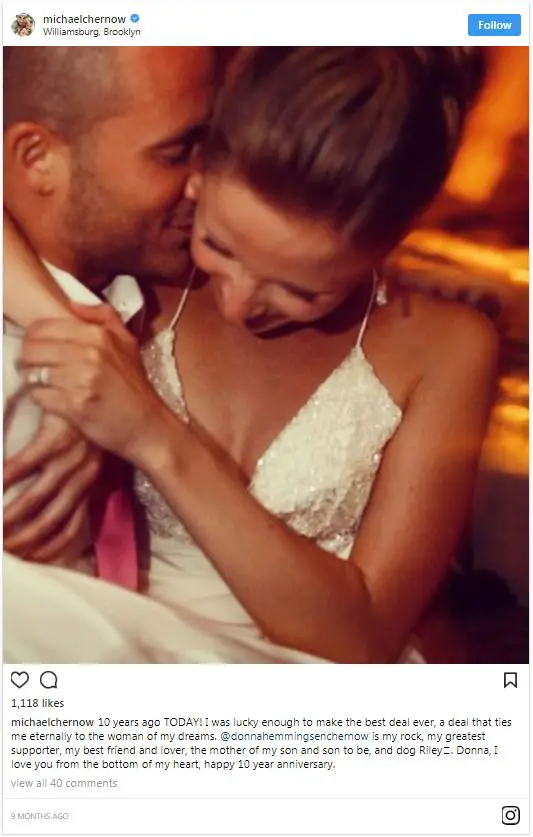 The Meatball Shop's executive chef Michael Chernow treasures his wife and celebrates their 10th anniversary (Photo: Michael Chernow's Instagram)
After eight years of their marriage, the couple welcomed their first child, Finn in February 2015.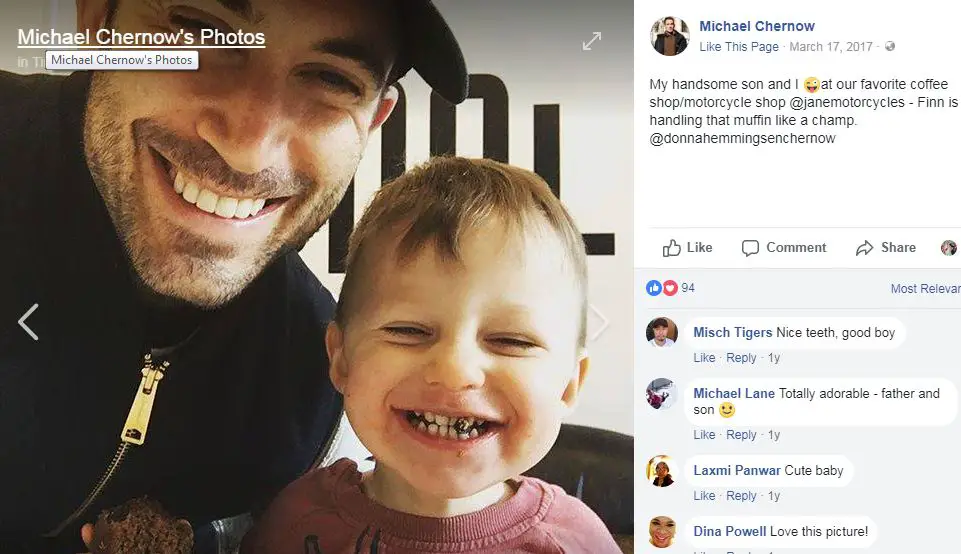 Michael Chernow's enjoys coffee and more with first son Finn (Photo: Michael Chernow's Facebook)
Likewise, Michael and Donna welcomed their second child into their family in 2017. The pair named their second son Dakota. He was born on 22 September 2017.
How Michael Started "Meatball Shop"?
Michael Chernow, co-proprietor of New York City's booming Meatball Shop restaurant chain, graduated in culinary arts and restaurant management from French Culinary Institue where he earned degrees.
Before opening The Meatball Shop restaurant chain, Michael along with his friend Daniel Holzman, his current business partner, worked as delivery boys for a vegan restaurant.
Later, Michael, born on 21 October, and his friend Daniel finally fulfilled their dream by opening their restaurant, The Meatball Shop back in 2009. Michael had a passion for design and believed in the importance of the look and feel of a business for its success. Both of the friends also had tried their hands on different aspects of a restaurant business - from front-house to bar experience, kitchen to dining - before venturing out to open their business.
At The Meatball Shop, the mix-and-match menu of meatballs, sauces, and sides was an instant hit. They even sold jars containing meatball sauce to the locals around.
Later after their success, they further expanded their business in Williamsburg, West Village, Chelsea (along with basement bar Underballs), Upper East Side, and also in Upper West Side.
Moreover, Michael, who enjoys net worth in millions, also opened seafood eatery Seamore's back in 2016. He has been trapped for various ad campaigns and even posed for J. Crew.