Entertainment
MSNBC's Gay Host Steve Kornacki Married? Is He Keeping his Boyfriend's Info Private? Girlfriend?
If you are one of the famous television personalities, it's obvious to have numbers of fans and followers who would like to read your life like an open book.
In this regard, we are going to talk about MSNBC's Gay Host Steve Kornacki who falls in the list of renowned personalities who are good at keeping their personal life away from the media.
Is Steve Kornacki Married Or Still Dating Boyfriend?
The fact that Steve is single may be too big of a pill for people to swallow; after all, he is such a good looking and talented person.
Read Also:- Samantha Vinograd Married & Husband | Biography - From Age To Partner
As far as being married goes, Steve once joked about being a faithful husband to "Ginny" for 14 years.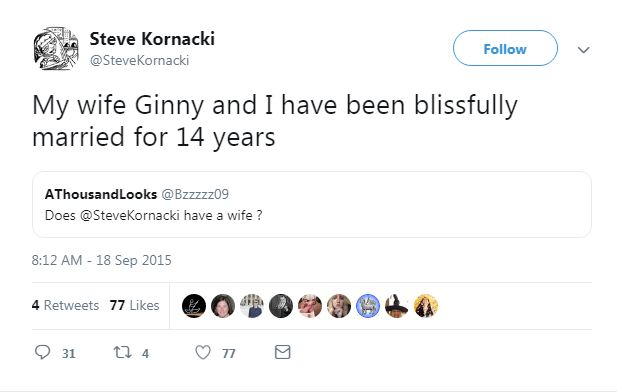 Steve jokes about being married to a friend (Photo:- Steve Kornacki's Twitter)
But the truth about his relationship has been folded as privacy is something that every person wants. Well, we can't assume that he has a partner. Likewise, it's hard for us to believe that this talented host is unmarried.
Can you make any possible guesses about his love life and partner? Anyway, let's consider him as a single until he reveals any information about his relationship.
MSNBC's Very Own Steve Comes Out As Gay; Name-Drops His Boyfriend
At the age of thirty-two, Steve Kornacki came out as a gay.
In the fall of 2011, he wrote a personal column for Salon where he revealed his personality that he was suppressing it for years. He confessed about this to his family weekend before the piece was published.
Steve started off his piece by acknowledging that he hadn't learned about his sexuality until his sophomore year in high school. From then on, he chronicled his long and tedious journey as a gay man in disguise.
Discover:- Assumed Gay Noel Fielding Partner In Crime, Girlfriend Or Sweet Wife?
By Steve accounts, him being a closeted gay person did whole lot of damage to his relationship with his boyfriends. The MSNBC personality's suggested that his love interest Dan was the one that got away. He confessed:-
"I hate that I deprived myself of a chance to be with the person who made me feel proud of who I am."
The 39-year-old Groton native concluded his Salon article by professing a sense of relief.
Steve Kornacki's Bio Including Salary
American television host and political writer Stephan Joseph "Steve" Kornacki, Jr. was born on August 22, 1979. He was born to father Stephan Joseph Kornacki, Sr., and mother Anne Ramonas in Groton, Massachusetts; U.S. Steve is the graduate of the University of Connecticut.
Steve is famous as the Monday anchor of the MSNBC program called "MTP (Meet The Press) Daily" which airs from 5 p.m. to 6 p.m. He has previously hosted "The Cycle" from June 2012 to March 2013 with political strategist Krystal Ball.
He also has co-hosted a political news series at News 12 New Jersey. For all his services at MSNBC, the University of Connecticut Alum is believed to make a six-figure salary.
Don't Miss:- Openly Gay Daniel Preda, Boyfriend Joey Graceffa Redefine Goals!
Steve's latest book The Red & The Blue hit the shelves of bookstores across America on 2nd October 2018.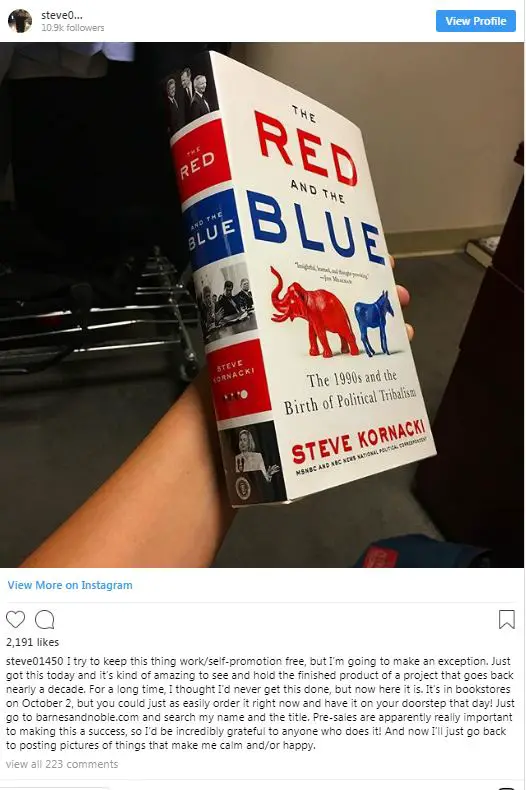 Steve promoting his new book (Photo:- Steve Kornacki's Instagram)
Similarly, Steve has written articles for The New York Times, The Daily Beast, The New York Observer, the New York Daily News, The Wall Street Journal, and many other magazines. Steve is believed to receive a wonderful salary from his profession. However, his net worth is not revealed yet.
Beside MTP Daily, Kornacki has been appearing and hosting Hardball with Chris Matthews (since 2012). He has also appeared in Weekend Today (2016), the Last Call with Carson Daly (2016), All In with Chris Hayes (2016), The Nightly Show with Larry Wilmore (2015), and Politics Nation with Al Sharpton (2014-2015).