Entertainment
Assumed Gay Noel Fielding Partner In Crime, Girlfriend Or Sweet Wife?
Noel Fielding is an English comedian, actor, writer, artist, and musician, popularly known as the host of...Controversy's favorite child, Noel has faced the hammer on several occasions after his... however, a balance has restored after the arrival of his girlfriend...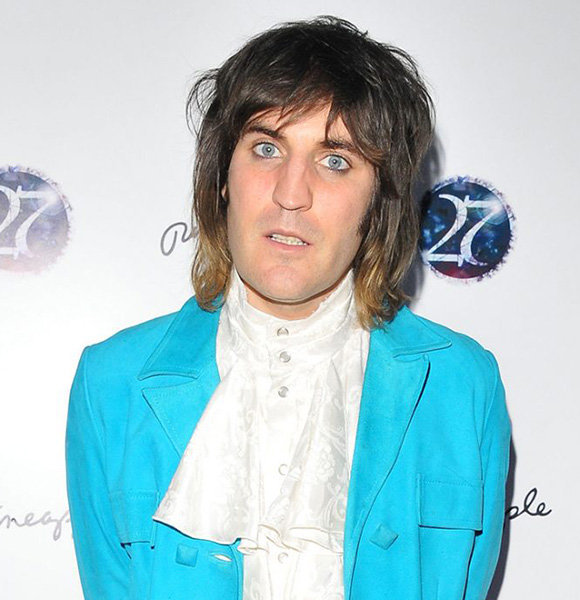 Quick Information
Children/Kids

No

Instagram

https://www.instagram.com/noel_fielding/?hl=en

Twitter

noel fielding (@noelfielding11)

Facebook

https://www.facebook.com/noelfielding/

Height/ How Tall? 5 feet 9 inches (175 cm)
Education

Buckinghamshire New University

Net Worth

$6 Million

Girlfriend

Lliana Bird

Relationship Status

Dating

Date of Birth 21-05-1973
Brother/s

Michael Fielding

Mother

Diane Fielding

Father

Ray Fielding

Zodiac Sign

Gemini

Profession

Comedian

Birth Place

City of Westminster, London, United Kingdom

Nationality

English
Multi-talented English comedian and actor Noel Fielding is controversy's favorite child. An entertainer in every aspect, Noel has lived his life with a fearless attitude, an attitude which has, however, landed him in trouble every now and again.
Possessing an unrivaled sense of humor, Noel has gone one step too far on several occasions with his jokes on sensitive topics. Constantly found to be joking in homosexual topics, people can't help but assume him to be gay himself.
However, is it just Noel's weird sense of humor, or is the writer and musician Noel gay for real?
Despite a controversial professional career, much of which has been his own bringing, Noel has had wind of change in his personal life after the appearance of someone special.
Is Noel Fielding Gay? His Sexual Orientation
The Great British Bake Off star Noel has been found to joke about homosexual topics on more than one occasion. With the repetition of the jokes on the same topic, there have been some assumptions regarding Noel's sexuality as well.
Noel, ever-so-active in his social media, posted a hypothetical tweet on the occasion of the Football world cup on 15 June 2014, where he was seen putting himself in the position of a gay man.
"World Cup fact - if I had to go gay it would be for Thierry Henry."
The series of jokes about being gay didn't stop there. The comedian was termed as 'homophobic' after posting a photo of him and co-star Paul Hollywood in September 2017 on Twitter at a weird pose with an even weirder caption. 
Related: Paul Hollywood Way Past Married Life! Affair With New Girlfriend Reflects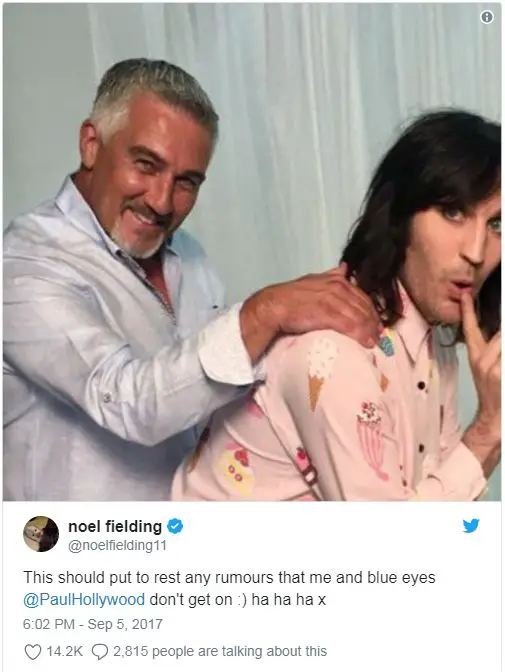 Noel fielding's gay joke with co-star Paul Hollywood. (Photo: standard.co.uk)
The post was not well received on his social media, and it would be safe to assume that he didn't earn many followers with the post. Instead, many fans accused both Paul and Noel to be homophobic.
One of the tweets read, "mmm..homophobia," while the other tweeted, "I like you @noelfielding11, but you've got some growing up to do. I'd expect this of Paul (not that that's ok) but not of you."
Another user posted, "Gay sex isn't there for your cheap & nasty humor. Rethink your attitude, please. I've responded more patiently than most might."
However, Noel has since clarified that he is not in any way homophobic but rather supports all the issues related to LGBTQ.
You May Also Like: Sue Perkins & Wife-Like Partner | Why Openly Gay Couple Won't Have Kids
An interview of him given to The Guardian in 2008 proved Noel actually supports all the gay issues, where he was found identifying gay people as 'superman.'
"Gay people are all like Superman. You have to be quite strong to be gay - or to be different in any way. You build special muscles."
With the clarification, Noel has silenced all the misleading assumptions about him being gay. The comedian is definitely straight and also has a partner in the form of Lliana Bird.
Mother of Noel's Daughter, Lliana Bird: Girlfriend or Wife?
Genetically gifted with a sense of humor, Noel has worked his way amongst women with his wittiness.
A party boy in his early days, The Mighty Boosh host has had some sort of balance restored in his life ever since the arrival of his longtime partner Lliana Bird in 2010.
Committed to the relationship, Noel has been inseparable from his beau ever since they joined hands in 2010. But it is yet to be verified by the couple whether they have tied the knot to become husband and wife. 
However, sources like People and Mirror have clearly mentioned Lliana Bird to be his wife.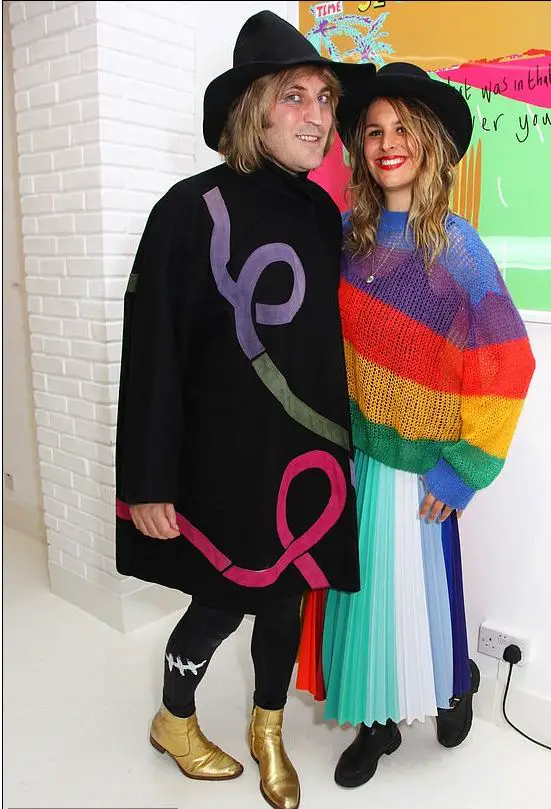 Noel Fielding appearing at an event alongside girlfriend Lliana Bird. (Photo: dailymail.co.uk)
The couple took the next step in their relationship with the arrival of their baby daughter Dali in April 2018. After maintaining a fairly low-key status during their pregnancy period, the duo announced the happy news just one month before the birth of their daughter Dali.
See Also:  GBBO Winner Nadiya Hussain, Bengali Ethnicity, Getting Married Second Time With Husband?
With some eyebrows raised following the name revealing of their daughter, a close source from Fielding's camp told The Sun in April 2018, the reason behind the name being Noel's icon Salvador Dali.
"Salvador has played a big part in his life, so it's no surprise to his friends he's named a baby after him."
A proud father, Noel has since displayed his love publicly for his daughter. Noel, making an appearance in Jonathan Ross' chat show in September 2018, talked about the new role in his life as a father.
"She's very beautiful and she blows my mind about a hundred times a day. It's a new level of tiredness that I've never experienced. I mean obviously, I've done a lot of all-nighters, I haven't been asleep since the sixties. In a way, I've been in training for this moment all my life!"
Thus, Noel, surrounded by controversies most often than not, has had some balance restored in his life in the form of his girlfriend Lliana and his baby daughter Dali.
New Member In The Family
Noel and his spouse, Lliana, welcomed their second child on 29 October 2020. The radio presenter confirmed the happy news on Instagram, posting a picture of four homemade spiders representing each family member. 
Lliana also let her fans know that their second child was a daughter and revealed her name to be Iggy.
When a fan commented which spider represented which family member, Lliana replied,, saying Noel is pink, Dali is orange, and Iggy is red.  
Back in August, the presenter had announced that she was pregnant and would be starting maternity leave from Radio X.