Entertainment
Nathalie Emmanuel Refuses To Say If She's Single Or Dating! Says Having A Boyfriend Is Hard
She plays Daenerys' advisor and wing-woman on HBO's monstrous hit series "Game of Thrones" and is excellent at what she does on the show. From playing small roles on mediocre shows, she is now one of UK"s most wanted actresses.
Well, the actress we're talking about is none other than Nathalie Emmanuel. She has a lot of fan following, and her show Game of Thrones is watched even by the highest level celebrities like Barack Obama and Madonna.
Being a celebrity famous all over the world, her fans often wonder if she has a special man in her life, and often ask the same question, the question regarding her dating life. So today, let's find out what her dating life looks like and what her take is on her love relationship.
Nathalie Emmanuel: Dating Anyone? Boyfriend? Reveals Dating Struggles.
She has been a sensation in the acting industry, and people follow her life like a sheep follows its leader. But what she has not opened up about, is the truth about her dating life.
Nathalie is yet to reveal if she has a boyfriend or is dating anyone. But some weeks back, she appeared on US's most famous talk show "Jimmy Kimmel Live!" where she discussed her dating struggles and how hard it is for her to find a right match in the industry.
She divulged,
"It's difficult to find people when you're always moving round, or who aren't intimidated by your achievements. It's tough to find people who are super-secure and encourage you to fly,"
So, is that a clue to make people know that she is currently single? That might indeed be the case if we are to judge by her words. But she has not admitted that she is single, so let's just wait and see if she reveals anything about her dating life in the days ahead.
However, we all know that she previously dated her "Hollyoaks" co-star and on-screen brother, Sonny Valentine, which is portrayed by Devon Anderson.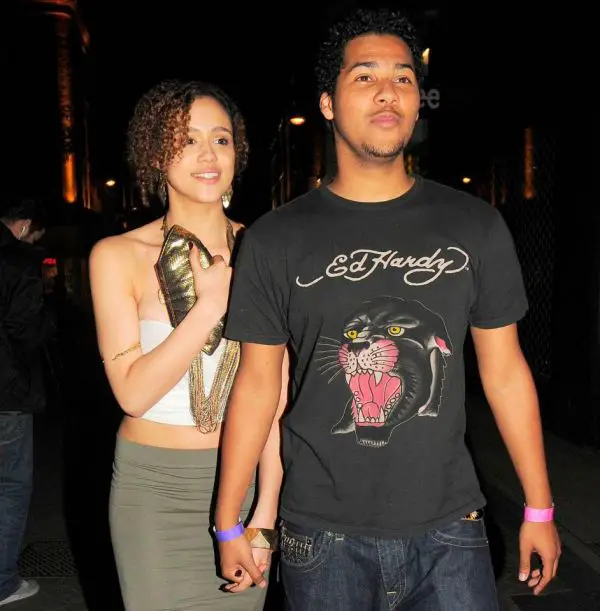 Caption: Nathalie Emmanuel and her ex-boyfriend Devon Anderson.
Photo Credit: thesun.co.uk
The pair remained adamant on revealing much information about their relationship, which includes the reason for the demise of their relationship and the failure to get married and share a husband-wife relationship.
But she has been involved in on-screen romance, as her Game of Thrones character Missandei is famous for her romance with Grey Worm, the captain of Daenerys' Unsullied soldiers.
Talking about her on-screen romance, she said,
They're such a great couple because there's a purity about their connection. It's been born of a place of pain and confusion and oppression, so they understand one another. It's very human, and yet very rare. In that world of people being butchered and battered and manipulated, there's this very pure, very sweet thing. It's special.
More You'd Like To Know About Nathalie Emmanuel. Her Bio.
Born on March 2, 1989, in Southend-On-Sea, Essex, England, U.K., Nathalie Joanne Emmanuel is an English actress most noted for her role in "Game of Thrones" as Missandei, in "Fast and Furious 7" as hacker Ramsey and "Hollyoaks" as Sasha Valentine.
The success of these projects and many other have helped her finances the world of good as this rising star from the U.K. has a net worth of 1 million USD.
This British actress who stands over 5ft 7 inches in height belongs to mixed ethnicity as her parents come from different descents. Her father is of half English half Saint Lucian descent, while her mother is from Dominica. Both St. Lucia and Dominica are countries of the Caribbean where most people are black/biracial black.
Also, did you know she takes up regular yoga for her body and mind, and she has also embraced running and boxing?
Ugh YES yoga!!! You give me liiiiiife! Thank you India!!!! #yogaislife

— Nathalie Emmanuel (@missnemmanuel) July 3, 2016
No wonder she has such a fit looking body figure.
And apart from her body structure and fitness, we are going to enjoy watching her play her part in Season 7 of Game of Thrones soon and while she was on "Jimmy Kimmel Live!" she might have just given fans something to look forward to.
"This season, Missandei has some pretty cool stuff to do. Her role as an advisor is becoming more and more important and the stakes are higher,"

"War is coming, and there's real danger.
But other than that, she did not reveal much.
"I was obviously sworn to secrecy. I was so sick of people asking me about it. We're not allowed to say but I also wouldn't want to. My friends and family are pretty relaxed and know not to bother me."
Stay with us for the latest updates on Game of Thrones and Nathalie Emmanuel!