Another day in Hollywood, another high-profile split!
Rapper Mod Sun became a single man after his actress girlfriend Bella Thorne announced that the duo was no longer dating. Taking to Instagram on 16th April 2019, Bella opened about the break up by sharing a picture of the two with the caption:-
"I will always love you... All good things must come to an end... "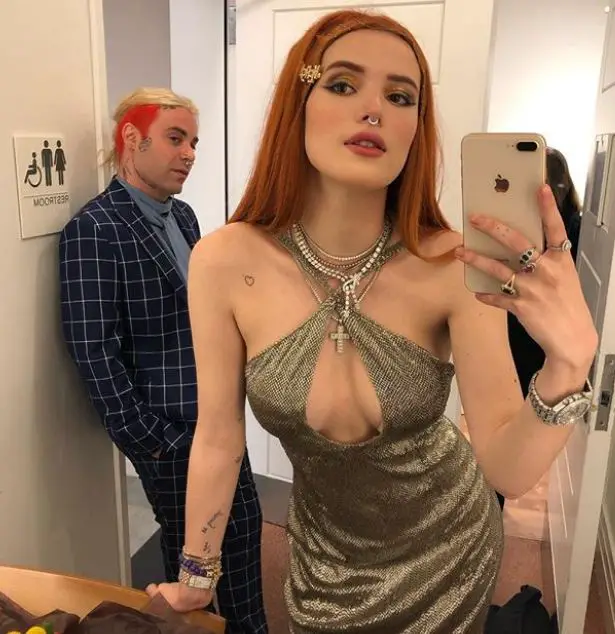 Mod Sun stands behind his now-ex-girlfriend, Bella Thorne in a bathroom selfie circa April 2019 (Photo:- Bella Thorne's Instagram)
Neither the Shoot Em Down hitmaker nor his representative made themselves available for comment at the time of the fallout.
The news of the split came almost two months after the Famous In Love star disclosed her separation from YouTube sensation, Tana Mongeau.
Dating Bella Thorne & Tana Mongeau
Together with Tana, Mod and his former girlfriend Bella shared a beautiful polyamorous-like relationship. That said, neither Bella nor Tana liked to put a label on their romance.
Ex-Girlfriend Related:- Scott Disick Ignites Dating Rumors; Takes Bella Thorne To 'Cannes' Where Ex-Girlfriend Kourtney Kardashian Was Spotted
It is still unclear whether the Bloomington Minnesota-born rapper enjoyed romantic ties with Tana. However, there's very little to no doubt that Bella was in love with both of them. In January 2019 interview with Gay Times, she divulged:-
"I don't think anybody will really understand the bonds that I share with Mod or Tana... "
At the time when his "girlfriends" first ignited romance in early 2018, Mod was already in a relationship with Bella. After months of speculation, in October 2018, the latter confirmed the rumors.
Girlfriends Split
Mod, in many ways, was a mere spectator to the romantic show ran by his girlfriends. In retrospect, it was Bella and Tana, who made the trio's relationship tick for so long.
While Tana thanked Bella for helping explore her sexuality, Bella reciprocated the love by raving about their romance in interviews.
More On Tana:- Tana Mongeau Wiki: Age, Affair, Net Worth Of Girl Who Was Dating Mac Miller
Despite everything, Tana and Bella parted ways in February 2019 - nearly a year after building romantic ties. And again, Mod didn't deem it appropriate to comment on the split.
Within days following the separation, Tara debuted her new boyfriend, Brad Soussa via Instagram.
Net Worth From Tour & Songs
Perhaps, Mod will address the break up with his girlfriends on his future songs.
It is interesting to note that the talented rapper started his musical career as a drummer with heavy metal outfits: Four Letter Lie and Scary Kids Scaring Kids. Failing to leave a mark, he then reverted his focus on Hip-Hop and released his debut mixtape Let Ya Teeth Show in 2009.
Credited for coining the term Hippy Hop, Mod then dropped his critically-acclaimed project Blazed By The Bell in 2011. Six years later, he released his second studio album called Movie.
Despite his niche audience, the Sublime hitmaker's fans show up in a considerable number during touring. All thanks to his sold-out tour dates and decent streaming numbers, he has amassed over a five-figure amount in net worth.
In contrast, his ex Bella boasts over $5 million in net worth.
Bio Unveils Age, Height & Tattoo
Born on 10th April 1987, Mod - now age 32 - spent his formative years in Long Beach California despite being a Bloomington Minnesota-native.
Standing at the height of five feet and six inches, the Happy As F**k wordsmith's most discerning physical attributes are his tattoos. From neck to toe, numerous inks decorate his body.