Entertainment
Nia Riley, 28, With New Boyfriend? Past Dating Affair Left No Stings
Holding on to the grudges that one's past left isn't a wise thing to do. Be it, love, relationships or life, moving on is a must!
Mostly in the regards of a love relationship, people are able to move on giving love a second chance. It's understandable that the past relationship will have some effect on people considering the amount of emotional investment involved in the association. But, when love knocks the door yet again, people tend to embrace this emotion.
So, has Nia Riley the famed reality television star, also moved on in her love life after her past dating affair failed to make it to the happy ending? Well, let's read through to find out!
Nia Riley Dating New Boyfriend?
Celeb's love life is usually the one that makes massive headlines. Nia Riley, the famous model, and a reality television star isn't an exception here; since her on and off dating relationship with her ex-boyfriend Soulja Boy, was talked about now and then.
Nia was dating Soulja since high school, but like the problems people usually face in a relationship, Nia and Soulja too had their share of ups and downs. Amidst the problem, they maintained an on and off association for a while; but eventually, the reports of the pair's break up surfaced around August 2016.
Nia Riley, her ex-boyfriend Soulja Boy (Photo: Bossip.com)
Moreover, apart from just sharing a love relationship, Nia and Soulja parented Nia's daughter, Kamryn together. Soulja was Kamryn's stepdad, and the identity of Nia's actual baby daddy is kept a secret to date.
Moving on from Nia's relationship with Soulja, she then got linked with her co-star from Love & Hip Hop: Hollywood, Lil Fizz, last year. After Nia's snapchat post with Lil got viral, where the two were seemingly snuggling up, rumors about them dating started swirling. However, Nia later came forth addressing that she was happily single later the same year in an interview with 'DatzHott.'
Nia opens up about her dating status, says she is single (Published on 20 Mar 2017)
Well, she indeed gave away the qualities that she seeks in a relationship and if you have ever fantasized dating her, know that she wants to be secure as well as she seeks honesty in a relationship, and if somebody can make her laugh that would be just perfect!
Nia Riley Short Bio:
Nia Riley was born to her parents on July 22, 1989, in California and is 28 years of age now. She is the daughter of Grammy-winning songwriter and producer, Teddy Riley and grew up alongside her siblings' squad that included Bobbie Riley, Samar Riley, Dante Horne, Taja Riley, Lil Teddy Riley, TJ Riley, and Dejanee Riley.
Nia, who started her career as a model has appeared on the cover of numerous magazines, but she garnered significant fame after starring in 'Love & Hip Hop: Hollywood,' a reality television series.
Also, she grabbed some attention last year after she was body shammed for her weight gain. Nia gained few pounds last year, despite which, her fans loved the way she looked, but she received negative comments too.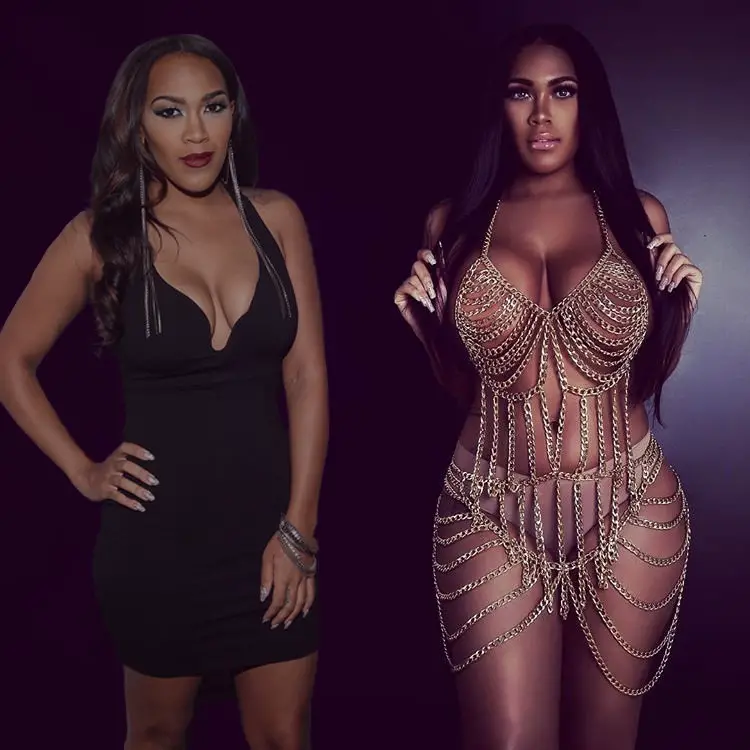 Nia Riley's before, after weight gain (Photo: Liverampup.com)
After Nina posted a snap of her dressed in a revealing, sexy outfit a person harshly commented on the post slamming Nia for her weight gain. Moreover, Nia shared the screenshot of the comment with a smacking reply to shut all the haters.
People do need to think twice before commenting on somebody else's appearance!