Entertainment
Beauty YouTuber Olivia Giannulli Stops Dating Boyfriend Amid New Success Height
American social media star Olivia Giannulli, who is often addressed as Olivia Jade, lives a life that brings awe to many.
The daughter of Fuller House star Lori Loughlin, Olivia has taken steps to stardom via YouTube and tasted huge success. Also, the Instagram star had a rocky start in her first few months at the beginning of her career.
However, she conquered all of her obstacles with the support of her boyfriend, the kind of man she dreamt of. As time plays its tricks, she is now moving on her career without her lover but seems like there someone new on the block for her.
Wondering how things changed for Olivia in her love life and her career? Keep digging!
Supporter-Turned-Boyfriend; Deletes All After BreakUp
When Olivia first began vlogging on her own, she lost most of the friends around her, whom she thought was her lifeline. During the time when all her friends left her side, Tyler outstood the crowd and praising her work instead.
See Also: Rumored Gay/Lesbian Missy Elliott Hints On All Notion, 'Work It' Rapper Has Girlfriend?
That is when Olivia got close with Tyler Greenwald, another Instagram star and found a ray of hope from him. Olivia found the comfort with Tyler while the world around her was crashing down. Olivia felt relieved when she felt loved and respected by another person as she got to witness someone being proud of her.
Soon, she started dating Tyler in 2015. The duo looked cute together and frequently posted each other's pictures in the social media.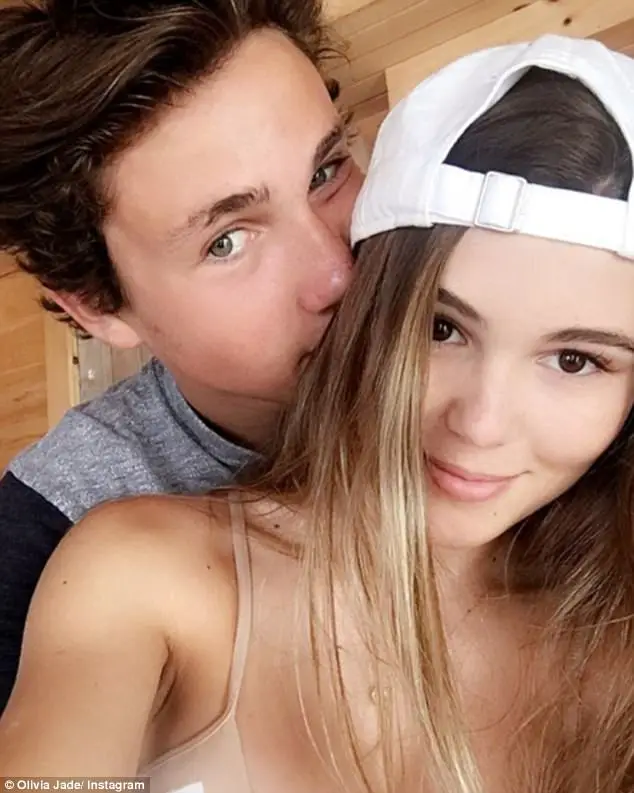 Olivia Giannulli with boyfriend Tyler Greenwald (Photo: dailymail.co.uk)
Not only Instagram, Olivia also featured her boyfriend on her YouTube videos.
However, as the time passed, the couple split and moved their separate ways. When asked the reason for her break, Olivia answered in one of her videos giving long-distance, the reason for their break-up.
Turns out Olivia lived in Los Angeles while Tyle had to move to a different state to attend college after high school. Even though Olivia said she still loves him, the long-distance relationship got the best out of them, resulting in parting their ways.
They even had cute vacations together during their relationship on their Instagram, but Olivia took down all their photos after she broke up with Tyler. She even deleted the "Boyfriend Tag" video from her YouTube channel as Tyler preferred keeping his life private and away from the social media.
Hangout With Someone New?
Well, despite the heartbreaking end of a relationship with her ex-boyfriend, Olivia has not given up on a chance to dating. While she has her hands full with college, YouTube and projects, she still hangs out with her love interest apart from the busy schedules.
Don't Miss: Navia Robinson Facts! Age, Nationality, Parents And Much More On The Table
In a recent Q&A video, posted by Olivia on her YouTube channel on 14 August 2018, Olivia opened up revealing that she currently likes a boy and is hanging out with him. She even clarified that they have nothing serious just yet but she is really into him.
But Olivia refused to reveal the identity of the man she is currently seeing. She divulged that her past experience of her break up with her ex-boyfriend makes it hard for her to reveal about the relationships.
Adding to it, answering one of the questions, she even disclosed that she previously hit it off with other YouTubers but nothing serious ever happened.
Making Name For Herself
The famous parents' daughter made a name for herself on her own. She is the daughter of Fuller House star Lori Loughlin and fashion designer Mossimo Giannulli. Olivia, who stands at the height of 5 feet 4 inches, was raised by her parents along with her siblings; the elder sister, Isabella Giannulli.
Olivia, just at the age of 18, is a beauty influence, who started early in her career just like her mother Lori. She regards her mom as an inspiration who helped her to take the YouTube career. Talking with Teen Vogue in March 2016, she said,
"What initially got me into this was watching our mom get her makeup done for events"
Olivia started her YouTube channel by name Olivia Jade back on 19 June 2014. During that time, she lost support from her friends. As she started gaining followers she lost her friends. As of now, she has 1.4 million subscribers on her YouTube channel and 963 thousand followers on her Instagram account.
More From Liverampup: Laci Green Gracefully Dating! Meet Cheeky Boyfriend At Age 28
Olivia, who also attends acting classes, is rather focused on her dreams of launching her own beauty and skin-care company and create her own line of products. Apart from her career and gained fame she has also been involved in a car crash while she was vlogging. However, she emerged safe and sound from it.