Entertainment
Parker Young Is not Gay! But Rather A Person Who Pampers His Girlfriend Like A Princess
It isn't surprising when a public figure has to deal with countless rumors and assumptions, including dating affairs and even about being a gay. With the spotlight continuously focusing on the life of a renowned personality, any action they make leads being ended off as a headline tomorrow.
However, talking about a famous actor Parker Young, he is clearly safe from such rumors, as he is someone who has been showering a lot of love for his long-time girlfriend, and the world knows it all.
Take a peek on the beautiful relationship Parker Young shares with his girlfriend, and decide if we told you is truth or a hoax!
Parker Young's Beautiful Relationship with Girlfriend:
Parker Young is in a dating relationship with his girlfriend, Stephanie Ann Weber since the year 2012. Although they enjoy an intimate relationship together away from the spotlight, they have made several appearances together on the red carpet.
The couple attended the Costume Designers Guild Awards together in Beverly Hills, California back on February 22, 2014.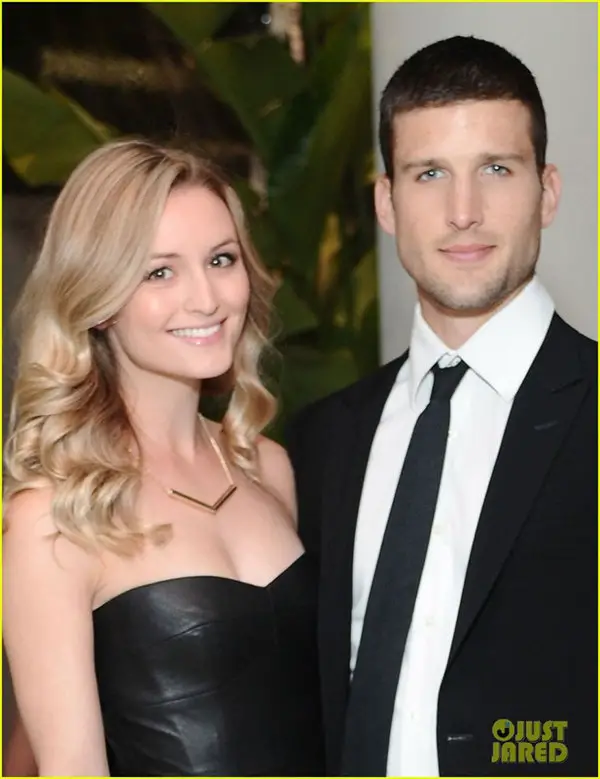 Caption: Parker Young and his girlfriend Stephanie Weber together at an award show in California.
Photo Credit: JustJared.com
Well, besides showing up together as a lovely pair on the red carpets, Parker flaunts their love via social media as well.
On September 2 this year, he shared a romantic picture with Stephanie on his Instagram, on the occasion of Stephane's birthday.
However, the happy couple hasn't moved on to the next level of their relationship yet; but it's almost sure they will let everybody know if they decide to get married and share a husband-wife relationship.
Besides a successful relationship, Parker is blessed with a smoothy running career as well. But before he earned a name for himself as a successful actor, Parker was a football player for LA University.
Back in time, during an interview with VulkanMagazine, he revealed what it was like to pursue acting from being a footballer and that his family and friends were very supportive of his decision. He expressed,
"The easy answer is that I had a handful of concussions and it freaked me out; I knew that I wasn't realistically going to make a career out of playing football. As much as I loved the thrill of Friday nights, the camaraderie and the brotherhood, I was simply ready for a new chapter in life. I loved playing football, but I was not in love with football. It was time for us to see new people. And yes, my friends and family were very supportive!"
After Parker finalized his decision to do what he loved, he landed his first TV role on the soap opera, "Days of Our Lives" in the year 2008. Since then, his acting career turned out to be very fruitful, as a result of which he has gained immense popularity with his talent.
In 2015, he earned more recognition for starring in the movie '4th Man Out' as 'Chris.' The movie was one of a kind; it portrays what it is like to be a person who belongs to the gay community.
More so, he is also well known for appearing in series such as 'Suburgatory' (2011-2014) and 'Enlisted' (2014). As of now, he is busy portraying the lead role 'Richard' on the TV series, 'Imposters.'
Think we're missing something? Do let us know in the comment section below!