Entertainment
Reena Ninan, Mix Ethnicity Journalist, Loves To Hang Around With Author Husband and Children
There is no doubt that the bond between a mother and her baby is unbreakable, but the relationship between the partners determines a baby's future, the love that he'll receive from his parents and the nurturing.
There are most of the parents whose priority is their children but it is hard to find the one who can equally manage their time for their kids and their profession?
A popular figure in CBS New, Reena Ninan falls in the category of the journalists who provide equal time to her profession and family. An American television journalist, Reena who is popular as ABC News "World News Now" co-anchor alongside T.J. Holmes loves to spend time with her loving husband and children.
A skilled journalist with a broad range of experience, Reena is also an amateur chef who loves cooking, especially for her kids.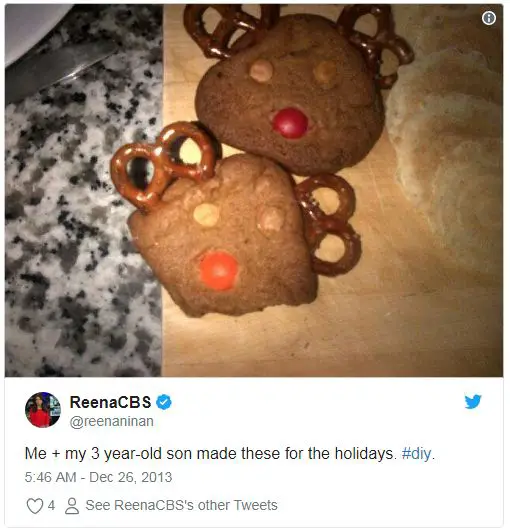 Reena Ninan showcasing her cooking skills. (Photo: Reena Ninan's Twitter)
A glance in her personal life and how she spends her time with her kids is filled with fascinating details.
Reena's Married Life: Husband and Children
Reena got married to one of the talented American authors and journalists Kevin Peraino. They met each other in Jerusalem. They together have two children; a son named Jack and a daughter named Kate.
You May Also Like: CBS Reporter Jeff Glor Juggling Wife, Family & Huge Net Worth Generating Job
Born on June 7, 1976, Kevin grew up in Ridgefield, Connecticut. A graduate of Northwestern University, Kevin is best known for his book Lincoln in the World: The Making of a Statesman and the Dawn of American Power. It is one of the best books on President Lincoln. He previously worked for Newsweek magazine as a writer. His most recent book went to details to explore China as a country and came out in 2017 titled A Force So Swift: Mao, Truman, and the Birth of Modern China, 1949.
Both Reena and her husband love spending time with their family. But due to their hectic schedule, they barely get time to spend with their kids. However, they enjoy fullest whenever they are with their family.
The host constantly shares details regarding her family life about her husband and children with some humorous posts on her social media accounts.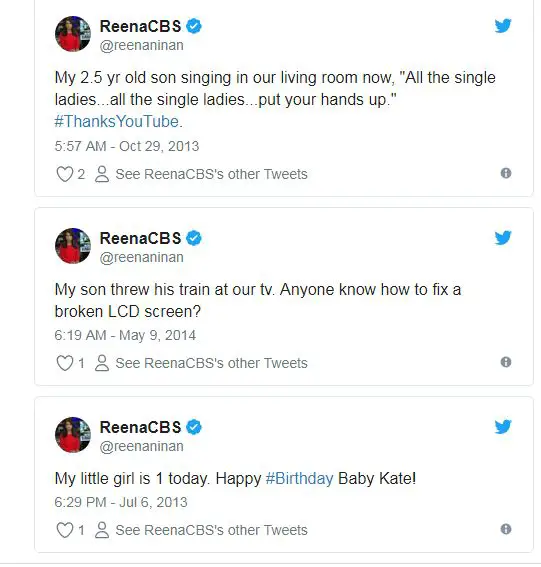 Renna Ninan's series of tweets about her children. (Photo: Reena Ninan's Twitter)
A responsible parent, Renna has never missed making her family loved with some sweet posts about them on their special occasions.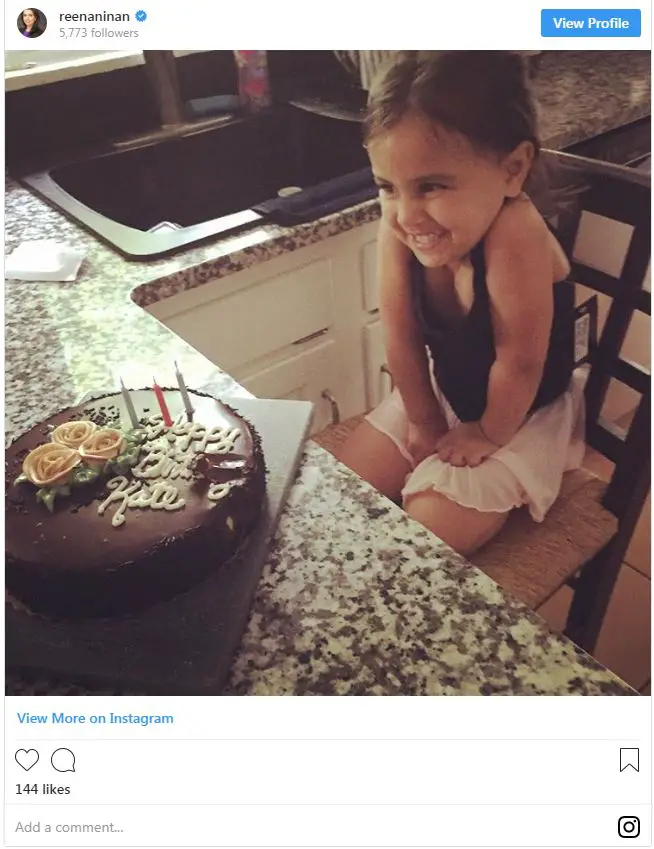 Reena Ninan wishing her daughter on her 3rd birthday on 8 July 2015. (Photo: Reena Ninan's Instagram)
Dont't Miss: Dana Tyler: 59 And Single After Boyfriend Chose Former Married Life Over Her
The supermom has thus balanced her personal life and professional life in a commendable manner. With her kids now all set to rejoin school as a 1st-grade student and a 2nd-grade student, Reena posted a warning message to the school members on 31 August 2018.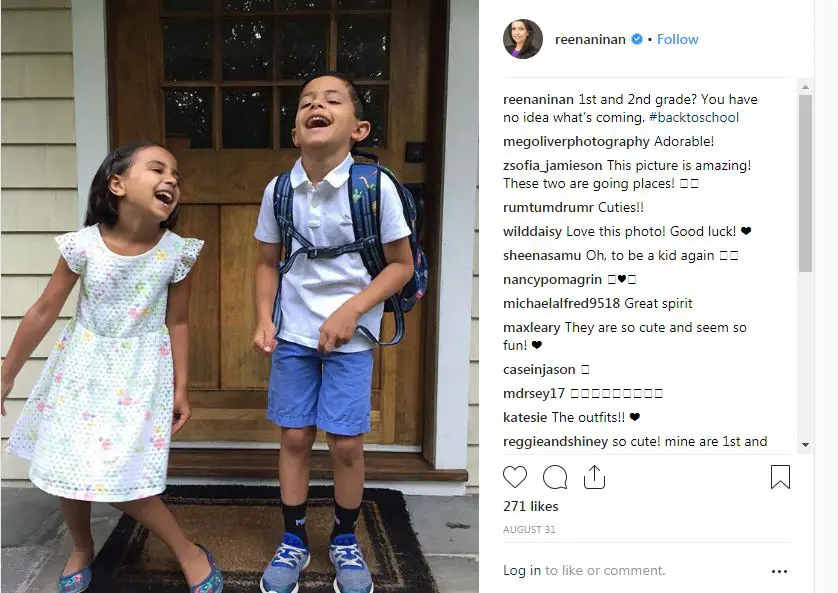 Reena Ninan's children ready to rejoin school. (Photo: Reena Ninan's Instagram)
No Doubt Reena is adorable with her amazing presenting skills but her children seem more adorable. No wonder the star has the extra motivation to balance her personal and professional life.
'Fun Loving' Reena's Take On Her Work
With a cute and down to earth personality, Reena has established herself as a fun-loving bubbly host, going by her behind the scenes video on World News Now.
Reena Ninan behind the scenes on World News Now. (Video: YouTube)
A hardworking and committed reporter, Reena had initially faced the hardship of her show running on air at an odd time. However, since August 2017, Reena has had her show run on the prime time.
Read Also: Amanda Balionis, 32, Engaged To Boyfriend? Here's The Fact!
After her stories started airing Monday Night at 10 p.m ET, Reena talked about the motivation of reporters to perform such challenging jobs in an interview with Adweek in Augst 2017.
"I think gaining the trust of the people we profiled."
Likewise, she also talked about the challenges she faces while reporting with constant fresh news coming her way while going live on a show. Talking to the school of Media and Public Affairs in April 2018, she mentions the struggle faced by news broadcasting teams.
"We put a rundown together starting at 10 a.m., cobbling together all these stories, and every afternoon at 12:35 the entire rundown gets busted," she said. "And it's always political news we didn't necessarily see coming."
Despite, all the challenges that come her way, Reena, however, has continued to win the hearts of her viewers with her unique approach of delivering the news.
Bio Reveals Ethnicity and Career History
Reena, who stands tall with the height of five feet four inches, was born on April 30, 1979, in Tampa, Florida, the U.S. To all the people out there who were confused regarding her ethnicity, she is an Indian-American. Active in broadcasting the world since 1999, Reena has collected a wide range of experience.
Reena has received a bachelor's degree in political communication from George Washington University. She also holds a minor in women studies. Reena is now a successful and versatile personality with incredible presenting skills.
She has been reporting across the United States of America and around the world. She has reported from countries like Iraq, Libya, India, Israel, Indonesia, Lebanon, Jordan, and Egypt. Glamour magazine's "Women on the Front Lines" for the month of July 2011, Ninan anchors CBS Weekend News and CBSN.