Entertainment
Richard Rawlings Is Now Pampering Wife After Getting Married For The Second Time! Do They Have Any Kids?
Richard Rawling is now the sole star of The Fast N' Lord series as Aaron Kaufman left Gas Monkey Garage at the end of season 12 in March this year. While the star is yet to venture the next season, he is toiling on his twice married wife and spending quality time with her. The couple relationship is quite old and blissful but are they blessed with any kids? We help you remove this query of yours here.
Love Life Of Richard Rawling:
One of the two howling guys who appears with his bonny cars in the series by Discovery Channel has a strange love life as well. Here, we don't mean to mention about the girl whom he married twice but about the concealed marriage of the star. Yes, the marriage of the cross-country racer.
Well, it may be the words of a shock for you in the next few lines as the reality TV star was previously married to Karen K Grames before the marriage to his current wife Suzanne Marie Mergele in 1993.
But at the same time, he doesn't have much to talk about his failed marriage which ended up in a year. Moreover, the broken marriage led Richard to another lady to complete his love life.
Richard then found his love in Suzanne and got into marital life with her in 1999 in Las Vegas, Nevada. Although it was second for Richard, the marriage went well with her. While everyone was thinking it to be a successful one, we found them on the verge of divorce. They filed for the separation and got each other move out of their lives in 2009.
But, the divorce was not the end of the relation between Richard and Suzanne; rather they were successful in gathering the same love feelings for each other again. They again tied the knot in Cabo, Mexico in January 2015 but this time, besides making vows, they had something rather important to commit, and it was regarding their divorce. Richard then opened up the past event as:
"We got divorced while all the [Gas Monkey and Fast N' Loud] stuff was happening and it was hard for her to put up with it, so it was rough on her for awhile. I'm traveling, I'm gone, and, of course, there are lots of girls out there."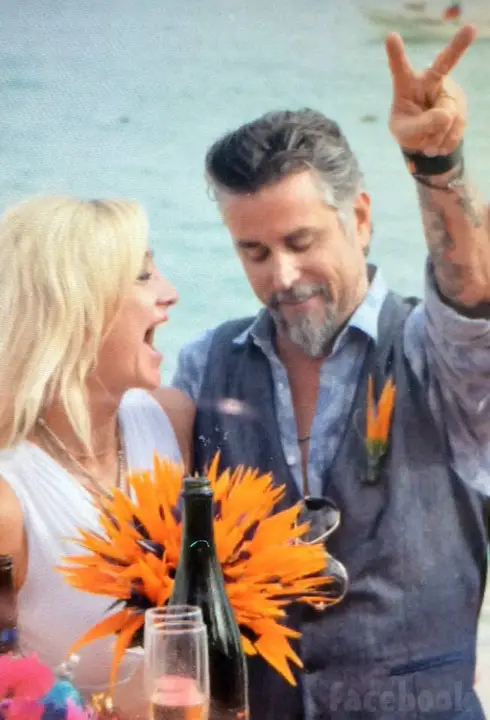 Caption: The remarriage ceremony of Richard and Suzanne in January 2015.
Photo Credit: starcasm.net
The couple now has no signs of separation and are probably planning on having kids as it has now grown as a happy long together relationship. We get to witness the couple making visits to different places as Richard frequently takes their happy moments to Instagram.
Richard also made Suzanne observe his auto shop, Gas Monkey Garage.
On May 8, Richard re-posted an Instagram post where he was with his wife and friends.
While these Instagram posts show his love for his beloved wife, some tweets show his marriage refusal gesture for other ladies.
I don't think my wife would like that very much.

— Richard Ray Rawlings (@RRRawlings) January 11, 2017
Another refusal showed his wife to be the ultimate reason.
well, I'm not sure how my current wife would feel about that.

— Richard Ray Rawlings (@RRRawlings) January 24, 2017
Richard's Plan Of Building His Empire:
The empire or house buildings of Richard don't include much but the Dallas' Gas Monkey Garage auto shop and Gas Monkey Bar N' Grill. Well, he also owes a Gas Monkey Live concert venue and lately added an eatery place called Richard Rawlings' Garage in Harker Heights which also sells specialty merchandise. He has a good reason to do this:
"I am excited and looking forward to serving good food to good people, and I can't think of anywhere else I would rather have the first location of Richard Rawlings' Garage be."
Later he expanded his restaurants in different parts to serve good food to good people.
The car builder is thus trying his luck in different things. Apart from all, he is a TV personality who has signed a contract with the Discovery Channel which yields him $50 thousand per episode. Summing all those up, the hunk has a net worth of $15 million including all of his assets and income.