Entertainment
Rita Ora, Relationship With Ex-Boyfriend Again? She Just Split With One
The Brit singer-songwriter Rita Ora is that artist with the most number of singles on the 2012 UK Singles Chart. Thanks to her debut album, the artist gained stardom and even got listed No.1 in the UK Billboard charts.
Whether it's about nationality (British and Kosovo) or flying singing career, the artist has been attracting a lot of public attention. But it's her recent split with her beau that has been making major headlines in the media.
Claiming as the woman who loves an honest man; the How We Do singer has just announced her recent split with her current boyfriend Watt after getting cozy with her ex- Tyrone Woods. The 27-year-old singer just doesn't seem to live by her own words and is single once again.
Rita Ora Broke Up With Boyfriend: Andrew Left Heartbroken!
The 'I Will Never Let You Down' singer, has dated numerous boys in the past. Starting from Rob Kardashian, Calvin Harris, Bruno Mars, Ricky Hills and The Rolling Stone Drummer Ronnie Wood's son Tyrone Wood. The English singer no doubt has a thing for musically gifted men.
Fellow British Singer-songwriter:- Cherry Seaborn, 25, Engaged Out Loud! The Perfect Shape For Ed Sheeran
Her recent relationship was with the musician Andrew Watt which started off with 'Just friends' and later got official through Rita's birthday post on Instagram. Rita was first coupled with Andrew last year when the two took a romantic getaway in Rome.
The couples were seen sharing some cuddlesome moments where Andrew was seen kissing Rita on her forehead. The pair despite keeping their love-life low key has without any doubt have shared some glorious moments together while they dated.
It was in August that the singer with her boyfriend had been spotted coming out of the New York Hotel with a somber expression. It was reported that the duo did appear together despite such a claim on Rita's Behalf.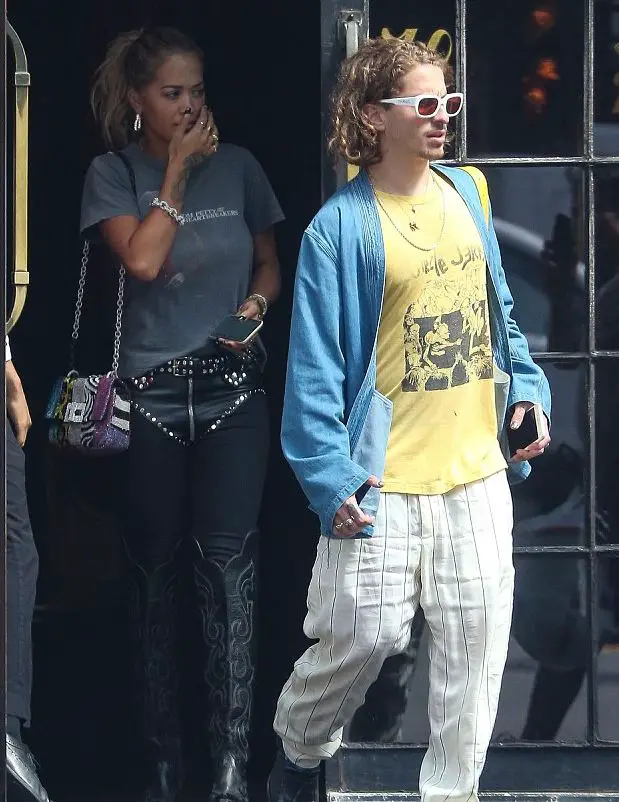 Rita and Andrew spotted coming out of the New York Hotel with a melancholic expression (Photo:Dailymail.co.uk)
Later this year, the official declaration was made By the Phoenix artist on Tonight's Episode of the Jonathan Ross Show about their split. It was Jonathan who broke the news about the star saying
"You're single at the moment."
He even added:
"Fred from First Dates here is known for fixing people up on dates. Fred you must have a nice young guy we can set Rita up with?"
It was now valid to say that the singer belonging to the Albanian ethnicity indeed is single.
Rita still Clinging On To Ex: Is She Looking Forward On Getting Back Together?
The swirling rumors of Rita Ora getting back with her ex just get more complicated when we don't know with ex it's reporting. It was in August when Rita was spotted getting cozy with Tyrone Woods, who she was dating before Andrew.
Rita Ora's Former Flame:- Jonah Hill Brunette Girlfriend; Girl He's Dating Is Stylist - For Real!
The pair back then were sharing some joyous moments by taking holidays and spending time together. It was reported that Your Song hitmaker likes Tyrone because he is different from her ex-es and is indeed a one-woman man and is absolutely not fame hungry.
Tyrone just became the perfect guy when she came to know that he does a lot of charity work and is really very attractive.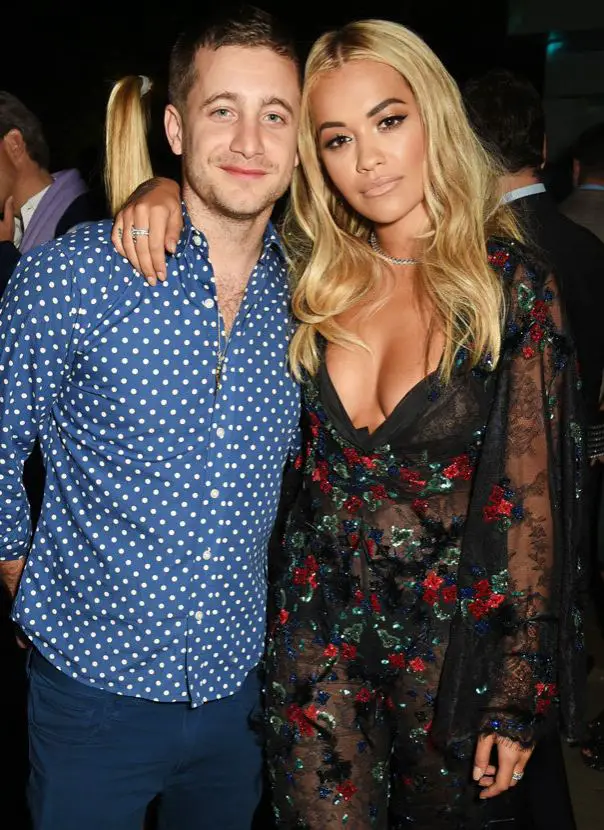 Is Rita getting back with Woods? (Photo: Dailystar.co.uk)
When the two were spotted cuddling together this just makes us wonder if the two are back in the game again.
But, it was in Jonathan's Show that Rita reminiscences about her ex-lover Calvin Harris and confessed that she had the "best time" dating him. The singer who dated the Scot Dj for more than a year claimed that Calvin was truly the first man she loved.
Calvin Harris' Former Flame:- Aarika Wolf & Boyfriend Calvin Harris Celebrate Freedom! Dating Amid Fireworks
All these just escalated out suspicion of whether Rita Ora really is getting back with her ex. The bigger question is which one?