Entertainment
Ronnie Radke's Ex-Girlfriend Alerts About His Past Filled With Drugs And Being Arrested; Dating Anyone Now?
Music, drugs and girlfriends, a favored trio of an American musician from the band called Escape The Fate. He is the same artist who got arrested on charges of alleged domestic assault back in 2012, and the one who indulges himself in drugs and keeps himself popular among girls. You are right to guess Falling in Reverse singer Ronnie Radke. The artist's life has always been a subject of controversy as his past life almost revolved around drugs and girlfriends. Is he the same guy whom we used to know before?
Still, we can say his past is causing a serious problem in his present life. Yes, one of his ex-girlfriends has aired something unusual about him as an alert message. But who is she and whom is she dedicating that message? Perhaps, to a new girl who is currently in relation with Ronnie? Whom is he dating now or has he married her?
Ronnie's Current Relationship Status: Has A Wife or A Girlfriend?
Ronnie Radke is possibly single and is not dating anyone now as per the records. The badass character rather was involved in various relations in the past. Due to his addiction to drugs and violent character, he is completely single now.
Ronnie has dated a lot of girls before. He was in relationships with Caroline Burt, Jenna King, Crissy Henderson, Sally Watts, Emily Radke, Audrey Kitching, Mandy Murders and Lexus Amanda. According to the rumors, he even hooked up with Alexa PenaVega. Among this long list of girls, the reason for his imprisonment was Sally Watts who was in relation with him from 2009 to 2011.
According to the Glendale News-Press, Sally Watts reported police about Ronnie's physical assault. Consequently, he got arrested on Monday, August 6, 2012, but soon got released on $30,000 bail bond. A related Instagram post of Sally also got issued with a warning message to reveal the bad attitude of Ronnie. Sally looked messed up in the post with her wounded face.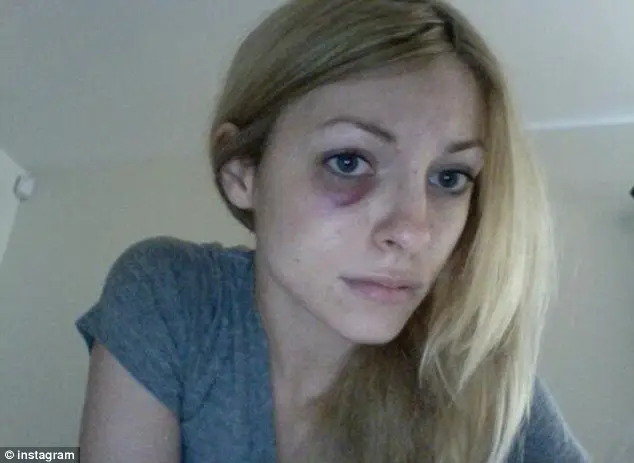 Caption: Sally Watts wounded face caused by Ronnie Radke's physical assault.
Photo Credit: MailOnline
She captioned the image as: 'May 1, 2012. This was taken in fear but is now shared to offer hope. You are never alone. There's always a way out.' The overall purpose was to alert the close friends of Ronnie as she opened up with MailOnline claiming him to be the cause of her situation.
Ronnie then got into a relationship with an American model Crissy Henderson from the year 2012. They even share a daughter named Willow Grace Radke who was born on June 11, 2013 (age 4). Crissy didn't want to maintain a relationship with a guy who can't show respect for females, and thus they had a volatile relationship which ultimately became the reason for their split.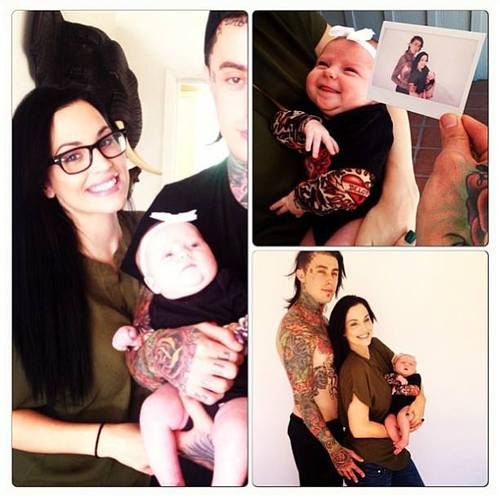 Caption: Ronnie Radke and Crissy Henderson poses with their newly born baby in 2013.
Photo Credit: Pinterest.com
An American reality TV showgirl, Jenna King, then showed up in his life in 2014. Ronnie and Jenna were madly in love, and they even tattooed each other's Zodiac sign on the back of their hands.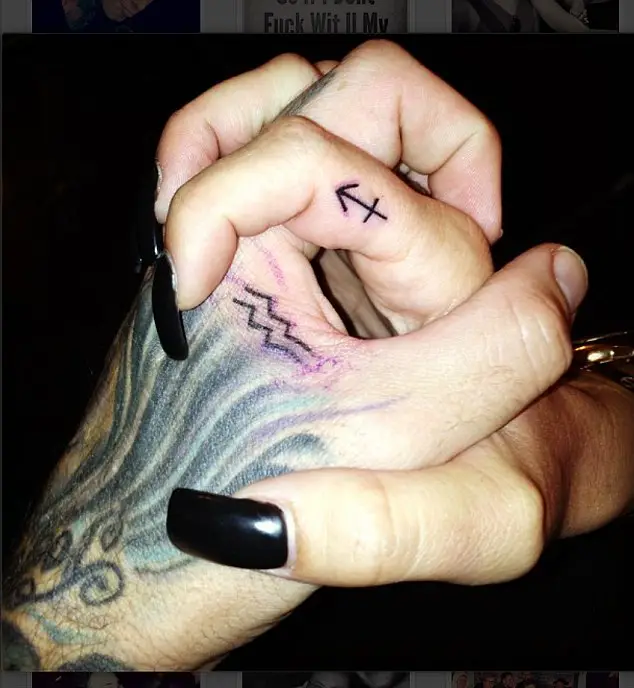 Caption: Ronnie Radke and Jenna King showing up their love through their tattoos.
Photo Credit: MailOnline
The tattooed love didn't last for a year, and hence the artist went for a relationship with another reality TV showgirl, Caroline Burt in 2015. It also proved to be a year relation as it ended in 2016. Caroline kept flaunting images of Ronnie regularly on Instagram, and she seemed to be totally in love with him then.
With no one in relation currently, a Twitter post came from Ronnie by the end of the May. It was relating to his future girlfriend and his plan to gag.
My next girlfriend I'm gonna invest a year of time, then break up with her, a year later come back and say "just kidding" who dares me????

— RonnieRadke (@RonnieRadke) May 28, 2017
A Body Shaded With Tattoos!
Ronnie is an artist who is fond of tattoos, so loving that he has tattooed all over his body. His recent post on Instagram apparently shows his tattooed body. Apart from music and writing songs, he also seems to be passionate about tattoos.
Ronnie is involved in his music passion from a long since and he is also said to be a producer. Keeping his body's tattoos aside, he has a lot more of assets with the net worth of $4 million.