Entertainment
Rumer Willis Sparks Rumored Reunion With Ex-Boyfriend; Alleged Dating Affair Holds Any Truth?
Rumer Willis has been able to win over plenty of hearts and is loved by many for her scintillating works on screen. But those who love her professional life are sure to be keen on her personal life as well as it is normal to peek into someone's life when you adore the person.
Also, she has been in the spotlight for having had a reunion with her ex-boyfriend. How true is this?
Rumored Reconciliation With Former Boyfriend - Any Truth In It?
Rumer possesses the beauty that is sure to attract a lot of men, but Jason Blair was the lucky one to steal Rumer's heart. Jason Blair and Rumer Willis reportedly started dating around August 2012.
See Also: Pregnant Amy Childs Age 28: From Baby Due Details To Secret Boyfriend - Revealed!
But after almost a year of dating, things began to go downhill for the pair, and they split in November the following year. But when Rumer and Jason were spotted together during the launch of OUE Skyspace, Los Angeles in 2016, it sparked a rumor that they are back together.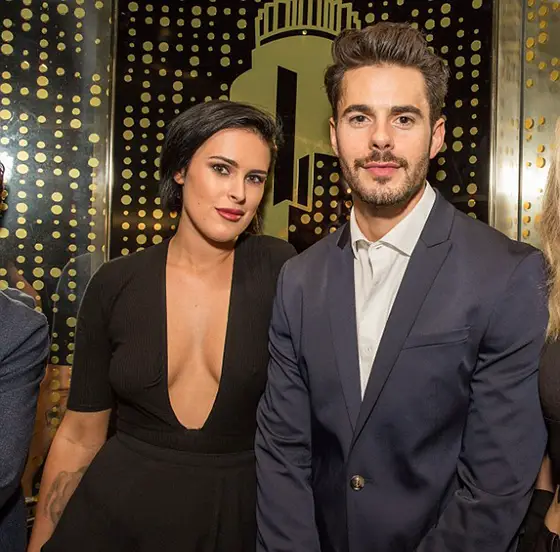 Rumer Willis reunited with her ex-boyfriend Jayson Blair at the launch of OUE Skyspace in Los Angeles,2016. (Photo: dailymail.co.uk)
But the rumor was just a hoax, and their reunion was just for the launch. Moreover, they revealed that they have respect and care for one another despite the issues that previously transpired between them. They stated,
'More than anything, we just spend a lot of time together. It's not about doing anything crazy - it's about cooking dinner together, relaxing, spending time. That's everything to us. We're not going out anymore - we're just enjoying each other's time.'
This statement makes clear that they are just good companions and are not in a relationship of any sorts.
Speculation Of New Relationship, Removes Tattoo After Partner "Moved On"
Rumors hit the media after Rumer shared a picture with Tye Blue on her Instagram, and speculations were raised about their dating. Rumer posted pictures with Tye which led to speculate their relationship.
In one of her post, she is seen holding close to Tye while both make scared faces. The couple seems pretty close to each other in the post. Adding to it, she even posted a picture in which she revealed that they had an awesome "date night" during an event they attended together.
She even mentioned Tye as her "boo."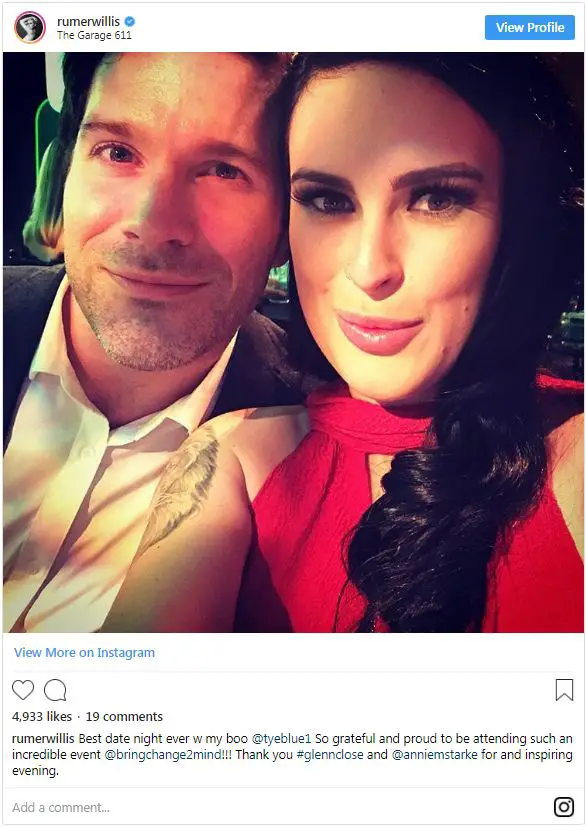 Rumer Willis with Tye during their date night. (Photo: Rumer Willis's Instagram)
However, all the speculations were cleared off by Rumer after their relationship bad headlines suggesting Tye as her boyfriend. She posted a screenshot of the article while she made clear that Tye is actually her roommate and there was no truth in any of the rumors.
On the other hand, Rumer has her name tagged along with another rumor, which says that she is set to remove her Dancing With The Stars tattoo after he partner Val Chmerkovskiy "moved on."
Don't Miss: Camryn Manheim's Dream Life With Son; Dating Or Getting Married Just Options
It has been reported that Rumer had long been besotted with Val and they even won the competition in 2015. Back then she got a big tattoo of them dancing together which she seems to regret now.
Rumer, who got LA home from her former step-father Ashton Kutcher, decided to remove the tattoo shortly after her beloved Val moved on with Jenna Johnson. Rumer was photographed leaving a tattoo removal facility in LA leading up to the rumors.
Rumer And Her Surgical Transformation
During her appearance at the FISHBOWL bar opening party at the Dream Midtown hotel, New York on February 1, she seemed to have had her lips done, and that sparked rumors about her potential surgery.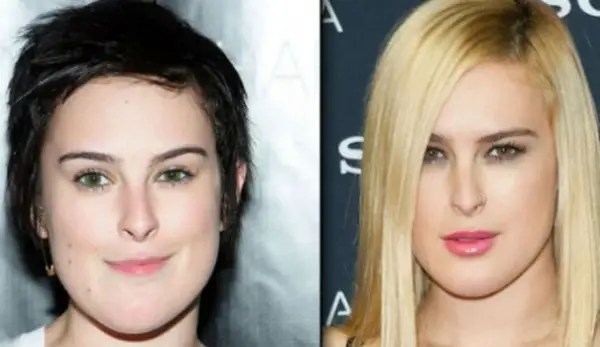 Rumer Willis before and after her lip surgery. (Photo: plasticsurgerygal.com)
You may also like: Lauren Shehadi Is Engaged & Getting Married! That's What Fans Are Saying
But the fact about her lip surgery remains a mystery as she did not give any official statement regarding that matter.
Gay/lesbian Role On Screen:
Having locked lips with a with a female co-star on teen drama series 90210, many people raised questions about her sexuality, assuming her to be lesbian.
But she responded with a humble reply where she stated that she believed she had made a case for the LGBT community to be proud of who they are and what they live by. She said,
'My character starts questioning whether or not sexuality is measured on a spectrum, if it's black and white or if it comes down to who you connect with and who you are compatible with. I'm excited as an actress to tell the story.'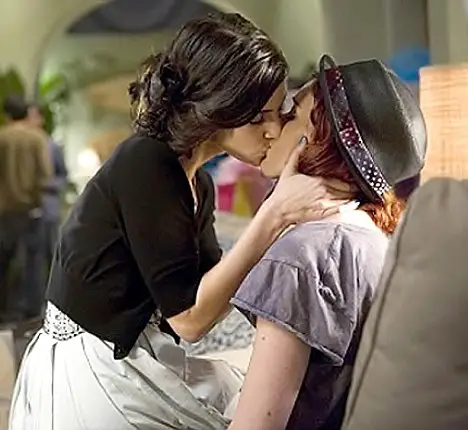 Rumer Willis shares a lesbian encounter with co-star Jessica Lowndes during an upcoming episode of 90210. (Photo: dailymail.co.uk)
Moreover, Willis revealed that she hopes the role will help 'expand awareness' about LGBT issues. Her thoughts are splendid as many teenagers are afraid to accept their sexuality in front of the society. Kudos to Rumer for standing by them!