Entertainment
Sabrina Dhowre's Bio: All You Need to Know about Idris Elba's Fiancee
The romantic proposal, where the Luther actor Idris Elba got down on one knee to propose his girlfriend Sabrina Dhowre, went viral on the internet. Well, this proposal of the actor broke the hearts of many of his female fans.
If you're wondering about the girl who has won the heart of this 45-year-old actor, then we present you not only the name, but everything there is about his fiancee as well!
Things You Need To Know About Sabrina Dhowre
29-year-old Sabrina Dhowre, who was crowned Miss Vancouver in 2014, met her fiance Idris while filming the 2017 thriller The Mountain Between Us. The pair eventually fell in love and have been in the dating relationship for less than a year.
Back in September 2017, Idris talked about his new girlfriend, Sabrina in an interview with PEOPLE. Talking to the magazine, Idris said,
"Falling in love while making a movie about falling in love is pretty special."
The couple made their first public impression at the Toronto International Film Festival last September, five months prior to their engagement. Well, Sabrina is 16 years younger that Idris and despite the age gap, the gorgeous model Sabrina is happy with her 45-year-old actor-fiance.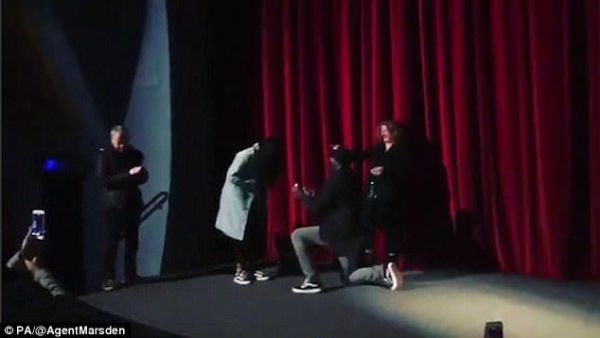 Idris Elba proposing girlfriend Sabrina Dhowre (dailymail.co.uk)
Shortly after the proposal, the Somali model Dhowre uploaded a picture with her man on Instagram back on 12 February 2018 and gushed over her new fiancee with the caption that reads:
"Baby! I can't tell you enough how happy you make me and how lucky I feel to have found a love like this, you make my heart feel so full. I love you. Forever will always feel too short."
Idris, who has faced two failed marriages, previously revealed that he would not get in the marital bond anymore. And in that case, the proposal might have come as surprising news to some of the people out there. Idris then claimed,
"Am I ever gonna get remarried? I don't think so. Yeah, I don't think so."
He continued,
"Marriage is an institution of sorts. And I've done it. It's not for everybody. It's not my life's calling."
Well, their wedding bell may come as a surprise, but it's not new to the actor, Idris Elba, who enjoys the net worth of $20 million. The Thor: Ragnarok actor was married to makeup artist Hanne Norgaard back in 1999, with whom he shares a 17-year-old daughter, Isan.
Later in 2006, he tied the knot with the lawyer Sonya Nicole Hamlin and split just four months after their marriage. Additionally, he was in a dating relationship with Naiyana Garth, a makeup artist, with whom he even shares a son, Winston (born 2014).
Though Idris ended the marital relationship with Sonya within a very short time, Soniya doesn't have any hard feeling for him. Back in 2016, she said that she would be happy if Idris would get married again and start a family with his new wife. She explained,
'I'd be happy for him if he got married again, and he genuinely loved that person. I'm not a jealous person. I want him to be happy, just like I'm sure he wants me to be happy. I don't think he's ever going to have a problem being lonely.'
Well, it is indeed the actor's first public relationship since his split with Naiyana and the dazzling brunette Sabrina Dhowre has obviously changed the thinking of Idris regarding remarriage.
Do you think so as well? Express your views in the comment section below!