Entertainment
Sally Phillips Talks About Happiness And Struggles With Husband And Children Including Their Son With Down Syndrome!
According to a survey, every 14 children out of 1000 live births were found to have Down syndrome. While the child is unique, the parenthood experience is also different from the usual ones.
Sharing a similar story is actress and comedian, Sally Phillips, who has a son with a Down Syndrome. She shares this parenthood experience with her husband. What were the difficulties that the parents came across, dealing with the syndrome? Let's dig in, to find out.
Sally Phillips Happiness and Struggle with Husband:
Sally Phillips gave birth to her first child, a son, Olly Bermejo (12) with her husband, Andrew Bermejo. Revisiting the past, in an interview, in October 2016, Sally shared her experience which was a roller coaster ride of emotions ranging from struggle, surprise, happiness, and laughter.
Sally shared that she was taken into a room in the hospital and asked to sit down, then, the doctor apologized, and the nurse cried. It was clear that something was wrong, and bad news was about to break.
Sally and her husband Andrew were told that the newborn, Olly had a Down Syndrome. The news was a complete surprise, as his Down syndrome was not detected earlier in the pregnancy.
Sally shared the reaction of the friends and family upon hearing the news.
'You go home to deal with the "bad news" and you have friends and family who come round and get drunk and talk about the "bad news" and it's all like something dreadful has happened, and something important has happened and you're going to have to let go of some of the dreams you had, but it's really not as bad as everyone makes out.'
Initially, the couple had intensely stressed, and for the first five years, Sally and her husband were in denial. They took the time to acknowledge and adjust to the reality. She related the transformation of tragedy into comedy expressing,
I suppose I always like absurd scenarios. I just started noticing that it was funny… So, for example, when Olly ran away wearing a Leo Sayer wig and outsized sunglasses in the shape of stars and you're chasing him down the road barefoot, it's: "Ok, this isn't that different from work."…I mean, he's got great comic timing. He's naturally incredibly funny. Always has been.'
Sally and her husband Andrew Bermejo are married since January 17, 2003, and they share three sons together, Olly Bermejo(12), Luke Bermejo (9), and Tom Bermejo (5).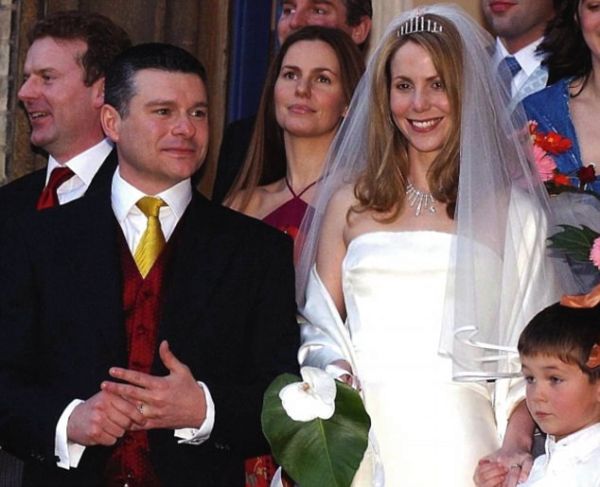 Caption: A happy day in their life, Sally Phillips with her husband, Andrew Bermejo.
Photo Credit: Daily Mail
One's perspective towards the outlook of life makes an overall difference in life itself. The reaction of Sally's other two children Luke and Tom, upon hearing about their older brother's Down Syndrome, was unusual and innocent at the same time.
When Sally told Luke that his older brother Olly has a Down syndrome, he responded,
'and have I got Up Syndrome?'
Additionally, when Sally shared the news to Tom saying,
"You have to understand, sometimes Olly doesn't understand and he gets angry."
Tom replied,
"What, like Dad?"'
Moreover, Sally realized that she was laughing more than before and the reason for her happiness was Olly.
"My son has Down's syndrome - but I wouldn't want to live in a world without it"
Furthermore, Sally filmed her documentary called "A World Without Down's Syndrome?" which was broadcasted in BBC on October 5, 2016.
Sally was thrilled to witness the reaction of the audience, so she shared her happiness on Twitter on June 7, 2017.
Sally Phillips on being Christian:
In an interview in January 2013, she spoke about being a Christian,
"I tell people that I'm a Christian, but I don't think it's giving an insight into who I am or what I'm about. If I'd written a film – and one day I will – where Christianity is an essential part of it, then it would be a much more appropriate thing to discuss."
In a relationship, you have a happy moment, but there are inescapable taxing times as well. However, the real test of your relationship's strength takes place while the situation is strenuous.
Sally Phillips and her husband Andrew Bermejo have come far in their relationship, and are a happily married couple. They further make it to the list of other celebrity couples, like Jay Leno, Craig Melvin, and Jackie Christie, who as well are happily together. Let's hope the list goes on with all the celebrities'.
Stay with us for the emerging updates on Sally Phillips!