Entertainment
MSNBC's Craig Melvin Happy Married Life With Journalist Wife, Lindsay Czarniak
We are near to the end of summer, so let's hear a warm, romantic story before the start of cold weather. MSNBC anchor Craig Melvin has been enjoying a happy love-life. However, the question remains, will the fairytale have a happy ending? Today, we will be learning about his successful personal life.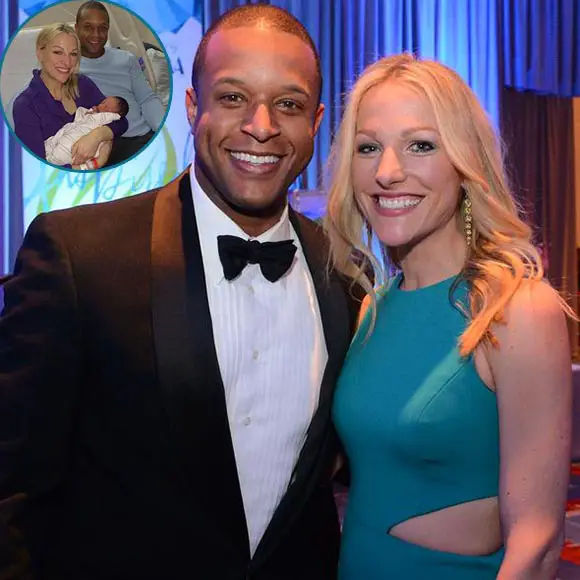 MSNBC anchor Craig Melvin has enjoyed a happy love-life so far. However, the question remains, will the fairytale have a happy ending?
Unbeknownst to many, the veteran TV presenter and his wife have faced their fair share of trials and tribulations. To their credit, the married duo has always come on the top.
Read along to learn more including their family life!
Married In 2011; Lavish Wedding
He is married to a lovely woman. He got hitched to ESPN beauty Lindsay Czarniak on the March of 2011.
More On His Wife:- Happily Married With Journalist Husband, ESPN's Lindsay Czarniak is Pregnant?
The wedding took place at the church of Holy Street on 16th Street NW. After the completion of the marriage ceremony, they went to the Hay-Adams Hotel for the party via a vintage Bentley.
Around 200 guests attended the grand reception.
Overcoming Differences - How Did Craig Meet His Wife?
The couple first met in 2008 when both were fulfilling their respective assignments in Beijing during the 2008 Beijing Olympics for NBC4. However, their first interaction happened on air after they returned to the states.
After a month, infatuated Marvin was happy to attend a charity gala that she was hosting. Lindsay had invited Marvin along with other NBC colleagues to the event.
That night, they ended up kissing each other in the kitchen of her apartment. Lindsay was impressed with the way he behaved like a perfect gentleman. They had roamed the peaceful auction together, drove to the after party in his car, and he had even dropped her to her apartment.
When they reached her apartment, he asked her permission to walk her to the door, but she relented. However, they ended up kissing in her kitchen.
Things went casual for the next six months. But in April 2009, Melvin called her telling that he wants to take their relationship to the next level. Unfortunately for Melvin, Lindsay refused his proposal being aware of the consequences of work-romance relationships.
Her refusal made Melvin extremely unhappy. Thus, the period of separation began in their relationship. But soon, he started calling her again, and It didn't take them long to be good friends after they started talking about each other experiences, friends, family and the people they were dating.
Turning Down Proposal:- Tahiry Jose Bio, Age, Net Worth, Boyfriend
Finally, in July of that year, they met for a drink at Bar Pilar even though Lindsay hadn't accepted his invitation at first. But she realized that Melvin was her soulmate after meeting him at the bar that night.
In 2011, Melvin thought that it was time to take the relationship forward. So, after a long weekend in Miami, he asked her to become his wife in a late-afternoon sailboat ride, and the rest is history.
Family Of Four: Welcomed Second Baby
They welcomed their first baby boy on 11th March 2014. The named their son Delano Joseph Melvin. In 2016, they revealed to the world that they will be welcoming yet another baby. Then soon-to-be mom of two Lindsay professed happiness about being pregnant.
And in November that year, Craig became a father of two after he and his wife welcomed their second baby. The pair named their second child Sybil "Sibby."
Initially, the name Shibby was a unisex shorthand that he and Lindsay had used to describe the prospect of welcoming a sibling to their son, Delano. Over time, the duo took a liking to the name and decided to keep it.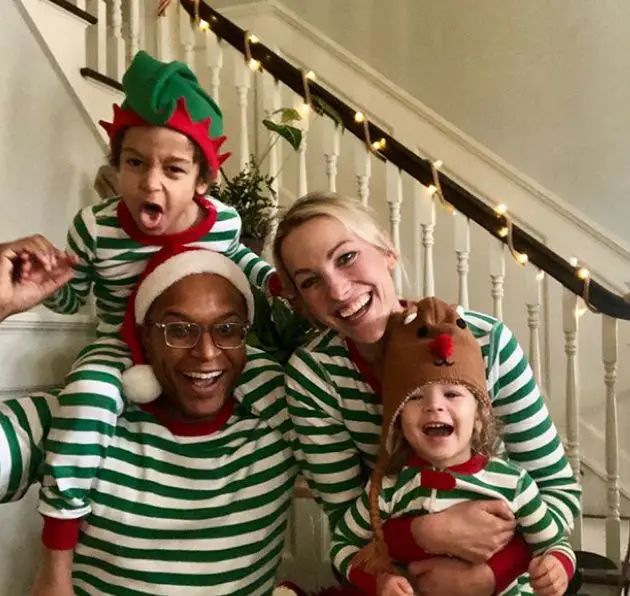 Craig Melvin with his Lindsay and their kids dressed up as elves during 2018 Christmas celebration (Photo:- Craig Melvin's Instagram)
Unlike their contemporaries, the MSNBC reporter and his wife didn't opt to know about the baby's sex. Later, he revealed that he had wished for a daughter. Speaking after the birth of second child, Craig confessed to being overwhelmed with the task of looking after two kids. He said:-
"It's a tad overwhelming, but we're getting the hang of it. The worry for us, is that you love your little boy so much, when you have a second, are you going to end up dividing that love? Turns out you just multiply it. It really is amazing."
Could the married duo be open to having a third baby? The veteran MSNBC's statements certainly seem to indicate so.
Salary & Net Worth From Shows
With everything going right in their personal life, his own life also appears to be on the right track. During his MSNBC career, he covered critical events like Asiana Airlines 214 Crash, the tornado in Moore and the Sandy Hook shooting.
Fellow MSNBC Personality:- MSNBC's Lawrence O'Donnell, Post Wife Rift Meltdown & Dating Affair
As an anchor for NBC News' Today show and reporter for the same network, Craig earns $3 million in salary. Meanwhile, the father of two boasts a reported net worth of $6 million.
Craig Melvin was born on 20 May 1979, in Columbia, South Carolina, US. He graduated from Wofford College with a Bachelors of Arts Degree in Government. In 2016, he hosted the Muhammad Ali Awards.