Entertainment
Savannah Guthrie's Relationships: Married Life, Husband And Divorce History
The most difficult thing in the world is obviously to break the relationship with a person we love. However, sometimes that break can open the door for bigger happiness to come into your life. This is exactly what happened to the lady of our story today.
Savanna Guthrie faced a heartbreaking separation from her previous husband but eventually found Michael Feldman who is a blessing in her life.
Her Previous Married Life With Mark Orchard:
Savannah Guthrie met BBC News presenter Mark Orchard while covering the child molestation trial of Michael Jackson in 2005. They got married on December of the same year after Orchard divorced his first wife, Anne Kornblut. But unfortunately, the relation could not go well, and they divorced in 2009. Savannah got teary in an interview with Radar online when Johnson, radar reporter asked her the divorce. He said,
"When I gently probed about the cause of the divorce, [Guthrie's] eyes filled with tears. Ok,' she announced, 'this is the lunch from hell.'
How Did She Meet Michael?
After the split, Savannah dated media consultants Michael Feldman later from that year. Mike proposed Savannah when they were on vacation in Carribean. Savannah shared the excitement about the proposal in Today. She said,
"It didn't dawn on me he was actually asking, He got on one knee and I still thought we were just talking about getting married, which they often do. It wasn't until he presented the ring box that she realized what was happening"
"I didn't open it for a long time because I was just overcome."
Her Marriage and Children:
After staying in the love relation for five years, the couple got engaged on March 15, 2014.
Similarly, Savannah married Michael on March 15, 2014, in her hometown, Tuscon. The marriage gave a legal significance to their love that was thriving since a long time.
Following the wedding, Savannah and Michael welcomed good news in their life. Gorgeous Savannah gave birth to a daughter, Vale Guthrie Feldman on August 14, 2014, in a New York hospital.
Similarly, the couple announced the news of expecting a second child in July. According to her, the baby boy will be stepping into the world this December.
The couple is enjoying their married life and the parental role these days. There are mere chances for us to listen to the rumors of disputes or divorce of Savannah and husband.
Savannah Guthrie receives the Matrix Award:
On April 24, 2017, Savannah Guthrie received the acclaimed 'Matrix Award,' granted to the most successful women in Communications as well as broadcasting. Her long-time friend and partner, Matt Lauer introduced her during the award giving ceremony, and while he threw a roast or two at her, he delivered an amazing speech dedicated to Guthrie.
"There is nobody who has ever assumed the role of TODAY anchor who has come to this job more qualified than Savannah Guthrie. No one has ever brought a better resume to this job, No one has come to the TODAY show with the credentials that Savannah has brought to the job.", says the Today host.
Savannah was also granted the opportunity to share a word or two, and she had some strong words to say.
"I got here just being a woman," she states, "I have worn my heart on my sleeve. I have wondered if I am good enough. I have felt like I am on the ballot every day. I have hated my hair. I have compared myself to others and lost," and furthermore added,
"I am a combo platter, of anxiety and calm, confidence and doubt, fear and courage, vulnerability and invincibility, fragile-ness and solid granite strength," she said. "I am all of these things at once. What I believe, as a woman in this business, it's good to be tough, but it's even better to be you. When I really think about it, I return to the same thing over and over again — I've been lucky and I have been blessed."
Indeed she has been blessed, considering that she recently gave birth to her second child.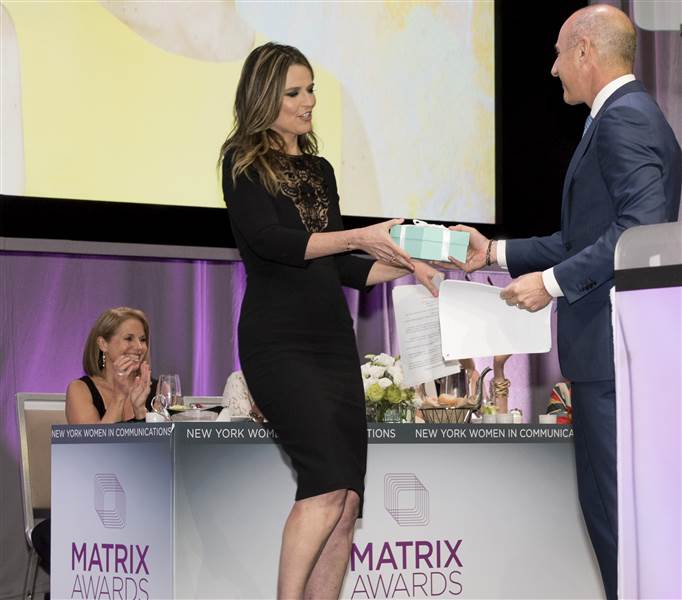 Caption: Savannah Guthrie receives the Matrix award from fellow Today host Matt Lauer
Photo-Credit: Today.com
Savannah Guthrie's Short Bio:
Born on December 27, 1971, Savannah Guthrie is a journalist and attorney for NBC news. She is serving as a co-host of The today show from 2012. Prior to this, Savannah served as a White House correspondent for MNBSC from 2008 and 2011 and co-host of The Daily Run Down from 2010 to 2011.
Savannah earned her under graduated degree from in journalism from the University of Arizona. Her hard work in the journalism sector has yielded the splendid net worth of $2 million