Entertainment
Simone Whitmore Remains Married With Husband, Divorce Isn't Final - Yet!
A cast member of Bravo's Married to Medicine alongside Quad Webb and Toya Bush-Harris, Simone Whitmore has been going through marital issues with her husband. Simone, who has her marriage hanging on a thread, had prepared up for a divorce.
When Did Simone Whitmore File For Divorce?
Simone Whitmore, a physician by profession, is a married woman. Simone has been married for about 21 years. Her husband is Cecil Whitmore, who is a Director of Enabling Functions for the Coca-Cola company.
The couple first met when Simone was a student at Spelman College in Atlanta, Georgia. The couple tied the nuptial knot back on 25 May 1996 in a wedding ceremony among friends and families.
They share two children: two sons; Miles who is 19 and Michael who is 15.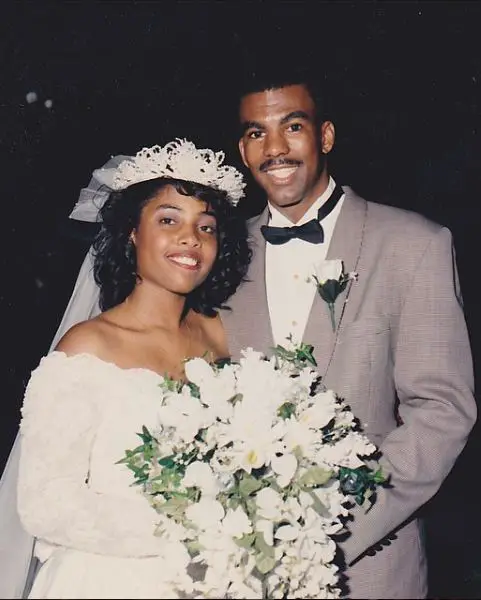 Simone Whitmore wedding picture with husband Cecil (Photo: Simone Whitmore's Instagram)
In early days of their marriage, the couple was inseparable, but as the time passed, the distance between them grew. The couple ultimately drifted apart, and their separation even resulted in the two staying in separate houses.
As the couple grew apart from each other, their bond loosened which ended up with Simone filing for divorce. Simone gave up on their dysfunctional relationship and filed for divorce in October of 2017.
Are Simone Whitmore And Her Husband Still Together?
Following the suggestions from their well-wishers, the pair put their divorce on hold on a mission to repair their marriage.
In March 2018, Simone opened up while talking with PEOPLE exclusively and said she would want to establish something new with her husband and did not want to go back to their old dysfunctional relationship. Simone stated,
"We agreed we would get in counseling and stay in counseling to see if we could work it out,"
She added,
"For me, I'm not going back to the way it was. Neither one of us were happy. So we can't go back to the old dysfunctional relationship that we had. I won't do it. We're trying to establish something new — something better — that's fulfilling for both of us where we are both feeling love and enjoying one another's company."
Moreover, Simone, who has a net worth of $3.5 million, expressed that her relationship with her husband was improving through counseling. She also added that they shouldn't have left counseling session in the middle when the show's season wrapped in February 2017.
In addition, in the 2018 People interview, she revealed that they couldn't mend their relationship because of other obligations when the show's season ended. She said,
"It looked like we were improving. The problem is we should have continued counseling, and we did not. We let life take over. We were busy over the summer with basketball tournaments, traveling and getting Miles ready for college. We should have kept marital counseling as a priority, but we let the ball drop."
According to her, she felt their marriage was on the brink to collapse after they got into a burning argument soon after dropping their son, Miles at college. She said in the People interview,
"The final straw came about a month after Miles began college. Cecil and I had a disagreement. We were trying to talk through it — with sometimes tense, sometimes normal negotiations in process — and he woke up on Saturday morning, we had a blow-up. I knew that day that my marriage was over... My marriage had ended. I could no longer deal with the stuff he was dishing."
Simone, age 51, had retrospected about their issues-filled relationship in one of the episodes of Married to Medicine in December 2017.
"We're in a place where we're arguing over basic s— He's just so hostile and angry about every little thing. When somebody is being mean, it's hard to replace that with something nice or smile. It's difficult."
After their attempt to mend their relationship, there have been no further updates other than that they are giving their best shots to marital counseling.
It seems like Simone might be having cold feet about the divorce decision. Well, to end 21 years of togetherness is not as easy as it seems.
Missing Father Death
In the last two years. Simone not only witnessed her marriage crumble but also lost one of her close ones. She dealt with a major family issue back in 2016. She lost one of her close ones: her father.
Simone's dad had gone missing around April-May in 2016. A month later, the metro police found a man lying dead in a vacant house in Nashville with an ID.
The man was none other than Simone's father, Frank Baxter Jr. Frank's memorial service was held on 6 May 2016.