Entertainment
Sports Host Erik Kuselias Married Life With His Wife Holly Sonders Might Be on The Rocks. Thinking of Getting a Divorce?
Television and radio host, Erik Kuselias almost won a fortune when he got engaged to Holly Sonders, 29, a successful golf analyst for the Fox Sports' golf coverage team. After making many public appearances and flirting with one another, they brought the news about their engagement in 2012.
Everyone was shocked when the 26-year-old (then) hottie decided to marry Erik, a man in his forties. Above all, Erik has a bad reputation in the industry as 'the biggest douchebag in the place.'
Erik Kuselias' Married Life: His Differences With His Wife
The former Pro Football Talk host got married to the American professional golfer, Holly Sonders but the couple had kept their marriage date a secret. According to sources, Erik got engaged to Holly in May 2012.
The couple shared a son named Troy, who was born in 2006. Erik celebrated his son's fifth birthday in 2011, which he shared via one of his tweets on 10 October 2011.
Things didn't go quite well for the couple, Erik Kuselias and Holly Sonders in 2009.
At a Super Bowl Monday Night Football party, Erik drunkenly blurted out "I would like to fuck you." to a female ESPN employee. The ESPN employee reported his behavior which resulted in Erik's suspension.
Holly, who is regarded as one of the most beautiful women in Golf, found her husband Erik's habits needed thorough checking and inspection. She ended up hiring a private investigator to find more about it. That was when they split up for a while.
She found out that her husband tried to flirt with a co-worker, Stephania Bell at ESPN and have an on-going relationship with Stephaine at the time.
Erik Kuselias' Wife Turned Into Ex-Wife
The pair, Erik, and Holly's married life headed to divorce which was revealed by his wife. Replying to one of her tweets on 22 August 2017, she mentioned that she filed for divorce in 2016. Also, she disclosed that the couple has separated and not been together for a long time at the time. The couple had split up once.
Erik Kuselias' Famous Wife: Holly Sonders' Bio
Holly Sonders is quite famous in her own right. Before gaining her identity as an ESPN journalist, she was reputed in the field of Golf. She was applauded when she played Golf in Michigan but had to move on to Journalism after a knee surgery. She then worked on the Golf Channel in 2011 and became a prominent figure in American Golf and was featured on multiple shows such as "Morning Drive," "School of Golf" and "Playing Lessons with the Pros." and landed herself on the cover of Golf Digest in May 2013.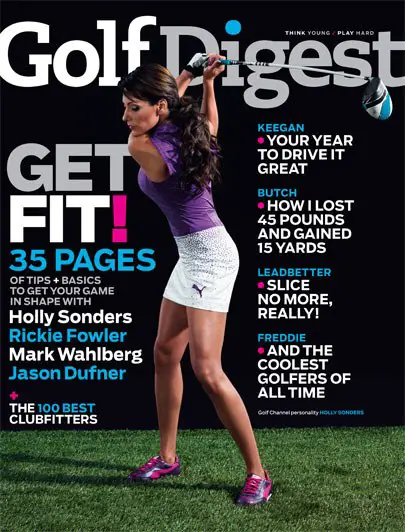 Molly Sonders on the cover of Golf Digest (Photo: Golf Digest magazine)
She eventually moved to ESPN in 2014 and covered the multiple US Opens for both Male and Female.
Holly is also featured as one of the most beautiful women in Gold by Golf.com reappearing on their rankings in 2013, 2014 and 2015. Some of her images can be previewed below:
Erik Kuselias' Short Wiki-Like Bio:
American Television and Radio Host, Erik Kuselias celebrate his birthday on 6 November as per his ex-wife's one of tweets on 2014. As per sources, he was 44 years of age in 2017, who enjoyed the net worth $ 6.5 million.
Raised in Hamden, Connecticut, he was an All-Stars Baseball player in school and played alongside MLB star Jeff Bagwell, Brad Ausmus, and Mo Vaughn.
He graduated from University of Michigan Law School and did his Ph.D. at Columbia University in 1998. He is also a member of the high IQ society, Mensa International.
Erik previously co-hosted NBC Sports Network's Pro Football Talk alongside Mike Florio. However, in 2015, Erik left his radio stint at NBC Sports Radio.
In 2017, he returned to the radio world hosting his own show "THE ERIK KUSELIAS SHOW" on GENESIS Sports WHOO-A (1080 THE TEAM)/ORLANDO. He has also enjoyed successful stints at ESPN and Golf Channel.
Currently, he hosts the radio show, Sports Talk 1040 Orlando.