Entertainment
Sydel Curry Wiki: The 23 Years Old Is Engaged-to-Get Married to Athlete Boyfriend
The American former college volleyball player, Sydel Curry made headlines after getting engaged to a renowned basketball player, Damion Lee. The athlete couple is indeed relationship goals to many with their wedding on the line.
Moreover, Sydel who also belongs to the family full of famous athletes is somebody you might want to know about more.
Well, we present you a wiki of Sydel, to help you get acquainted with this beautiful athlete in depth.
Sydel Curry's Wiki: Know More About Damion Lee's Fiancee
The daughter of former NBA player, Dell Curry and fellow volleyball player, Sonya curry, Sydel was born on October 20, 1994, and is 23 years of age. Sydel, who herself is an athlete, is a younger sister of Dallas Mavericks' basketball player, Seth Curry and NBA MVP Stephen Curry.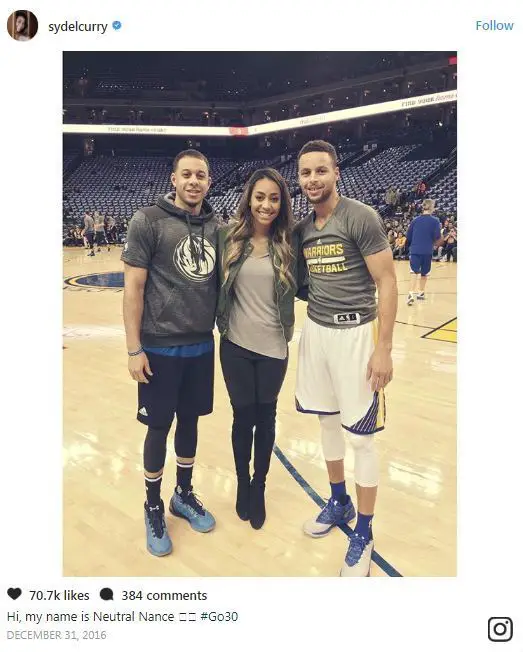 Source: instagram.com/sydelcurry
Sydel started off being on the indoor volleyball team during her time at Elon University. She was a three-year captain and four-year starter for 'Charlotte Christian,' in her high school volleyball team in North Carolina. Furthermore, Sydel is a two-time NCISAA All-State selection (2011-12) and four-time CISAA All-Conference (2009-12).
Sydel even provides glimpse of her passion for volleyball through Twitter at times,
But back to the volleyball grind! Offseason is always the hardest but but produce the best results.

— Sydel Curry (@sydelcurry) January 3, 2016
Athleticism seems to the trait of her family!
Apart from her athletic background she also runs a fashion and lifestyle website called 'A curry Girl.' Further, she also assists her sister in law, Ayesha Curry in her International Smoke restaurant business.
Additionally, her family, being involved in sports was not enough; that now, she is engaged to Damion Lee, a famed basketball player. We wonder what their family gathering talks feature!
Well, jokes apart, Sydel is lucky to have found love in somebody who shares similar interest as her. Sydel got engaged to boyfriend-turned-fiance, Damion on November 12 this year, and Sydel couldn't keep her excitement to herself, as she shared the picture with her fiance; flaunting her square-cut diamond ring.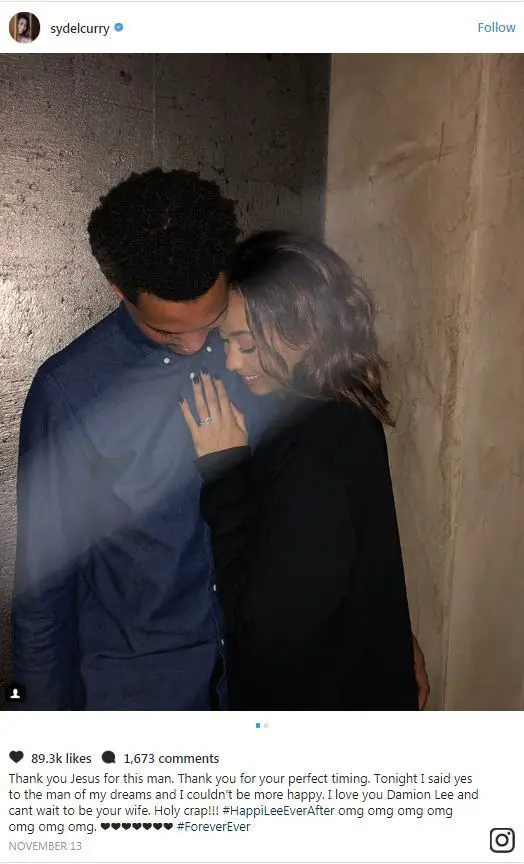 Source: instagram.com/sydelcurry
Sydel's sister in law and wife of Stephen, Ayesha Curry was present while Damion popped the question to Sydel as,
"Love is nothing to rush, I know you wouldn't hurry me
Would you like to be Mrs. Sydel Alicia Curry-Lee?"
Ayesha shared series of pictures from Sydel's engagement and expressed her happiness via Instagram,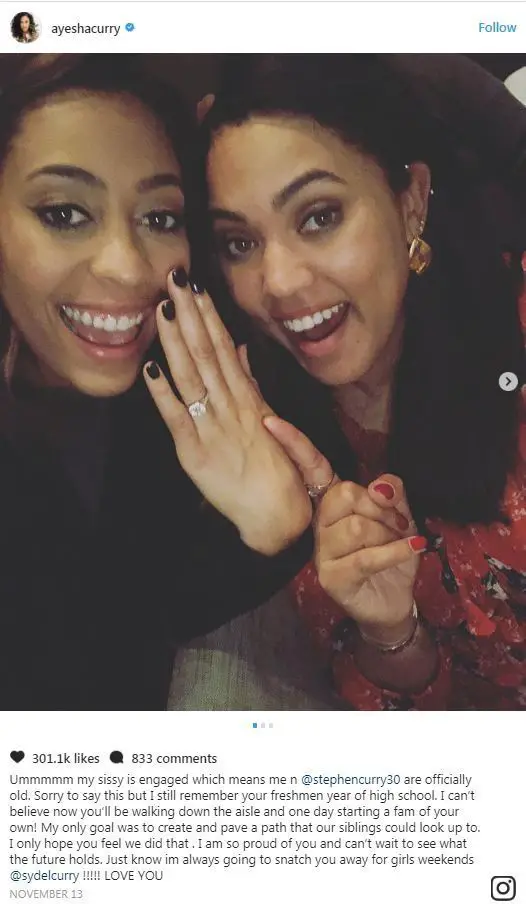 Source: instagram.com/ayesha
Moreover, though the dating timeline of Sydel and Damion's relationship is unclear, Sydel first gave the glimpse of Damion via Instagram in early 2017.