Entertainment
Jason Genao Bio: On My Block Actor Details - Age, Height, Parents, Dating Status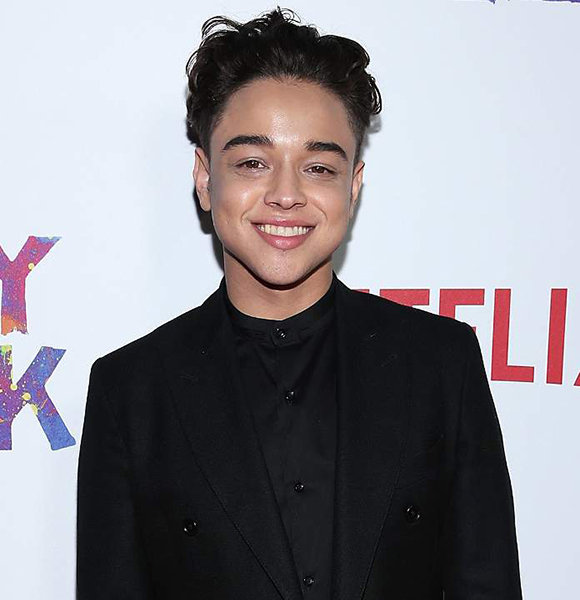 Actor Jason Genao has been making big waves in Hollywood recently due to his roles in Netflix original series On My Block. Blessed with a mesomorphic body, attractive face and exceptional acting skills, Jason has won plenty of admirers in the industry.
Jason's rising fame has amassed enormous attention amid his followers, especially female fans who are curious to know all about Jason. 
So, to satiate these demands, today, we are compiling a bio of the rising star and serving it to you!
Bio Revealing Age And Dating Life
The handsome Jason Genao was born in the year 1997 in New Jersey, US, and celebrates his birthday every 18th of September. He currently resides in Los Angeles California and is 20 years old. However, the details of his parents are yet to be known.
Jason, who stands at the height of 1.57 meters (five feet one inch) and weighs 55 Kg presently, completed his schooling at Dickinson High School.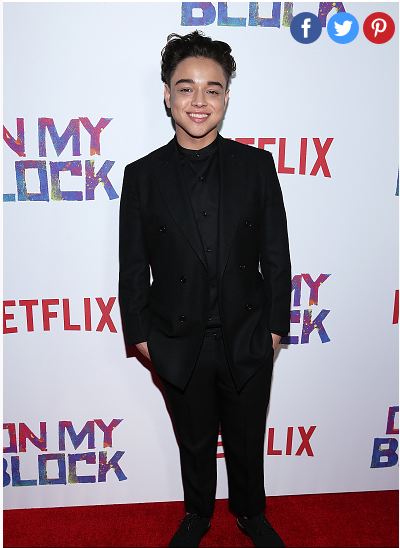 Jason Genao during the premiere of On My Block (Photo: Getty image)
Focusing the light on Jason's personal life, he has not yet come forth with any romance that he shares. He is completely silent about his dating life as there has no information about his girlfriend. 
Well, seems he currently enjoys his single life and is not caught up with any relationship drama. Well, good news for the lady fans, Jason is possibly not dating anyone right now. 
Presumably, Jason is just focused on his budding career and waiting for a perfect match to show up in his life. 
Sneak Peak On Jason's Acting Career: From The Get Down To On My Block
Jason dreamt of being an actor from his early age but nearly gave up acting at the age of 16 thinking that it was unreachable. According to The Jersey Journal published in 2017, Jason was hopeless to chase an acting career. As per Jason,
"I kinda felt like it was something that was unreachable, So I gave up on it for a while." 
However, Jason reignited his acting passion after watching a French movie "La Vie en Rose." The film inspired him to follow his dream, and he enrolled in a cheap acting school and got his first break via the Netflix series The Get Down as Napoleon in 2016.
Don't Miss: Movies & Series New on Netflix You Can't Miss | Release Dates
Later in the same year, Jason appeared in an episode of  Law & Order: SVU. 
Afterward, Jason debuted in movies through critically acclaimed 2017's superhero film Logan. Reminiscing his selection for the role as Rictor in the film, Jason said that it felt surreal at the time to even imagine sharing the screen with Hugh Jackman.
After the movie, Jason appeared in another Netflix original series On My Block as Ruby Martinez, in 2018. This series turned out to be the awarding one as Jason got attention as an actor from the public via the serial. 
The series also won Teen Choice Award 2018 and now has been renewed for its second season. His innocent looks and lively expressions, along with fantastic dialogue delivery, captured the heart of millions.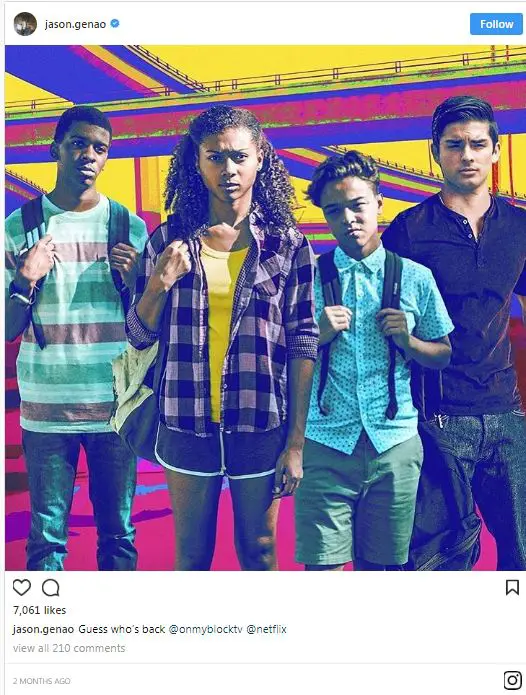 Poster of On My Block, A Netflix original series (Photo: Jason Genao's Instagram)
As for now, Jason, who learned from his mistake about nearly giving up on his dream, motivates people to pursue their dreams. He inspires them to attain their goals and quotes that things are not impossible even if they appear difficult. 
Nevertheless, he also takes a stand publicly against bullying and discrimination as he posted a picture of himself with tape on his mouth and painted NOH8 on his cheek. The picture is a stand for the NOH8 campaign which is a fight for equality.
On the other hand, the uprising actor is now on his way to fulfill his dream of winning an Oscar award. Though, Jason has not won one yet, his dedication and his talent hint that he surely is on the right pathway to accomplishing his dreams. 
You May Also Like: Kenya Barris, 'Black-ish' Creator Signs $100 Million Netflix Deal​​​​​​​
While he on his way to the success, the first magazine that came with his name on it was Backstage. Well, he sure is reaching the heights of success in his career. 
Think we're missing something? Do let us know in the comment section below!