Entertainment
NFL Reporter Kay Adams Dating? Her Tweets Hint Yes!
A woman who proclaimed her place in the NFL Network's "Good Morning Football" and earned the nicknamed "Guru" for her acknowledgment in the same field, Kay Adams has enlivened the NFL atmosphere through her smooth journalism for a significant age.
The people behind their televisions aren't just eager to watch her report football but are also in deep athirst to know her relationship status. And on such search, Adams's tweet comes to rescue, which can't help but talk about her "boyfriends."
So, the young reporter is really dating or just making the good use of her humor?
Getting To Know The NFL Reporter: Decade In Good Morning Football
Working at the NFL for nearly about a decade for Good Morning Football, Kay Adams has been renowned as the most popular newscaster in the world of football after paving her first way through the St. Louis Cardinals.
Other NFL Reporter:- Cynthia Frelund Bio: Hottest NFL Reporter's Salary To Married Status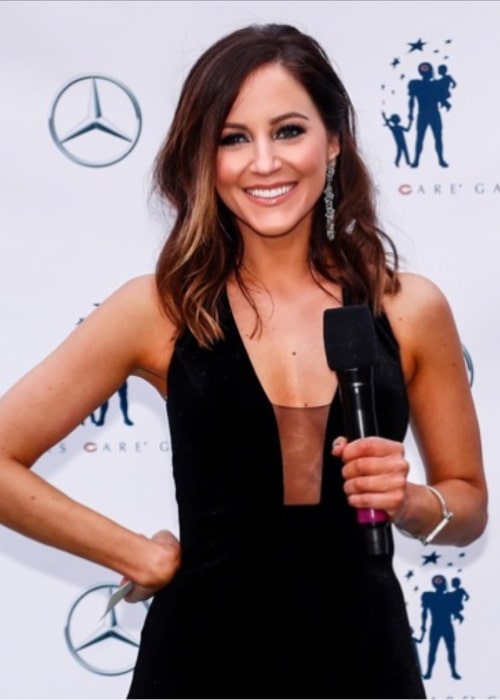 The Stunning Kay Adams flaunts her beautiful black dress (Photo: healthyceleb.com)
Adams has been currently hosting DirectTV's, Fantasy Zone. Prior to NFL hosting, the reporter has co-hosted NBC Sports Network's Fantasy Football Live. In addition, she has also served as a host for special events for the Chicago Bear.
Swirling Dating Rumors: Looking For A Boyfriend?
Brunette hair, a slender waist, and a hardy personality, Kay stands as one of the most beautiful reporters in the sports broadcast. However, much less is known of how this young and gorgeous reporter is still in search for her better half.
You May Also Like:- Jessie Wallace Reportedly Dating, Meet New Boyfriend 'Divorced Dad-Of-Five'
It is Adams's tweets that have bombarded us all with the hints of her potential boyfriends. It was in 29th August 2011, that Adams tweeted,
"Arian Foster is going OFF on my boyfriend, Colin Cowherd? I dunno how I feel about this, AF. not cool."
Right then, nearly after a month on 18th September 2011, at 3:16 P.M. Adams highlighted a tweet posting,
"My boyfriend is having a rough game tonight"
Then, it was after a year, on 11th February 2012 that she tweeted Kyle Eversgerd asking to be her boyfriend.

Tweet of Adams asking Eversgerd to be her boyfriend (Photo: Kay Adams' Twitter)
"Later on, after a couple of days, she again tweets saying, "Dear Abby, my boyfriend watches "teen pregnancy" on MTV on Saturday nights."
It was nearly after a year from the prior tweet when Adams fueled our suspicion of her having a boyfriend yet again with the 8 December 2013 tweet
"@FCashflo dang, I always forget we're dating. I should really write it on my hand."
After such baffling tweets, it was finally in the year 2015, Adams was finally seen at the ESPY'S with the New England Patriots wide recoverer, Danny Amendola. This suspicion was charged after Amendola posted a photo of them at the Super Bowl along with a hashtag of "#8oallday".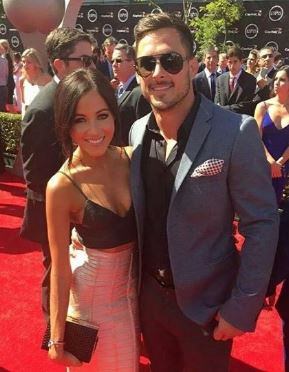 Amendola-Adams embracing each other arm-to-arm (Photo: Imgur.com)
It was a good Amendola-Adams connection till the time when the two did not keep us updated with their relationship status and that the news of Ian Rapoport dropping in for Kay Adam's Birthday took all the attention.
Read Also:- Addison Timlin Age 27 & Partner Jeremy First Baby, Girl Named 'Ezer Billie White'
With these multiple hints, Adams has us all scrutinizing about her personal life. Also with much knowledge at her gains about football, she also did reportedly say that men are more intimidated by her because she knows more about football then they do.
Nevertheless, Adams, however, is still on the roll to find her soon to be a husband who could support for who she is and what she knows.