Entertainment
Trevor Jackson Says Too Busy To Be Dating and Have A Girlfriend; But Open To It
"Success is no accident. It is hard work, perseverance, learning, studying, sacrifice and most of all, love of what you are doing or learning to do." Pele
Well, the love for the craft that one indulges themselves in is the key that drives you further to vest your hard work and time to proceed further. And, by the looks of it, Trevor Jackson an American singer, actor, songwriter, and dancer, is doing the same.
He is busy to build his career further and seemingly hasn't spared time for dating a girlfriend. However, the young talent is open to a relationship if it stumbles upon his way.
Want to know his thoughts regarding a dating relationship amid his busy career schedule? Read through!
Trevor Jackson's Gives Hint On Being Open to a Relationship!
Love requires a proper amount of time being vested to nurture the relationship; which is why people don't jump into it forthwith. Trevor Jackson also falls into the similar category as he is taking his time with the career before flaunting a romantic union with a girlfriend.
Amidst the budding rumors of Trevor and Zendaya Coleman being in a relationship, Trevor opened up gushing about them just being good friends while also bringing into attention that he is focused on his career as of now.
He further hinted at the possibility of him dating in the future saying 'If it happens, it happens.' Trevor expressed,
"We're just so focused on everything going on [in our careers], that wouldn't even be possible right now. But you never know. If it happens, it happens,"We talk to each other about relationships and different things, but we're really close and I don't want to lose that."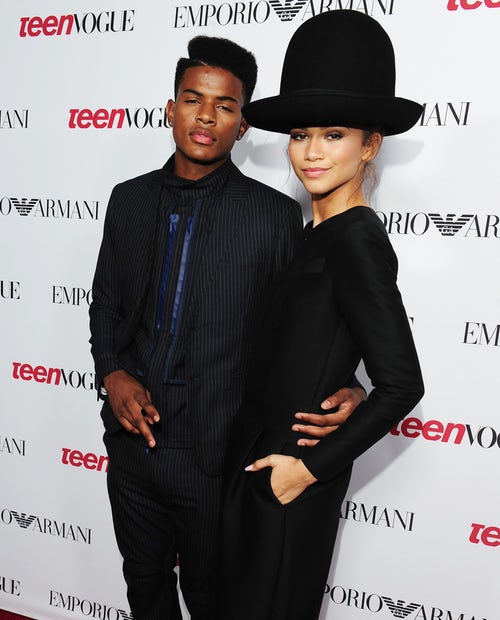 Caption: Trevor Jackson and Zendaya are just friends.
Photo Credit: J-14.com
Despite wishing each other on Valentine's day, the day dedicated to love, fans were disheartened to know that Zendaya wasn't Trevor's girlfriend,
However, along the confirmation of them not dating, it might have come forth as good news to the fans of Trevor; who fantasizes dating him!
Trevor Jackson's Family:
Born to parents, Cam Baxter and Kevin Jackson as Trevor Howard Lawrence Jackson, on August 30, 1996, Trevor is 21 years of age. He grew along with his sibling, older brother, Ian in his family, and has utmost love for all of them.
On the occasion of mother's day last year, Trevor shared an image with his mother, Cam and thanked her for being his motivation,
Trevor believes that he resembles his dad, that subsequently shows the love and respect he has for his father.
Additionally, did you know, Trevor hails from a family with a basketball background? In an interview back in 2014, Trevor stated that he still plays basketball to get his mind off everything, but yet, his interest lies in the music.
"I come from a basketball family. My dad still says, "Trevor, are you sure don't want to play basketball? You can play in college and go to the NBA!" But I did play. Tap dancing and basketball started at the same time and when I was eight I just kind of made the decision that entertainment was really where I wanted to be. Every time I'm ever in L.A. if I have anytime off—which is rare—I'll go straight to the basketball court and play. That's a way for me to escape and get my mind off everything. I'm so competitive so if I'm playing basketball, all I'm thinking about is winning."
Trevor gave an insight on how he spent time with his elder brother, Ian while he was home in his spring break through a tweet.
It's every sibling's goal to gel upon a favorite sport, don't you think so?
Stay with us for further updates on Trevor Jackson!