Entertainment
Vicki Gunvalson Says She Would Not Divorce Husband On A Second Chance! But Is Dating Now Happily
The Real Housewives of Orange County has a number of gorgeous and wealthy housewives who allow us to peek the imperfection in their perfect life. Like Kelly Dodd, Lynne Curtin, and Peggy Tanous, the RHOC alum Vicki Gunvalson has also allowed us to have a look on her wiki, personal life, failed relationships, and new love interests.
Vicki Gunvalson has always been open about her love life on the show. The reality star, who now enjoys a romantic relationship, once said that she regrets her decision to end the marriage with her long time husband.
Well, keep reading to find out how her marriage ended and why does she regret her decision!
Vicki Gunvalson's unsuccessful marriage
If you are a regular viewer of RHOC, then you must have known about Gunvalson's long time husband, Donn Gunvalson. The pair got married in the year 1994 and renewed their vows in 2009.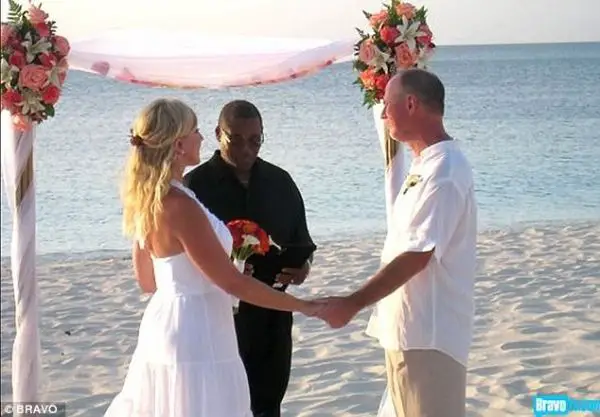 Caption: Vicki Gunvalson and her estranged husband Donn pictured in 2009 while they renewed their vows.
Photo Credit: Dailymail
A year after renewing the vows and being bound in a marital relationship for almost sixteen years, the pair parted ways in 2010.
According to the court documents obtained by Radar Online, the divorce was filed on Oct. 16, 2013, and neither of them asked for spousal support. The Real Housewives Of Orange County star Gunvalson's divorce with her husband was settled in January 2014, where she was awarded nearly $1 million in assets.
Speaking about the divorce, Vicki claimed her Hit Bravo show to be the reason behind her failed marriage. In an interview with Digital Spy in October 2013, Gunvalson, who has appeared on eight seasons of the Bravo reality series, said-
"I think that my family would still be together. There's some really great things that have come from the show, but one of the downsides was that it broke up my family, and that's tough to take."
She continued-
"I think the show had a lot to do with me getting divorced. I think it was too much pressure on a weak marriage. I wonder where Donn and I would be now if we didn't do the show. But we elected to do the show together as a family. Unfortunately, it didn't work out for us."
Later in a one-on-one interview with Andy Cohen on November 2015, Gunvalson revealed that she regrets divorcing Donn and wouldn't divorce him if she had a second chance. She stated-
"I think Donn was an amazing man, so I'm not going to say he wasn't good for me. I think that if I had to do it all over again, I would not have divorced Donn. I know that for a fact. We both went sideways for multiple reasons, but hindsight, if we could do things differently, he was a great man, great husband."
She continued-
"For me on my end, I would because I want my family back, but I don't think for Donn. I think he's really hurt."
An end to Gunvalson's sixteen years long marriage wasn't the end of her love life though. She then fell in love with Brooks Ayers and then with Steve Chavez Lodge, a retired law enforcement.
Steve, who first met Gunvalson at a charity event, didn't even know that she was a reality star and the OG of the RHOC.
Talking about their relationship, Gunvalson said that they are taking their relationship very slow. In an interview with The Daily Dish in 2016, she explained-
"We're taking it really slow, and he wants to stay private. He does not want to film. He does not want to be part of it. He respects my career, respects my viewers, respects what I do, but he doesn't want to be part of it. So that's really nice for me is that he just wants to stay private."
Gunvalson (age 55) even stated that she would like to get married again, but is not in a rush to settle down.
Moreover, Vicki Gunvalson's daughter Briana Culberson and her sons, Troy and Owen are back on this season of The Real Housewives of Orange County. In the season 12 of RHOC, one can see Gunvalson's daughter and her grandsons approving her new man.
Gunvalson shared the daughter Briana Culberson along with her son Michael Wolfsmith with her first husband Michael J. Wolfsmith, to whom she was married from 1982 to 1991.
Stay with us for the emerging updates on Vicki Gunvalson!