Entertainment
Lynne Curtin Dealt With Divorce With Husband and Going Broke; Now Dealing With Daughter As Well?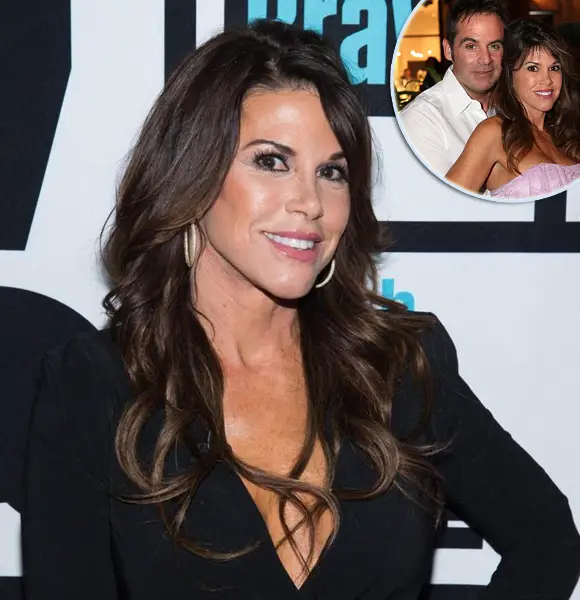 A former star of Real Housewives of Orange County, Lynne Curtin appears ineffectual to find a way out for her painful life events. The reality star went through from ending a prolonged relationship with her husband, followed by a financial crisis, and now it seems that she is parenting a troublesome daughter.
The real family story of Lynne is proving to be nothing less than the dramas of RHOC.
Wedding & Divorce With Husband
Lynne Curtin married her husband Frank Curtin in 1990 in an intimate wedding ceremony, which the former couple has been successfully keeping away from the eyes of the public.
Another Intimate Wedding:- Stephanie Sersen Wiki, Age, Wedding, Parents
The duo's marriage was a successful one as it lasted for more than two decades, during which they became parents of two daughters: Raquel and Alexa Curtin. Sadly, the marriage came to a tragic end in 2012.
Lynne Curtin with her ex-husband, Frank Curtin in a pre-2012 picture (Photo Credit: hollywoodlife.com)
It was in May 2012 when Lynne - a plastic surgery enthusiast - opened up about the split to RadarOnline. She told,
"After more than 20 years of marriage Frank and I have decided to go our separate ways. I love Frank but it was time to go out on my own."
She also talked about filing a divorce and concluded on a positive hope for the future.
"I haven't filed for divorce yet, but I'm going to be doing so soon. Who knows what the future holds, but I'm looking forward to doing the things that I want to do."
However, Frank appeared devastated as he told Orange County Register that such incidents hurt him badly.
"I'm not a willing participant in this. It hurts to even think about it or talk about it. Call me old-fashioned, but I take my vows very seriously."
He then added,
"I'm deeply in love with my wife. Business is so bad, it has caused a lot of stress in my relationship. I love my wife. She's just not herself right now."
The former couple had previously admitted to facing some financial troubles that were taking a toll on their relationship and which could be the reason for the divorce.
However, Lynne cited "irreconcilable differences" as the reason when she filed for divorce in December 2012.
The divorce with her longtime husband introduced a catastrophe in Lynne's life, as she faced an economic crisis which even made her file new court papers claiming spousal support from Frank.
As per the legal documents obtained by TMZ, she was broke at that situation with only $100 to her name. She even added that she earned $250 a month which made her $3,000 a year from her jewelry business.
Re-Files For Divorce 
Five years after Lynne's first filing, a verdict over the divorce got aired. In December 2017, the judge tasked with handling the affair, threw the case out.
Court documents showed that neither Lynne nor her estranged husband, Frank appeared before the court. Not only that but the former duo also never attempted to forward the proceeding.
Divorce Drama:- Larry Caputo Dating Again After Divorce, Who Is New Girlfriend?
The reality star then re-filed for divorce in April of 2019. Per reports, she's requesting for spousal support.
Back in 2017, an extremely joyful Lynne gushed about finding a new man to her former RHOC castmates.
Troublesome Daughters
Besides the duo's relationship, Alexa, the youngest in the family, was causing a severe problem in the house as she has frequently embroiled herself in legal troubles.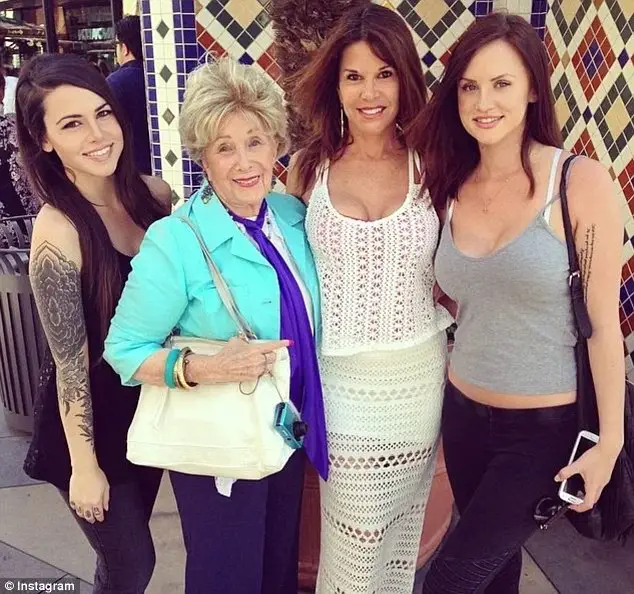 Lynne with her mother Marilou and daughters: Raquel (L) and Alexa (R) (Photo Credit: Daily Mail)
In January 2017, Alexa's grandmother, Marilou Colee filed an elder abuse restraining order against Alexa, claiming that Alexa broke into her California home in Mission Viejo.
However, Marilou tried to explain Alexa's situation and said:
"She has been raped by an Orange County sheriff, and this poor girl, she can't get it out of her mind. She'd upset with all of this. It's an awful thing to happen to a woman. I love her so much, but she broke into my house."
She then added:
"I can see who's at the door from the inside, and when I open it she just kind of comes in. She's stayed with me for a couple weeks before. After that she's threatened us, broken windows. She really frightened me. When we called the police they said I had to file a restraining order before they could do anything."
She also told that Alexa was not in the family then but was staying with her friend.
"We don't know where she is now. Some friend took her in and then she called Lynn and told her she was safe. There are some pictures on Facebook where she's wearing some nice clothes, so hopefully this will be it."
In 2016, Alexa had filed a federal lawsuit against an officer of the Orange County Sheriff's Department, accusing him of raping her during a traffic stop. Moreover, two months later, she was charged with drug possession as well.
Alexa also got herself involved in the adult film industry and did adult videos under the alias Jayden Taylors in 2014 to pay for the plastic surgery.
Opposite Of Alexa:- Hailie Jade, Daughter Of Eminem Has A Boyfriend, Who Is She Dating?
In 2017, Alexa got an award of $2.25 million in a lawsuit over the alleged sexual assault.
Daughter Alexa's Run-Ins With The Law
Lynne's daughter Alexa continues to get riled up in unlawful acts well into 2018 and 2019.
In August 2018, Alexa spent four days behind the bar at the Central Women's Jail in Orange County for numerous charges.
Four days after her arrest, she pleaded not guilty to the allegations including a standing arrest warrant against her, a DUI as well as possession of controlled substance paraphernalia.
After failing to appear before the court, Orange County court system labeled her a fugitive in March 2019.