Entertainment
WAGS' Natalie Halcro Rejuvenates Her Dating Life After Boyfriend Came With Cute Surprise Gestures
The on and off relationship of model Natalie Halcro has caused a stir in the mindset of WAGS' viewer. With the recent surprise shown by her boyfriend in the series, the viewers got aghast whether to believe the fact of re-bonding in the relationship or just a scandal to remain in the limelight?
Without any further delay, we shall be looking on the said re-kindled love along with Natalie's plastic surgery rumor.
A scandal or a serious re-bonding of love?
With the aired series in the month of July 2016, the WAGS' show caused a stir in the headset of the daily viewers when Natalie's boyfriend the NFL player Shaun Phillips appeared in the show of WAGS' to surprise Natalie on the occasion of her birthday.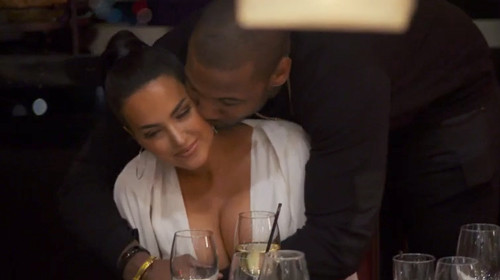 Caption: Shaun gives a surprise to Natalie on her birthday dinner (2016).
Photo Credit: eonline.com
The surprise was a good when Shaun walked right into Natalie dinner party in Las Vegas and gifted her a pair of earring. Shaun remained in the house till dinner and walked out after it got over. But just before leaving the house, Natalie walked him out, and both of them kissed right on her doorstep.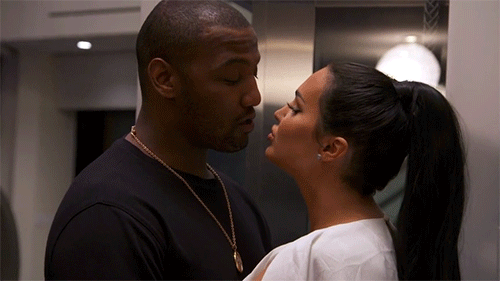 Caption: Shaun and Natalie give a kiss while leaving the party (2016).
Photo Credit: eonline.com
The NFL player and the model were dating each other since the year 2013, but the relationship was not a smooth as both of them were on and off from their relationship.
However, while traveling to Los Angeles Shaun had asked Natalie if she wanted to stick around with him. Source to Eonline.com on 18th July 2016, reveals the entire incident of the Los Angeles when Shaun asked Natalie about hanging more often. He said:
"What do you think about us hanging out a little bit more?"
On a reply, Natalie has given a positive response about willing to stick around with the NFL star. She said:
"I think I'd like that."
After the birthday incident, Shaun and Natalie got spotted together. Though Natalie has not posted any picture with Shaun while going through the Instagram post of NFL star, there were few pictures posted by him after the birthday celebration, on 5th September 2016.
Although their relationship had numerous ups and down currently looks like they are enjoying and chilling out together. Recently no news of their break ups nor patch up has surfaced, which means they might be hanging out with a cool mate and giving space to each other before mingling again.
Rumored to be under the knife, how true is it?
While going a few years back model, Natalie was seen chubby with round face, but while seeing the pictures of 2016, there seems to be a vast difference in the appearance of Natalie.
Though she had not confronted about going under knives when observing the images of the past and present a significant difference is identified. The sudden changes might be due to her diet plan. She might have undergone intense workout and diet plan to shredded few pounds and maintain a healthy figure. Due to which there is a vast change in her appearance or she might have gone through knife and obtained a new look.
Natalie Halcro's Short Bio:
The famous WAGS star Natalie Halcro was born on 2nd February 1988 in Langley Canada to a firefighter father, Jim. She has two siblings one brother named Joel and a sister Stephanie. Natalie came into the modeling world at the tender age of 12 and signed the contract with Next at the age of 16.
Besides modeling, she runs a fashion blog along with her cousin Olivia Person. She also works in the series of WAGS and has worked for numerous international runaways. Natalie has been the face of major brands like Nissan, Mazda, Old Navy and has around 2.1 million fan followers on Instagram.